John Gomes, the 51-year-old Cohoes, New York, resident and alleged "amateur knifemaker" who started a fire that damaged 32 buildings and displaced approximately 20 people, will not appear in court today as scheduled. He was charged with felony reckless endangerment and misdemeanor arson on Friday, Dec. 1 while the 200 block of Remsen Street smoldered, threatening to reignite. Gomes' case has been waived to Albany County Court to be presented to a grand jury. In a report by the Times Union of Albany, New York—which has followed the story closely—Gomes lawyer has stated that his client is a hard-working plumber, the father of two children and this was a tragic accident, not a crime. Reaction from knifemakers on social media was swift and nearly unanimous: Gomes' did not do his research, about forges or metal working, and his claim of trying to replicate something he saw on "Forged In Fire" was a deflection from his own lack of forethought. One maker from Upstate New York theorized that it could have been simply a trash fire to avoid disposal charges, but that claiming to be working steel was a better story than a flagrant violation of the law. Was Forged In Fire a scapegoat for the Cohoes fire?
On Friday, December 1, knifemakers awoke to the cringeworthy news that Gomes had started an open barrel fire in his back yard to "bend" metal as he had seen done on "Forged In Fire." It was a relief that nobody was killed in the fire. One fireman was treated for dehydration and heat-related issues and the fire chief received a burn from a flying ember, but other than that nobody was injured. By last count, 32 buildings were damaged by fire, smoke or water, resulting in millions of dollars' worth of property damage. Approximately 20 to 25 people were displaced, but Red Cross representatives were on sight to meet the immediate needs of both emergency response personnel and to provide shelter, food and clothing to those whose houses had burned. Cohoes is a quiet commuter city about 18 miles north of Albany. The houses in the affected area are wooden and within inches of each other. The 30-mile-an-hour winds on November 30, made it challenging for the firefighters to stay ahead of the blaze.
Cohoes is an old mill town that is no stranger to fires. In 1978 a man and his seven children were killed in a fire suspected of being set by the sole survivor, the wife and mother. After new evidence surfaced in 2010 Virginia Grotto did sign a confession, but then claimed she was badgered to do so. Another Cohoes fire in 1988, destroyed nine buildings, including three businesses. That fire also affected Remsen Street. The cause remains a mystery with some neighbors claiming at the time it was a Hells Angels motorcycle gang act of revenge against someone living in the apartment building where the fire started and others claiming to have seen two boys playing with matches. All other causes were ruled out. In both cases, Cohoes rebuilt. One added note to the most recent fire was that this area of Cohoes was enjoying a resurgence. Both the current mayor and interviewed business owners commented on the city's resilience and they would rebuild. A florist was able to resume work the next day despite building damage, and a pharmacy owner lost a storage garage that contained chair lifts that had been ordered for Christmas, backup inventory and old medical records, but his store was open for business.
John Gomes' son defended his father on social media, claiming that he never meant to burn down his own house or anyone else's. Commenters offered words of encouragement for the boy and prayers for his family. On knifemaker Groups on Facebook like Forged In Fire TV Show Discussion Group!!!! and my own Erin at BLADE, it was unanimous that "Forged In Fire" was not to blame. There were jokes about the blade not making the cut, or the reverse, it being able to wipe out a city block. There was mention that "Forged In Fire" now does include a warning that forging is dangerous and not to be attempted without careful consideration of safety measures. Of course, one popular comment on Facebook was simply a picture of a fire extinguisher.
Concern was expressed, though, by more than one commenter on more than one thread that "Forged In Fire" seems to play up the fireball created during quenching. It is a television show and the quenching drama makes for good entertainment. However, the "Forged In Fire" set is actually fireproof. It is vented to prevent asphyxiation, but not in the way a home forger might vent his forge. This is why it is often unbearably hot on the set, causing heat exhaustion in some participants. And, of course, there are crewmembers standing by with extinguishers, ready to cut the electricity or provide medical attention as needed. There have been instances in the final round when participants are at their home forges of fireballs being too close to propane tanks and the like. Although show representatives expressed sadness over the fire in Cohoes, they reserved comment, according to Times Union reports.
One of the most intriguing comments was posted by a resident bladesmith of Upstate New York. "I think he was burning trash, which is illegal in most municipalities in New York State, so he would not have to pay for disposal," theorized F. Page Steinhardt, of Sunshadow Design and "Forged In Fire" winner. He added, "In an open burn barrel, which is illegal in most municipalities in New York State in a 30-mile-per-hour wind, which is a dumb idea, and 'Forged In Fire' was a convenient scapegoat." Page reiterated that he didn't know for sure the exact motivation for the fire, and perhaps we will never know exactly what happened. "But that is just my opinion from reading the stories and living in Upstate New York," he concluded.
Matthew Parkinson of Dragon's Breath Forge in Connecticut and another "Forged In Fire" winner brought up another good point. "FIF isn't responsible for someone who can't think ahead. I mean, they show giant fireballs all the time, so it isn't like you could even claim they make it look safe." Matt also offered guidance to those just starting out. "As far as new smiths, take a class. Find a good school and take a class. It will be the best money you ever spend."
A Digital Subscription To BLADE Is The Answer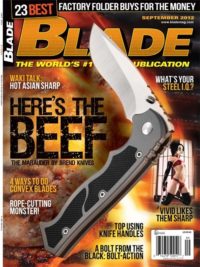 If piling-up issues of magazines seems like a waste to you… If you feel like you don't have time to read a magazine… If you like the stories we offer in BLADE, but want a more economical option, then a digital subscription is the answer. An annual subscription to BLADE is $17.98, $4 off the print price
---
NEXT STEP: Download Your Free KNIFE GUIDE Issue of BLADE Magazine
BLADE's annual
Knife Guide Issue
features the newest knives and sharpeners, plus knife and axe reviews, knife sheaths, kit knives and a Knife Industry Directory.
Get your FREE digital PDF instant download of the annual Knife Guide. No, really!
We will email it to you right now when you subscribe to the BLADE email newsletter.