On the trail, in camp or in the field, today's hatchets are multi-purpose must-haves.
A hatchet is one of the must-have tools when heading outdoors. Lighter and more portable than an axe, which requires two hands to operate, hatchets lack the tactical elements of the modern tomahawk, which are often used by military and law enforcement types as a multi-purpose tool. This gives hatchet designers the ability to focus on a tool that will easily handle shelter- and fire-building chores with ease.
ESEE Gibson Axe
For instance, take the hatchet James Gibson designed and which is now offered by ESEE. A knifemaker, flintknapper and bushcraft instructor, James originally designed the Gibson Axe for himself, something to throw into a backpack as he tramped the hills and hollers of east Tennessee. As he tweaked his design, eventually cutting out a prototype made from thin plywood, he focused on its balance and "rocker."
"An axe with perfect rocker is one of the best handling axes you can handle," James says, "and I got the rocker perfect on this axe."
And just what is rocker?
Gibson explains it's when you take the hatchet and stand it up edge down on a straight surface. As he puts it, the bit's edge should meet the surface in the "middle of the blade, the cutting edge and its dead center, and the handle [butt] should touch at the same time."
When he showed a couple of prototypes of the axe to the folks at ESEE at a BLADE Show one year, they decided to add it to their lineup. At the time, ESEE was hearing from its customers that they wanted the company to offer an axe—and Gibson's hatchet fit the bill.
James designed the handle to have finger grooves and a knob to secure the hand while swinging it. After the axe was made, he learned a hidden feature of his design: it has enough finesse to carve smaller objects. He says he sharpens pencils with it and once cleaned a trout with it. The result "is capable of doing some real work as well. It also has exceptional balance and you can choke up on it and use it like a knife for many applications," explains Shane Adams, ESEE's marketing director.
Of course, it being ESEE, the hatchet comes in the company's oft-used blade material: 1095 carbon steel. "It's us," Adams winks. "We know 1095 well." It's a steel that handles all the variables of the outdoors. "You can sharpen it with a rock if need be," the marketing director advises. "Stones or systems, it doesn't matter. I always like to finish on a loaded leather strop when possible."
Gibson Axe Specs
Company: ESEE
Cutting Edge: 4.5″
Head Material: 1095 carbon steel
Head At Its Thickest: .25″
Handle: Micara
Weight: 20.5 ozs/
Overall Length: 10.5″
Sheath: Leather
Country Of Origin: USA
MSRP: $268.54; eseeknives.com
Knives Of Alaska Hunter's Hatchet
Charles Allen, president and owner of Knives of Alaska (KOA), knows the importance of being prepared. The Alaskan master big-game guide who has flown in the Alaskan skies professionally for almost three decades, always keeps a hatchet stashed in his bush plane—and for good reason.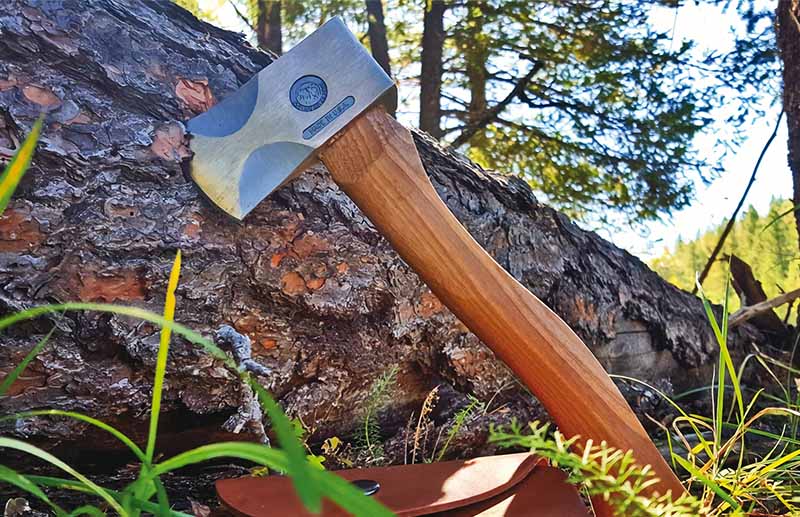 "When you look back at the old photos of the early trappers and hunters, you will see three things: a rifle, a knife, and a hatchet or tomahawk on their belts," he notes. "Hatchets are still one of the most useful tools a real outdoorsman can have in the field, and they can save your life by enabling you to quickly make a warming fire or emergency shelter." When consumers demanded a multi-purpose hatchet, Allen studied the designs carried by the folks who make preparedness their motto: the Boy Scouts. "I looked at the historic Boy Scout's hatchet I grew up with and know that it is a proven design that is hard to improve on," he says.
But improve on the Boy Scout model he did with the KOA Hunter's Hatchet. The hickory handle remains tough yet easy on the hands. Heat-treated properly, the S7 tool steel is designed to absorb the shocks of hard blows. With a Rockwell hardness of 50-54 HRC, the edge of the Hunter's Hatchet is intended to dent if it collides with something hard, Allen says, such as bone while butchering game. And the head can be returned to a razor-sharp bite with Allen's recommended sharpening tool: a flat, fine-toothed file.
When designing the Hunter's Hatchet, Allen was sure to include a wide-enough poll so that users could pound stakes, nails and the like with it, too.
Hunter's Hatchet Specs
Company: Knives of Alaska
Cutting Edge: 4.25″
Head Material: S7 tool steel
Handle: American red hickory
Weight: 16.7 ozs.
Overall Length: 11″
Sheath: Leather
Country Of Origin: USA
MSRP: $99.99; knivesofalaska.com
Outdoor Edge Wooddevil
David Bloch, president and founder of Outdoor Edge, wanted a hatchet that could out-cut its class: Something small enough to carry easily but with enough heft to take down a medium-sized tree.
"I looked at and tested a number of compact hatchets on the market and came to the conclusion that most full-size hatchets were too large and heavy to take on outings where weight and volume were limiting factors," Bloch observes. "I also found that most every compact hatchet I tested, while cute in appearance, was not an effective chopping tool."
During outdoor treks when the quality of your tools will make or break the
trip, the Outdoor Edge WoodDevil may be a guardian angel, made possible by the marriage of a combination of the right balance, a good handle and a wide cutting head.
"The WoodDevil stands up to its name," David stresses. "With a 4-inch cutting surface, it has the ability to cut through large diameter material with the respect of its compact size." Plus, its pint size makes it unobtrusive in the camping bin or pickup truck until needed for whatever task—from hammering tent stakes to "slicing tinder shavings," he adds.
The 3Cr13 stainless steel in a Rockwell hardness of 52-54 HRC is malleable and resharpens easily, and the black oxide finish allows it to better resist corrosion. The TPR rubber handle provides a non-slip grip that soaks up the shock and vibration during use. It's packaged in a nylon sheath retained with a fabric fastener that can hang from a belt.
Wooddevil Specs
Company: Outdoor Edge
Cutting Edge: 4″
Head Steel: 3Cr13 stainless
Handle: Red ABS plastic with black rubberized TPR
Weight: 1.2 lbs.
Overall Length: 10″
Sheath: Nylon
Country Of Origin: China
MSRP: $52.95; outdooredge.com
APOC Double Mukk
As Blake Pogue, product manager of CAS Iberia, tells it, the creation of the Double Mukk started with some pencil, plenty of erasing and an idea. "We wanted to bring a full-tang hatchet to market with some unique features at a good price point," he says. Double-bit axes don't seem as common as they used to be, but the Double Mukk's design is grounded in some very real field experience. In fact, it is a design championed by George Sears, the famed outdoor writer with the nom de plume of Nessmuk.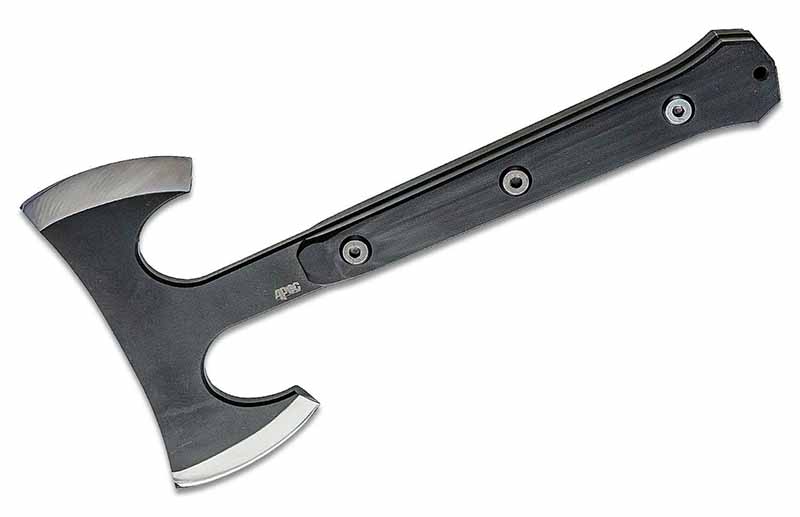 "George Sears was an avid outdoorsman, canoe enthusiast, writer and conservationist in the late 1800s," Blake explains. "He famously employed a trio of tools for woodcraft —a small folding knife, a thin-bladed belt knife and a short, double-bit hatchet."
Pogue said after some field testing of their own, the makers learned they didn't need to tweak much from Nessmuk's favorite design. APOC Survival Tools makes the hatchet at a forge in Dalian, China, and it's distributed by CAS Iberia. The blade is 9260 carbon steel, the same material used for swords, among others.
The double edge grants the hatchet additional versatility, as one side is flat ground for delicate carving tasks. The other side is convex ground to better slam through tough cutting jobs. Pogue recommends sharpening a hatchet with a hockey-puck-style sharpener designed for axes because it can easily follow the tool's convex edges.
"I wanted one tool that could readily build a shelter, prep a fire for a meal and do the intricate work required to make traps like the figure four," he explains. "If we can accomplish those three requirements, there isn't much else you'd need but a small knife for food prep, and even then the carving side of the Double Mukk is no slouch!"
Double Mukk Specs
Company: APOC Survival Tools
Cutting Edge: 2.75″
Head Material: 9260 carbon steel
Head At Its Thickest: .236″
Handle: G-10
Weight: 1.5 lbs.
Overall Length: 11.75″
Sheath: MOLLE compatible
Country Of Origin: China
MSRP: $99; apocalypsesurvivaltools.com
Also Read:
Keep Reading:
---
NEXT STEP: Download Your Free KNIFE GUIDE Issue of BLADE Magazine
BLADE's annual
Knife Guide Issue
features the newest knives and sharpeners, plus knife and axe reviews, knife sheaths, kit knives and a Knife Industry Directory. Get your FREE digital PDF instant download of the annual Knife Guide. No, really!
Click Here to Get Your Free Issue