All the latest knives and custom knifemakers.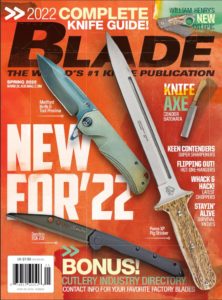 Download the 2022 BLADE Knife Guide Issue in Digital PDF!
Delivered straight to your e-mail inbox for instant download, the Knife Guide Issue features the newest knives and sharpeners, plus knife and axe reviews, knife sheaths, kit knives and a Knife Industry Directory.
Get the digital version of this issue free when you subscribe to the BLADE email newsletter. Just enter your email below, then click the button.