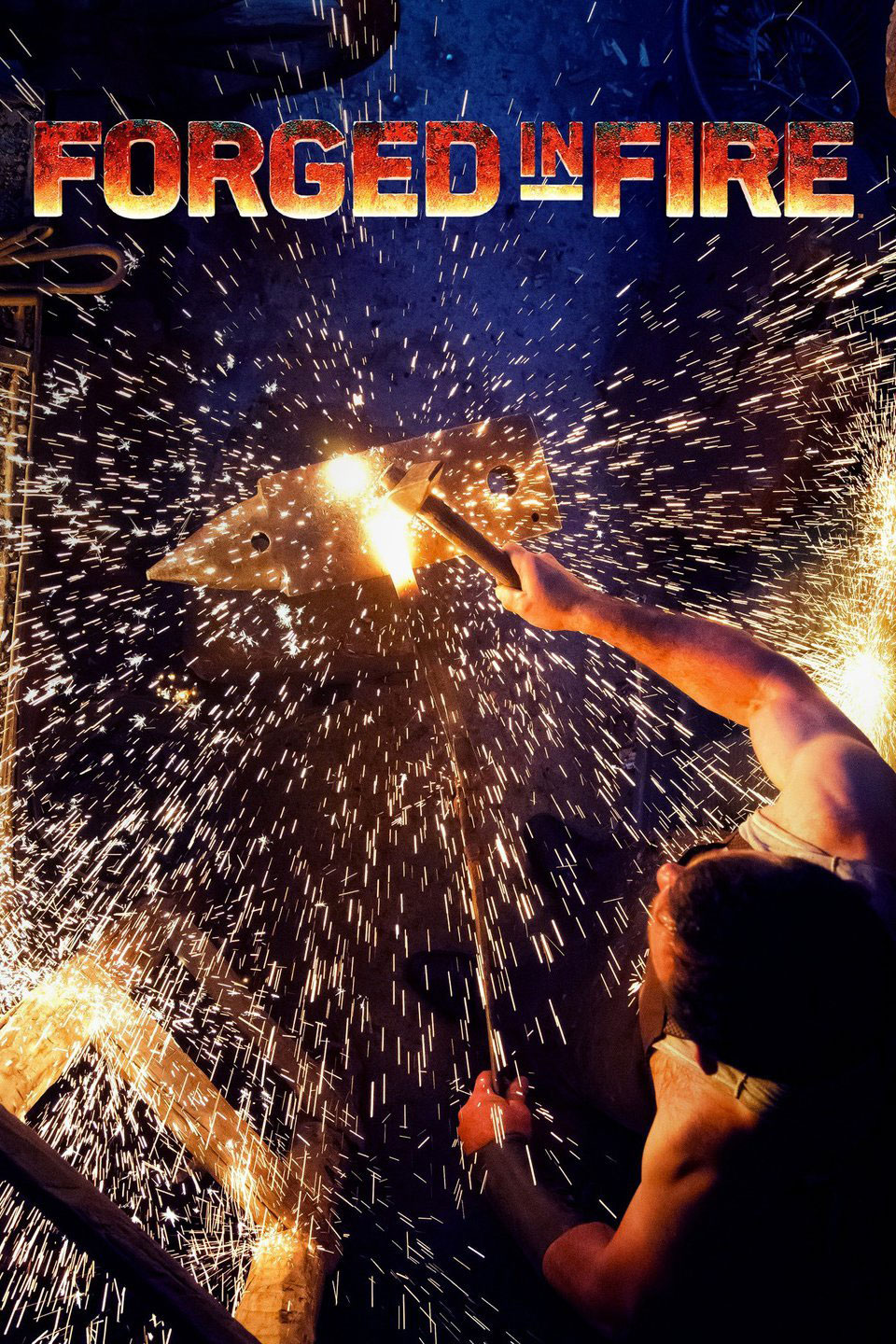 Forged in Fire will go down as one of the most significant television programs to knife enthusiasm of all time. Here are eight things you may not know about the show, as sourced from BLADE interviews with contestants.
1) The Set is Hot
Despite the Forged in Fire staffs' efforts to reduce the heat in studio, the combination of forges and overhead lighting for filming makes for piping-hot working conditions.
The forges are lined up four abreast so you are sandwiched between fires. The stage is fireproof, which means it's vented to prevent asphyxiation, but not as you would vent a home forge, drawing heat up and away. This is where you see contestants collapsing. Add to that the heat and brightness of the lights needed to adequately film the show, and you've got an extremely hot environment.
2) Knifemakers Need Reminders to Drink Water
The staff is great about providing thermoses of water, but often the makers are driven and forget to drink.
3) Filming Isn't Like a Casual Hammer-In
Everyone who appears on Forged in Fire undergoes a telephone interview, a Skype interview and a background check. The participants are flown to New York City and set up in a hotel. The filming takes place in a studio in Brooklyn.
One knifemaker thought it would be cool to hang out after the show, "light a fire and make stuff," but due to insurance liabilities there was no resemblance to a relaxed hammer-in.
4) It's a Competition With Yourself, Not Others
One knifemaker who appeared on the show told BLADE there is no backstabbing, no negative talk about other smiths. It is very stressful, but it's about doing your personal best and reflecting well on the industry.
5) Knifemakers Have to Speak in Present Tense
To a man, each bladesmith found filming the interviews a long, challenging process. Those need to be conducted in the present tense, which is hard to remember when you're talking about something that's already past.
6) The Show Format Changes Based on Knifemaker Feedback
Although knifemaker JW Randall was contacted early on to be on the show, he didn't like how it seemed to take advantage of people and their situations. Randall caught up with Forged in Fire judge J. Neilson and expressed how off putting the original format was to him. The show evolved.
7) Not Every Knifemaker Jumps on the Chance to be on TV
Mace Vitale (featured in the latter half of the video above) of Vitale Knives in New Haven, Connecticut, received an email invitation to interview for selection on Forged in Fire. A batch of emails had been sent to noted smiths in the industry.
"We were all talking about it," Vitale said of the reaction within the bladesmithing community.
Some thought it was going to be the ruin of the craft ; others saw the potential. Vitale passed but then changed his mind.
"I didn't care about being on TV," he said. He wasn't concerned about promoting his knives or his business. He decided to try it because it was a personal challenge. He wanted to know if he could compete with his experience and skill set and beat the competition.
8) The Twists in the Show are Surprises to the Knifemakers, too
In episode eight of season one, Vitale and his competitors were told to pick what they wanted off "a table of junk." There were shovels and hoes, mid-carbon steel; horseshoes and railroad spikes, no carbon steel; and ball bearings, most likely 52100.
This is where experience came into play. Vitale grabbed some ball bearings and began making a 9- to 12-inch knife that would have to survive a coconut chop and another sharpness test, which turned out to be cutting a reinforced sand bag, though the contestants didn't know it at the time.
Get Started in Knifemaking for $50
If Forged in Fire gave you the itch to try making a knife, start with Wayne Goddard's classic knifemaking book, $50 Knife Shop.
---
NEXT STEP: Download Your Free KNIFE GUIDE Issue of BLADE Magazine
BLADE's annual
Knife Guide Issue
features the newest knives and sharpeners, plus knife and axe reviews, knife sheaths, kit knives and a Knife Industry Directory.
Get your FREE digital PDF instant download of the annual Knife Guide. No, really!
We will email it to you right now when you subscribe to the BLADE email newsletter.