Atlanta, Georgia (June 8, 2019) – Awards recognizing the highest achievement in the production and custom knife industries were bestowed the evening of Saturday, June 8, 2019, at the BLADE Show in the Cobb Galleria.
2019 BLADE Show Knife of the Year® Award Winners
Representatives from BLADE (www.blademag.com) distributed BLADE Magazine Knife of the Year® awards in 11 categories, plus awards for individuals' career achievements. All entrants in the Knife of the Year® competition were evaluated by a super panel of undisclosed judges on a number of factors, including utility, design, creativity, materials, aesthetics, feel and other traits. This was different from years past, when booth holders at the show voted by ballot.
Overall Knife of the Year®: FOX Knives Radius
Judges commented on the innovative opening mechanism and quality workmanship. The patent-pending mechanism requires the user to slightly depress and move the button along the U-shaped track for opening and closing.
The Radius also brings home the Imported Knife of the Year® award.
American-Made Knife of the Year®: Microtech Socom Elite
This exemplary automatic is a hallmark of the American knife industry.
Most Innovative American Design: Spyderco Para 3 Lightweight
Spyderco knocked out about a third of the weight (and the price point) of the standard Para 3 for this lightweight version.
Most Innovative Imported Design: WE Knife .037
WE's takedown design makes simplicity look easy. The company describes the .037 as sporting "self-locating interlocking tab frame construction."
Best Buy of the Year: CRKT CEO
The CEO brings gents' knives to the masses with its $49.99 price point.
Investor/Collector Knife of the Year®: ProTech Warenski/Brend Masterpiece Custom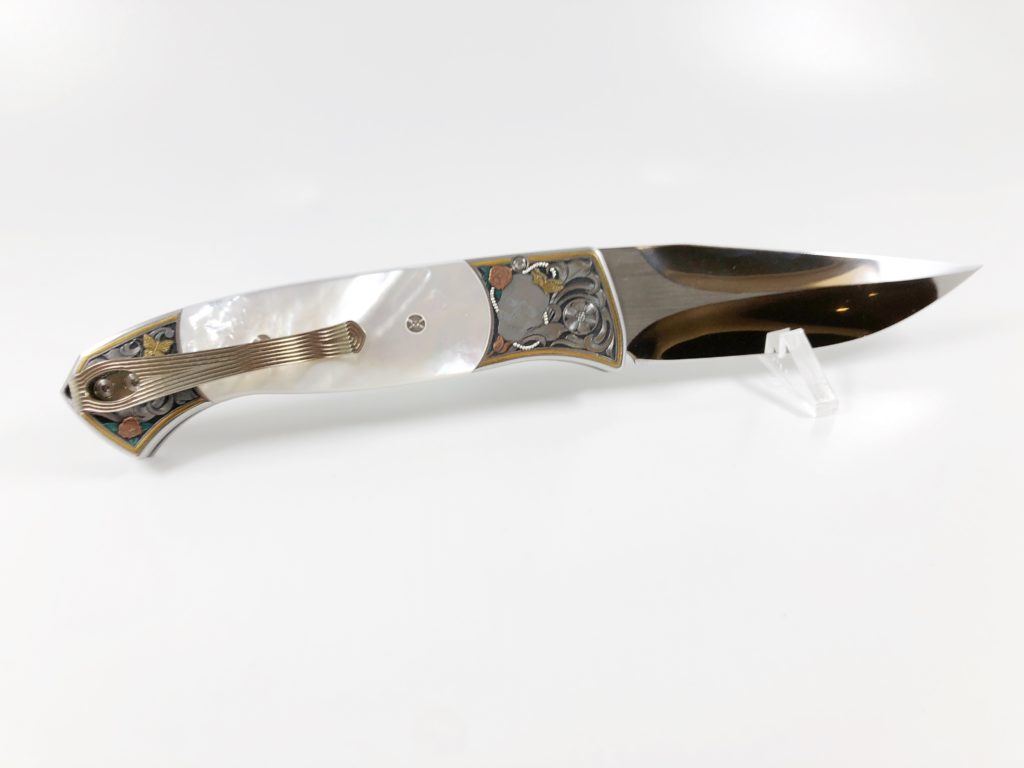 ProTech continues to dominate this category with another attractive entry for investors. This one must be seen to be believed, but you'll need to shell out $12,000.
Manufacturing Quality Award: Chris Reeve Knives
It's not enough to perform at a high level once or twice. Chris Reeve Knives's consistency in craftsmanship is key to this win.
Accessory of the Year: Outdoor Edge Para Spark
This survival bracelet is handy and just plain cool. Using the latch as a sheath is a nice touch.
Collaboration of the Year: Casstrom/Lars Falt/CAS Iberia Lars Falt Lockback
Simplicity equals versatility, as this lockback demonstrates, and yet the distinct touches of the collaboration still shine through.
Kitchen Knife of the Year®: Apogee Dragon Storm (set of 4)
This set demonstrates the intersection of art and utility at a high level for a production kitchen knives.
Individual Achievement
Cutlery Hall-Of-Fame® Inductees: Mel Pardue and Tony Bose (read the article here)
Cutlery Hall-Of-Fame® Inductee (by proclamation): BLADE Editor Steve Shackleford – This came as a surprise to Shackleford, who was emceeing the ceremony. Inductees typically know they will be honored before the event. However, with the blessing of the others in the Hall of Fame, Shackleford was inducted by Bruce Voyles, former publisher of BLADE.
Publisher's Award: Adam Drescher (read the article here)
Industry Achievement Award: Lucas Burnley, for his charitable work with Toys for Tots
Aldo and Edda Lorenzi Award: Bill Ruple (this award comes with a $1,000 cash prize from the Lorenzi family to support the custom knife industry)
2019 BLADE Show Custom Knife Winners
The 2019 BLADE Show Custom Knife Award Winners were also announced on Saturday, June 8, 2019, at the Cobb Galleria in Atlanta.
Best in Show: Harvey Dean
---
Best Art Knife: Veronique Laurent
Best Folder: Javier Vogt
Best Bowie: Jerry Fisk
Best Kitchen Knife: Doberman Forge
Best Fixed Blade: Harvey Dean
Best Damascus: Franco Custom Knives
Best New Maker: Esnyx Knives
Best Collaboration: David Lisch & Andrew Meers
Best Handle Design: Ben Breda
Best Fighter: Brian Sellers
Best of the Rest: Ron Newton
Most Innovative Design: RJ Martin
Best Utility Hunter: Ben Breda
Best Sword: Vince Evans
Best Mini: Ohbuchi Isao
About BLADE Show
The BLADE Show is the world's largest, most important knife show, and has taken place every year since 1982 and in Atlanta since 1992. Upwards of 1,000 exhibitors from more than 20 countries display their knives and knife-related items over a three-day cutlery celebration that also features BLADE University knife seminars, knife auctions, custom knife awards, celebrity appearances and much more.
About BLADE
BLADE® Magazine (www.blademag.com) is the world's No.1 knife publication. It is also the world's oldest knife magazine, publishing its first issue in 1973. In conjunction with the BLADE Show, it has sponsored the Knife of the Year® Awards annually since 1982. The awards are the most coveted honors in the factory knife industry and are voted on by the booth exhibitors at the BLADE Show, who this year number more than 200. Only BLADE Show booth exhibitors are eligible to enter.
The BLADE Show and BLADE Magazine are the properties of Caribou Media LLC.
---
NEXT STEP: Download Your Free KNIFE GUIDE Issue of BLADE Magazine
BLADE's annual
Knife Guide Issue
features the newest knives and sharpeners, plus knife and axe reviews, knife sheaths, kit knives and a Knife Industry Directory.
Get your FREE digital PDF instant download of the annual Knife Guide. No, really!
We will email it to you right now when you subscribe to the BLADE email newsletter.