Cutlery Hall Of Fame ushers in a Hall Of Fame class that the 2023 BLADE Show.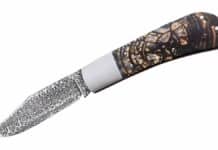 Top custom makers from around the world showcase rarefied knives at the annual ABS auction.
Eyeball a few factory knives that will debut at the BLADE Show.
See who took home the hardware from the 2023 Factory Knife Of The Year® Awards at BLADE Show.
Summer school never looked so good with the 10th Annual BLADE University. Check out the list of classes at BLADE Show.
This sounds like the perfect pair. Ernest Emerson to debut Emerson Whiskey Co. and the Whiskey Knife at BLADE Show '23.
M.A.C.K. is one of the newest custom knife categories. Here's what it takes to compete in this class at BLADE Show