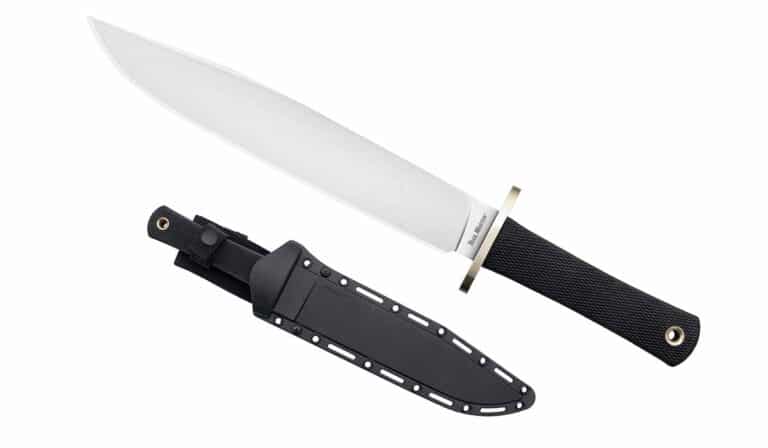 As legendary as the man it's named after.
When it comes to iconic blades, few can match the legendary status of the Bowie knife. This distinctive and formidable knife has a storied history that spans centuries, and its enduring popularity is a testament to its imperishable design and utility.
In this comprehensive guide to the Bowie knife, we'll take a deep dive into the world of the iconic knife. We'll look at its history, design, modern uses, and legality. Then we'll finish up with an extensive selection of the best Bowie knives currently on the market.
History of the Bowie
The debate about who made the first Bowie knife rages on to this day, adding to the mystique of this legendary blade. Some credit the knife's creation to Jim Bowie himself, while others argue that it was the work of various blacksmiths and bladesmiths in the early 19th century. What is certain is that Jim Bowie's association with the knife's name and his prominent role in a violent sandbar fight in 1827 contributed significantly to its fame.
One of the most pivotal moments in the knife's history was the infamous sandbar fight that took place in Mississippi in 1827. During this brutal encounter, Jim Bowie and a group of men defended themselves against an opposing faction. Jim Bowie's remarkable fighting skills and his knife's performance in the fight led to the weapon being forever associated with his name. This event catapulted the Bowie knife into the realm of legend, ensuring its enduring fame.
Bowie Knife Design: Choosing a Good Knife
The Bowie knife is known and loved for its distinctive design. While variations exist, several key features define this iconic blade:
Blade Style: The knives typically have a clip point blade, which is characterized by a concave curve on the top edge and a fine, sharp point. This design allows for both slicing and piercing, making it a versatile tool for a wide range of tasks.
Blade Length: Bowie knives come in various blade lengths, with the most common falling between 6 and 12 inches. The length of the blade influences its utility, with longer blades being suitable for chopping and combat, while shorter ones excel at precise cutting.
Crossguard: Most Bowie knives feature a crossguard, a metal piece positioned between the blade and the handle. This crossguard serves to protect the user's hand during combat and can also be used for utility purposes.
Full-Tang Construction: Bowie knives are typically constructed with a full tang, meaning the blade extends through the handle, providing stability and strength. This design ensures the knife can withstand heavy use and remain a reliable companion in various situations.
Handle Material: Bowie knife handles come in a range of materials, from classic hardwoods to modern synthetics like Kraton. The choice of handle material impacts the knife's aesthetics and grip comfort, catering to the user's preferences.
Modern Uses for Bowie Knives
While the Bowie knife was originally designed for self-defense and survival in the wilderness, its uses have evolved over the years. Today, Bowie knives are valued for their versatility and can serve a variety of purposes:
Camping and Outdoor Activities: Bowie knives are popular among outdoor enthusiasts for tasks such as chopping wood, preparing food, and building shelters. Their sturdy design makes them reliable tools in the wilderness, where dependability is crucial.
Hunting: Many hunters rely on Bowie knives for field dressing and skinning game. The sharp blade and clip point make these knives well-suited for precision work, ensuring a clean and efficient process.
Collection and Display: Bowie knives have transcended their practical utility to become sought-after collectibles. Enthusiasts appreciate their historical significance and craftsmanship, often displaying them as works of art in custom cases or on stands.
Self-Defense: While not as commonly carried for self-defense as smaller knives or firearms, Bowie knives can still serve as formidable weapons in a close-quarters encounter. Their imposing presence and sharp blade can deter potential threats.
Survival: Bowie knives remain a popular choice for survivalists due to their robust construction and multi-purpose design. Whether it's building a shelter, cutting through rope, or processing wood for fire, a Bowie knife is up to the challenge.
Cooking: In the kitchen, Bowie knives with shorter blades can be used as versatile chef's knives. Their sharp edges and comfortable handles make them suitable for slicing, dicing, and other food preparation tasks.
Legality of Bowie Knives
The legality of owning and carrying Bowie knives varies from place to place and can be subject to specific regulations. It's crucial to understand your local laws and regulations regarding these knives. In some areas, Bowie knives may be considered illegal if carried in public, while in others, they are legal for both open and concealed carry.
It's important to note that while Bowie knives have a rich history and practical uses, they can be seen as intimidating weapons by law enforcement and the public. Therefore, it's essential to use them responsibly and within the bounds of the law.
Best Bowie Knives And Bowie-Inspired Knives For Any Budget
Cold Steel Trail Master
The Cold Steel Trail Master is a rugged Bowie knife designed for heavy-duty tasks. Its 9.5-inch blade is made from VG-1 stainless steel, known for its exceptional sharpness and resistance to corrosion. This knife's clip-point blade design, with a concave curve on the top edge, allows for precise slicing and piercing.
The Kraton handle provides a comfortable and secure grip even in wet conditions, making it an excellent choice for outdoor enthusiasts. The full tang construction ensures durability and stability, making it capable of withstanding substantial abuse. The Trail Master is the go-to option when you need a reliable, high-performance Bowie knife for demanding tasks in the field.
MSRP: $540
Buck Knives 124 Frontiersman
Buck Knives' 124 Frontiersman is a classic Bowie knife that pays homage to the heritage of American bladesmithing. Its 6.25-inch 420HC stainless steel blade is known for its edge retention and ease of maintenance. This Bowie knife boasts a timeless design with a sweeping clip-point blade and a polished brass guard.
The handle is made of rich cocobolo hardwood, which not only adds to the knife's aesthetics but also provides an excellent grip. This knife's combination of traditional craftsmanship and modern materials makes it an excellent choice for those who appreciate the artistry of a well-made Bowie knife.
MSRP: $185
Gerber StrongArm
The Gerber StrongArm offers a modern take on the classic Bowie design. Its 4.8-inch stainless steel blade is versatile, featuring a fine edge and serrations on the spine for additional cutting options. The blade's black ceramic coating enhances durability and corrosion resistance.
What sets the StrongArm apart is its diamond-textured rubber handle. This design ensures a secure grip in various weather conditions, making it an ideal choice for those who value a reliable grip during outdoor activities. The knife also features a striking pommel at the base of the handle, which can be used for various tasks, including glass breaking.
MSRP: $90
SOG Super Bowie
For those seeking a premium Bowie knife, the SOG Super Bowie delivers both style and substance. Its 7.5-inch AUS-8 stainless steel blade offers excellent edge retention and corrosion resistance. The stacked leather handle adds a touch of elegance while providing a comfortable grip.
This Bowie knife combines the best of classic design with modern materials and craftsmanship. It features a brass handguard and pommel, enhancing its overall aesthetics. The Super Bowie is an excellent choice for collectors and enthusiasts who appreciate the fusion of tradition and innovation in a high-quality knife.
MSRP: $250
Ontario Knife Company OKC 498
The OKC 498 is a straightforward and dependable Bowie knife designed for practicality. Its 8-inch carbon steel blade is rugged and easy to sharpen, making it an excellent choice for outdoor enthusiasts who value simplicity and reliability.
The Kraton handle offers a secure and comfortable grip, even in wet conditions. This knife's utilitarian design makes it a versatile tool for a wide range of tasks, from campsite chores to survival situations. If you're looking for a no-nonsense Bowie knife that gets the job done, the OKC 498 is an excellent choice.
MSRP: $98
KA-BAR USMC Fighting Knife
While not a traditional Bowie knife, the KA-BAR USMC Fighting Knife has earned its place among classic American blades. With a 7-inch 1095 Cro-Van steel blade, it's renowned for its durability and edge retention. This knife has a rich military history, having served the U.S. Marine Corps during World War II.
The leather handle provides a comfortable and secure grip, while the double guard protects the hand during combat or utility tasks. The USMC Fighting Knife is a versatile and iconic choice for those who appreciate a knife with a storied history, and one that is of course tied to the Bowie that inspired it.
MSRP: $135
Emerson CQC-7BW
The Emerson CQC-7BW is a modern take on the Bowie design, featuring a folding blade for everyday carry (EDC) convenience. With a 3.3-inch stainless steel blade, this knife is compact and versatile, making it suitable for a wide range of daily tasks. The clip-point blade design provides excellent piercing capability, and the thumb disk allows for easy one-handed opening.
The G-10 handle scales offer durability and a secure grip. Emerson Knives are known for their tactical functionality, and the CQC-7BW lives up to this reputation. If you're looking for a compact and reliable EDC option inspired by the Bowie style, this knife is an excellent choice.
MSRP: $213
TOPS Knives Tom Brown Tracker
The TOPS Knives Tom Brown Tracker is a unique Bowie-inspired knife with a distinctive multi-purpose design. Its 6.38-inch 1095 high carbon steel blade features a variety of edges and angles, making it suitable for a wide range of tasks, from chopping to carving. This versatility has made it a favorite among survivalists and outdoor enthusiasts.
The handle is made of Micarta, providing a comfortable and secure grip. The Tracker is designed to handle tough wilderness challenges, making it an excellent choice for those who want a dependable tool for camping, bushcraft, and survival scenarios.
MSRP: $320
ESEE Junglas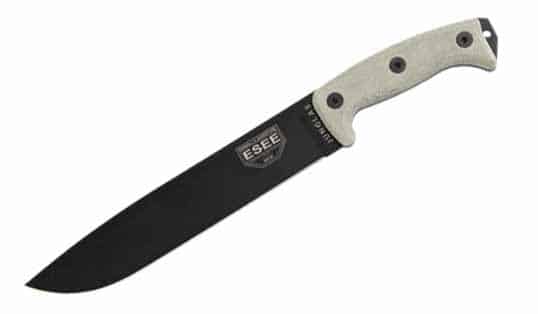 The ESEE Junglas is a heavy-duty Bowie knife built to withstand the most demanding survival situations. With a massive 10.38-inch 1095 carbon steel blade and full tang construction, it's a powerhouse of a knife. The blade's black powder coating enhances durability and corrosion resistance.
The Micarta handle scales offer a comfortable and secure grip, even during extended use. The Junglas is designed for heavy chopping, batoning, and other rugged tasks that might arise in the wilderness. If you need a Bowie knife that can handle the toughest challenges, this is a top choice.
MSRP: $310
Condor Tool & Knife Undertaker Bowie
Condor's Undertaker Bowie combines traditional craftsmanship with affordability. Its 10-inch 1075 high carbon steel blade is known for its toughness and ease of sharpening. This knife is designed for practicality, making it an ideal choice for outdoor enthusiasts and those who appreciate a robust tool.
The hardwood handle not only adds to the knife's aesthetics but also provides a comfortable and secure grip. The Undertaker Bowie excels in tasks such as wood processing and campsite chores, making it a dependable companion in the great outdoors.
MSRP: $118
Check Out More Buyer's Guides:
---
NEXT STEP: Download Your Free KNIFE GUIDE Issue of BLADE Magazine
BLADE's annual
Knife Guide Issue
features the newest knives and sharpeners, plus knife and axe reviews, knife sheaths, kit knives and a Knife Industry Directory.
Get your FREE digital PDF instant download of the annual Knife Guide. No, really!
We will email it to you right now when you subscribe to the BLADE email newsletter.