A reliable camping hatchet or axe can be the difference between mere survival and a truly memorable camping experience
Do any sort of camping and you're more than aware there truly are the right tools for the job. While implements such as a bushcraft knife are an absolute must to get you out of a backwoods switch, they are, at best, only adequate for certain tasks. Chief among these is processing any amount of wood.
This, when your kit requirements allow, is where the good old camp hatchet or axe comes into play. Antiquated for large tree-felling projects nowadays, these lightweight and heavy-duty tools bring your woodcraft abilities to a new level. From facilitating more elaborate shelter-building attempts and arming you with the ability to collect a magnitude more firewood, hatches and small axes prove a godsend in the harshest environments.
Let's hack away at what goes into the best of these sometimes overlooked camping and survival tools and what presently are some of the top choices in the wilderness tools.
Camp Axes vs Hatchets
While there is no bright line from when you crossover from an axe to a hatchet, there is a generally safe rule of thumb. Axes sport enough handle to facilitate a two-handed grip, while hatchets are generally wielded with one hand—hence their moniker "hand axe". Most times too, axes boast a slightly larger and heavier head with a slighter taper. Hatchets, you'll find, have a much more pronounced taper to their heads in addition to some having other functions incorporated—such as a hammer.
Given this, axes provide more striking power, thus a bit more versatility since they're capable of heavier work than hatchets, in addition to all the tasks the smaller tool is proficient at. Bushcraters have understood this for some time, with some favoring relatively small axes that make shelter building and wood splitting much less labor intensive. There is a tradeoff in going the axe route, however—no matter what, the great majority of axe options will weigh more than a hatchet.
A hatchet, aside from convenience, has some underlying benefits. Splitting wood in camp is much easier and safer with the hand axe given it's more controllable and can function in smaller spaces. Many—as mentioned—are tailored to the tasks of camping with multiple functions engineered into them—a tent stake puller is always nice. And even in the realm of bushcrafting, the hatchet proves nimbler than the axe on many tasks—such as using it to whittle wood.
Which is Right For The Wilderness?
Overall, the winner of axe vs hatchet debate when it comes to the outdoors is only something you can determine by analyzing exactly what your needs are when out in the wild.
If your outdoor plans require a deep push into the backcountry, where woodfires are a secondary source of heating and cooking, a hatchet seems more logical. The same goes for excursions where you plan to collect fuel wood immediately around your campsite, as opposed to cutting down a tree.
Conversely, if wood fires are your main source of heat and cooking, even in deeper parts of the forest, and you're on extended trips an axe might prove more useful. Furthermore, if you are going straight up Grizzly Adams and virtually living off the land, building your own shelters, well an axe provides an advantage. Hunters too, in blind building from fallen trees, could also benefit from the extra leverage allotted by an axe.
Again, these are not hard and fast rules, simply examples of where a hatchet might trump an axe and vice versa. Using each as well as understanding your needs and capabilities in the wilderness will likely point you to making the right choice.
Best Hatchets And Camp Axes
ESEE Gibson Axe
The hatchet is a James Gibson design which is now offered by ESEE. A knifemaker, flintknapper, and bushcraft instructor, James originally designed the Gibson Axe for himself, something to throw into a backpack as he tramped the hills and hollers of East Tennessee. As he tweaked his design, eventually cutting out a prototype made from thin plywood, he focused on its balance and "rocker."
"An axe with perfect rocker is one of the best handling axes you can handle," James said. "And I got the rocker perfect on this axe."
And just what is rocker?
Gibson explains it's when you take the hatchet and stand it up edge down on a straight surface. As he puts it, the bit's edge should meet the surface in the "middle of the blade, the cutting edge and its dead center, and the handle [butt] should touch at the same time."
When he showed a couple of prototypes of the axe to the folks at ESEE at a BLADE Show one year, they decided to add it to their lineup. At the time, ESEE was hearing from its customers that they wanted the company to offer an axe—and Gibson's hatchet fit the bill.
James designed the handle to have finger grooves and a knob to secure the hand while swinging it. After the axe was made, he learned a hidden feature of his design: it has enough finesse to carve smaller objects. He says he sharpens pencils with it and once cleaned a trout with it. The result "is capable of doing some real work as well. It also has exceptional balance and you can choke up on it and use it like a knife for many applications," explains Shane Adams, ESEE's marketing director.
Of course, it being ESEE, the hatchet comes in the company's oft-used blade material: 1095 carbon steel. "It's us," Adams said. "We know 1095 well." It's a steel that handles all the variables of the outdoors. "You can sharpen it with a rock if need be," the marketing director advises. "Stones or systems, it doesn't matter. I always like to finish on a loaded leather strop when possible."
Gibson Axe Specs
Company: ESEE
Cutting Edge: 4.5″
Head Material: 1095 carbon steel
Head At Its Thickest: .25″
Handle: Micarta
Weight: 1.3 lbs.
Overall Length: 10.5″
Sheath: Leather
MSRP: $269
---
Knives Of Alaska Hunter's Hatchet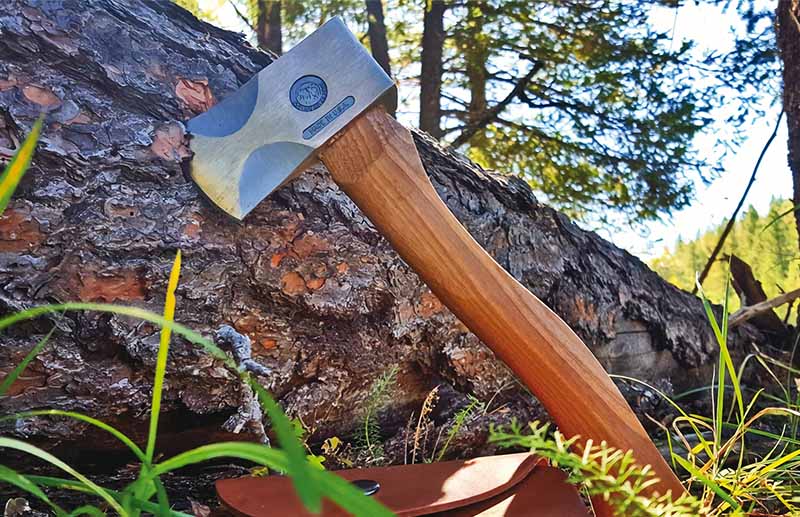 Charles Allen, president and owner of Knives of Alaska (KOA), knows the importance of being prepared. The Alaskan master big-game guide who has flown in the Alaskan skies professionally for almost three decades always keeps a hatchet stashed in his bush plane—and for good reason.
"When you look back at the old photos of the early trappers and hunters, you will see three things: a rifle, a knife, and a hatchet or tomahawk on their belts," he said. "Hatchets are still one of the most useful tools a real outdoorsman can have in the field, and they can save your life by enabling you to quickly make a warming fire or emergency shelter." When consumers demanded a multi-purpose hatchet, Allen studied the designs carried by the folks who make preparedness their motto: the Boy Scouts. "I looked at the historic Boy Scout's hatchet I grew up with and know that it is a proven design that is hard to improve on," he says.
But improve on the Boy Scout model he did with the KOA Hunter's Hatchet. The hickory handle remains tough yet easy on the hands. Heat-treated properly, the S7 tool steel is designed to absorb the shocks of hard blows. With a Rockwell hardness of 50-54 HRC, the edge of the Hunter's Hatchet is intended to dent if it collides with something hard, Allen says, such as bone while butchering game. And the head can be returned to a razor-sharp bite with Allen's recommended sharpening tool: a flat, fine-toothed file.
When designing the Hunter's Hatchet, Allen was sure to include a wide-enough poll so that users could pound stakes, nails and the like with it, too.
Hunter's Hatchet Specs
Company: Knives of Alaska
Cutting Edge: 4.25″
Head Material: S7 tool steel
Handle: American red hickory
Weight: 1 lbs.
Overall Length: 11″
Sheath: Leather
MSRP: $169
---
Outdoor Edge Wooddevil
David Bloch, president and founder of Outdoor Edge, wanted a hatchet that could out-cut its class: Something small enough to carry easily but with enough heft to take down a medium-sized tree.
"I looked at and tested a number of compact hatchets on the market and came to the conclusion that most full-size hatchets were too large and heavy to take on outings where weight and volume were limiting factors," Bloch said. "I also found that most every compact hatchet I tested, while cute in appearance, was not an effective chopping tool."
During outdoor treks when the quality of your tools will make or break the
trip, the Outdoor Edge WoodDevil may be a guardian angel, made possible by the marriage of a combination of the right balance, a good handle and a wide cutting head.
"The WoodDevil stands up to its name," David said. "With a 4-inch cutting surface, it has the ability to cut through large diameter material with the respect of its compact size." Plus, its compact size makes it unobtrusive in the camping bin or pickup truck until needed for whatever task—from hammering tent stakes to "slicing tinder shavings," he adds.
The 3Cr13 stainless steel in a Rockwell hardness of 52-54 HRC is malleable and resharpens easily, and the black oxide finish allows it to better resist corrosion. The TPR rubber handle provides a non-slip grip that soaks up the shock and vibration during use. It's packaged in a nylon sheath retained with a fabric fastener that can hang from a belt.
Wooddevil Specs
Company: Outdoor Edge
Cutting Edge: 4″
Head Steel: 3Cr13 stainless
Handle: Red ABS plastic with black rubberized TPR
Weight: 1.2 lbs.
Overall Length: 10″
Sheath: Nylon
MSRP: $40
---
APOC Double Mukk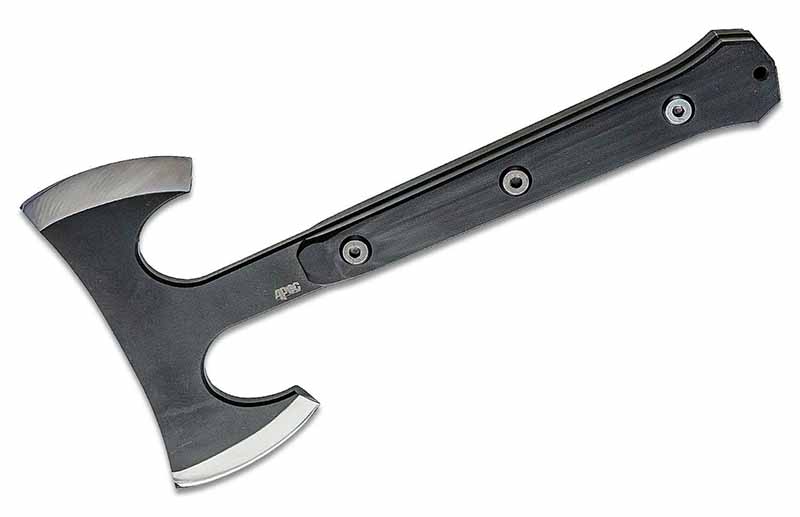 As Blake Pogue, product manager of CAS Iberia, tells it, the creation of the Double Mukk started with some pencil, plenty of erasing, and an idea.
"We wanted to bring a full-tang hatchet to market with some unique features at a good price point," he said. Double-bit axes don't seem as common as they used to be, but the Double Mukk's design is grounded in some very real field experience. In fact, it is a design championed by George Sears, the famed outdoor writer with the nom de plume of Nessmuk.
"George Sears was an avid outdoorsman, canoe enthusiast, writer, and conservationist in the late 1800s," Blake said. "He famously employed a trio of tools for woodcraft —a small folding knife, a thin-bladed belt knife and a short, double-bit hatchet."
Pogue said after some field testing of their own, the makers learned they didn't need to tweak much from Nessmuk's favorite design. APOC Survival Tools makes the hatchet at a forge in Dalian, China, and it's distributed by CAS Iberia. The blade is 9260 carbon steel, the same material used for swords, among others.
The double edge grants the hatchet additional versatility, as one side is flat ground for delicate carving tasks. The other side is convex ground to better slam through tough cutting jobs. Pogue recommends sharpening a hatchet with a hockey-puck-style sharpener designed for axes because it can easily follow the tool's convex edges.
"I wanted one tool that could readily build a shelter, prep a fire for a meal, and do the intricate work required to make traps like the figure four," he said. "If we can accomplish those three requirements, there isn't much else you'd need but a small knife for food prep, and even then the carving side of the Double Mukk is no slouch!"
Double Mukk Specs
Company: APOC Survival Tools
Cutting Edge: 2.75″
Head Material: 9260 carbon steel
Head At Its Thickest: .236″
Handle: G-10
Weight: 1.5 lbs.
Overall Length: 11.75″
Sheath: MOLLE compatible
MSRP: $99
---
Halfbreed Blades CRA-01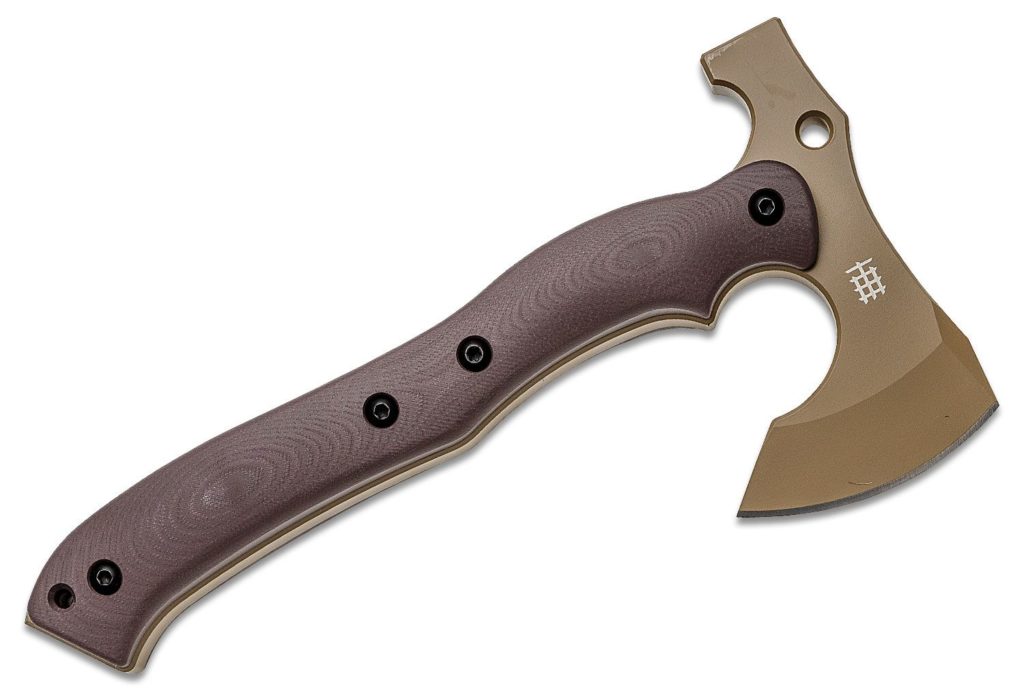 The Halfbreed is a very heavy-duty piece. It is thick and hefty, and capable of taking a serious beating and dishing one out. This variant is finished in a dark earth color and comes with a substantial sheath that allows for secure carry adaptable to a variety of belts and packs.
Notable is how heavy the little hatchet is. It feels very nice in the hand and allows for either a low or high grip depending on the task. The grip is round in profile and consists of somewhat smooth scales. The edge out of the box was shaving sharp and easily removed hair from the arm.
The high, comfortable grip allowed for great control when scraping tinder. It also was a beast breaking bricks to make a windbreak for small fires. That said, it is not great for splitting tasks and, due to the thickness of the edge, does not bite deep for chopping. The grip is very comfy for general chores, though because the hatchet has equal weight dispersion along its length, it can fatigue your hand in use. It can be swung quite hard but there is a great deal of wasted energy in each strike because the head doesn't carry the bulk of the forward momentum.
The dark earth finish was also the fastest to come off in heavy use. This is to be expected; however, be aware that if used heavily, the hatchet head likely will show wear far more than the other review subjects.
In terms of fire-starting ability, the CRA-01 proved mediocre as a striking tool, though it was very easy to control the direction of the sparks. Overall, it is fine for small fire-starting work and if it was what I had, I could easily make it work.
HALFBREED BLADES CRA-01 SPECS:
Style: Tomahawk
Head Style: Curved edge w/hammer poll
Blade Material: K110 D2 tool steel
Head Thickness: .31"
Blade Finish: Dark earth (available in Ranger green and black)
Handle Material: G-10
Weight: 1.7 lbs.
Sheath: Kydex w/safety strap, belt and PALS/MOLLE mounting options
Overall Length: 9.52"
MSRP: $400+
---
Winkler Knives Highland Hatchet
The Winkler has a full tang with scales attached. Worrisome for fear of the handle cracking in hard testing but it held up nicely. The finish is matte and held up well. It has a durable sheath that is simple and intuitive to use.
Despite the edge angles, it bit right into most wood, easily de-limbed trees and handled very light splitting. It stood no chance of taking a large log apart, though anything under 3 inches in diameter was taken to task.
For hammering and strength testing the Winkler held up extremely well. It broke bricks in a single strike and took very little finish damage in the process. Tent stakes were easy to drive in and were barely worth a mention, as a nice part of this little hatchet is it handles just like a 4-ounce tack hammer.
The Highland is a reliable fire maker, generating a showers of sparks and getting a flame going given equal materials. The edge showed no handicap in making kindling.
SPECS: WINKLER KNIVES HIGHLAND HATCHET
Style: Camp hatchet
Designer: Daniel Winkler
Head Profile: Hammer poll
Blade Material: 80CrV2 carbon steel
Blade Finish: Black oxide
Head Thickness: .336"
Handle Material: Maple (laminate and walnut available)
Weight: 20 ozs.
Overall Length: 10 7/8"
Sheath: Lined Kydex
MSRP: $550
---
Condor Tool & Knife Mountain Pass AXE
The Condor Tool & Knife Mountain Pass might be classified as a jungle hatchet. It has a low beard and narrow thickness that is arguably much better at cutting wet wood, vines and bamboo in fast, repeated swings. For all intents and purposes, it is a foliage tool. As such it isn't something for heavy splitting and camp chores. It ships with a very nice sheath of brown leather.
Swinging the Mountain Pass allowed for fast, accurate strikes. It bit in deep with each blow and was easy to withdraw. The edge was perfect for a camp axe when it arrived—not too sharp, not too obtuse. It handled limbs like a pro but was not up to heavy splitting. It sank in but lacked the mass to deliver sufficient splitting energy on the strikes.
A downside to hitting hard wood and other materials is Condor's profile of the grip. It is visually appealing and very functional but narrow in cross section and wide front-to-back, thus making the impact of each hit apparent in a smaller area of the hand. If the grip was even 1/16 inch wider on each side it would have been an easy favorite in this test.
As far as hard camp work it broke brick easily with one hit, took little damage and easily drove tent stakes. It is not intended for either of these roles, but it did just fine considering it lacks a hammer poll.
The Mountain Pass was not particularly good at splitting fine kindling, but it did well and was easy to strike on, if not a bit large. Putting it in this role immediately made me realize it was really not meant for the work; it's far better for clearing brush and gathering medium branches to process with a smaller tool.
SPECS: CONDOR TOOL & KNIFE MOUNTAIN PASS AXE
Style: Camp axe
Designer: Jason Breeden
Blade Material: 1075 carbon steel
Blade Finish: Condor Classic
Head Profile: Curved edge
Head Thickness: 3/16"
Handle Material: Micarta®
Weight: 1.83 lbs.
Overall Length: 14"
Sheath: Brown leather
MSRP: $176
---
TOPS Knives Ucon Hawk
The Ucon Hawk from TOPS Knives is probably the most visually striking hatchet in the evaluation, as well as the sharpest. It's large with a wide cutting edge and deep belly. It has a long, very pointy and sharp beard and a substantial grip. It's questionable the edge needs to be as sharp as it is; a dull knife is clearly a danger but an extremely sharp, full-size hatchet can be a hazard.
The Ucon's size makes it adept for general camp tasks. However, when it came to splitting, the deep belly and sharp tips made pulling it out of a stubborn log relatively dangerous as the blade rarely penetrated all the way, thus leaving the tips exposed. If you were to put your foot on the log to apply pressure to withdraw the head, a possibility exists that you could injure your foot in the process.
That said, performance was fantastic as a camp tool and it could simply lop off branches in a single swing. The finish held up nicely and the edge stayed sharp even after hard use. It should be noted that only the TOPS and the Winkler had edges unaffected by use. The Ucon ships with a two-part sheath—one part goes over the blade and the other is a belt loop the hatchet can slip through.
For heavy-duty tasks it did well, easily passing through limbs. Splitting was possible, though the hatchet was a bit thin and grip-heavy to dive deep enough to separate a full-size piece of firewood. Breaking brick with the hammer poll was easy; it left virtually no damage to the tool. Driving tent stakes also was easy.
Making fire was a challenge in that you had to be extremely aware of where the tips of the edge were at all times. If you get in the mode where you're striking rapidly, say if you're cold and frustrated, you need to calm down and take your time (as you should always do when using any sharp edge). The Ucon produced the finest kindling of the bunch by scraping with its sharp edge. The hatchet needs to lose the super-pointy beards—otherwise it is a great performer.
SPECS: TOPS KNIVES UCON HAWK
Style: Camp axe
Designer: Leo Espinoza
Blade Material: 1095 carbon steel
Blade Finish: Tumble
Head Profile: Curved blade, hammer poll
Head Thickness: .25"
Handle Material: Orange and Black SureTouch G-10
Weight: 1.94 lbs.
Overall Length: 15"
Sheath: Black leather
MSRP: $330
---
A.G. Russell Pocket Safety Axe
The A.G. Russell Pocket Safety Axe is a Marble's design from circa the early 20th century. Marble took a small hatchet, 10.6 inches overall, and designed a fold-out metal shield in the handle to cover the bit in lieu of a sheath. Simply ingenious. The A.G. Russell version has a 4.5-inch 1070 spring steel head with a 2.4- inch cutting edge, and a typical old-school hammering base at the rear. The head has a distinctive three-slot mounting system Marble deemed superior to the standard oval style. The 8.8 inch handle is hickory and the whole kit and caboodle weighs 1 pound. Manufacturer's suggested retail price: $79.95.
With much of its overall weight in the head, this is a very top-heavy hatchet—which can work to its advantage. In the bite test on the privet log, the Pocket Safety Axe finished first simply because the business end has a lot more weight (see the side-by-side comparison image on head thicknesses). Consequently, it chopped each test material well.
The fold-out bit shield has pluses and minuses. On the upside, it's very convenient and there's no sheath to keep up with. On the other hand, you have to pack it since there's no belt-sheath option. Also, you'll want to wear gloves for extended use, as the hinge mechanism in the handle can dig into the inner fingers. All in all, though, the Pocket Safety Axe is a stellar performer.
SPEC CHECK: A.G. RUSSELL POCKET SAFETY AXE
Cutting Edge: 2.4"
Blade Material: 1070 spring steel
Head Width: 4.5"
Head Thickness: .7" at the thickest
Blade Coating: None
Handle Material: Hickory
Special Features: Metal blade cover in handle
Carry: Pocket or pack
Weight: 1 lbs.
Overall Length: 10.6"
MSRP: $80
---
Boker Plus Escape Hawk
Designed by Australian knifemaker/ designer Peter Fegan, the Boker Plus Escape Hawk is tactical in design. Hawks are primarily used for breaching and combat but can full other chores as well. Only 9 inches overall, the Escape Hawk has a 4.75-inch head of quarter inch-thick SK5 tool steel and a 2.56- inch cutting edge. The head has enough beard to be used for carving, and the curved 7-inch handle is adorned with nicely sculpted, diagonally grooved FRN ( berglass-reinforced nylon) scales. The butt can be used for hammering. The steel is protected throughout with a powder coat. A dual-strap Kydex sheath covers the head. MSRP: $189.95.
Due to its small size, you won't be doing much breaching with the Boker Escape Hawk, but the pint-sized hack proved its worth. The SK5 steel had plenty of hack, chopping rope in nice, clean cuts, and knocking out chunks of seasoned cedar for tinder. Though the bearded bit can be used for carving, the inward slant of the handle mounting to the head impedes its effectiveness for the purpose a tad. The handle has full-length scales—a bonus for freedom of grip—and the diagonal grooves afforded it the best purchase of the bunch. The Boker Escape Hawk is a hawk that thinks it's a hatchet.
Boker Plus Escape Hawk Specs
Cutting Edge: 2.56"
Blade Material: SK5 tool steel
Head Width: 4.75"
Head Thickness: .25"
Blade Finish: Powder coating
Handle Material: FRN
Special Features: Full-length sculpted scales
Carry: Kydex sheath
Weight: .82 lbs.
Overall Length: 9"
MSRP: $190
---
Camillus Western Blackriver Long Hatchet
At 11.5 inches, the Western Blackriver Long Hatchet from Camillus is, indeed, the longest of the test hack-its. It sports a 4.5-inch-wide head with a 2.5-inch chopping edge. On the back side of the head is a gimped flat edge for hammering and a sharpened diagonal slot for cutting cord. The 9.5-inch handle has 5.25-inch black checkered rubber scales, and there is a shaving slot midway between the handle and the head. A ballistic nylon sheath with a firesteel pouch—with firesteel—is included. MSRP: $31.98.
The Blackriver has the lightest head of the test group so it didn't win the chopping wars, but its length and handle design give it a leg up on the others in some functions. The thin head is ideal for batonning, enhanced by the 4 inches of exposed steel below the bit, which can be used as a striking surface. The grip is very comfortable, the rubber scales aiding in impact absorption. The Blackriver will handle many chores around the camp, and the bonus firesteel and pouch on the sheath add value. It's also by far the most affordable of the group.
Camillus/Wester Blackriver Long Hatchet Specs
Cutting Edge: 2.5"
Blade Steel: 420 stainless
Head Width: 4.5"
Head Thickness: .2"
Blade Coating: Titanium bonded
Handle Material: Rubber
Special Features: Firesteel included
Carry: Ballistic nylon belt sheath
Weight: 1 lbs.
Overall Length: 11.5"
MSRP: $32
---
Winkler Hunter Axe LT
At only 9 inches long, the Winkler Hunter Axe LT is a small hack-it, but packs a full 19 ounces of weight—and that's with a skeletonized handle tang. The Hunter Axe LT has a 3.5-inch-wide, bearded 80CrV2 carbon steel head with 2 inches of cutting edge, and there's a hammering base out back. The steel thickness is a healthy .25 inch and is coated head to toe in Caswell black oxide. The scales are full-length, highly attractive curly maple. A padded Kydex sheath with nylon belt loops covers the head, and employs a shock-cord retention system for a quick draw. MSRP: $450.
The Hunter Axe LT may be short but at 19 ounces is the heaviest of the test hack-its—a full 2 ounces more than its nearest rival. The LT almost won the bite contest but didn't due in part to its weight being more equally distributed than the top-heavy Russell Pocket Safety Axe. The 80CrV2 steel chops extremely well and the Caswell finish is very tough. Though not a carving axe per se, the LT was our best candidate for the chore and would have performed even better with a lower grind angle on the lead edge. The price is high but the Winkler is as close to a custom as you'll get—plus, the sheath is a marvel in itself.
WINKLER HUNTER AXE LT Specs
Cutting Edge: 2"
Blade Material: 80CrV2 carbon steel
Head Width: 3.5"
Head Thickness: .28"
Blade Coating: Caswell black oxide
Handle Material: Curly maple
Special Features: Skeletonized handle
Carry: Kydex belt sheath w/tension release
Weight: 1.9 lbs.
Overall Length: 9"
MSRP: $450
---
Gerber Freescale Axe
Gerber has had a successful series of axes and hatchets made in Finland that feature one-piece, hollow, molded handles for lightweight, optimum strength. An example is the 23.5-inch model in its Freescale series. The forged steel head is mated permanently to a lightweight composite handle, so there is little worry the handle will come loose during use. The oblong profile handle is hollow, which shifts the balance of the axe to being head-heavy. It is very forward weighted and that is a good thing. Use gravity to your advantage as you employ the axe, allowing it to fall naturally as you guide it. A tactile gripping surface in a contrasting green graces the handle. The handle flares at the butt, allowing your bottom hand to hook into it, trapping the handle in your hand so it doesn't go flying. The handle style reportedly is virtually indestructible during heavy use.
The forged head exhibits a nice, steep "V" profile to help bite hard and deep into wood. A primary edge bevel thins the edge some and makes resharpening easier. A black PTFE coating provides additional corrosion resistance as well as a nonstick surface. A poll is designed as a hammer.
The Freescape is among the least expensive of the review axes, though don't discount its performance based solely on price. Truth is, this axe is devastatingly effective. With each swing you can feel the forward-weighted balance power the Freescape through wood.  The thickness and shape of the handle are just right, allowing a secure grip with both hands. Gerber includes a plastic caddy that seals the cutting edge and protects you and your belongings from being cut. The caddy has a large handle to carry the axe safely, as well for hanging on a pegboard in your garage or utility shed. For how it performs versus what you pay, it is an excellent value. If you're a frequent axe user or just an occasional one, the Freescape will serve you very well.
Gerber Freescape Axe Specs
Cutting Edge: 3.5″
Head Material: Stainless Steel
Head At Its Thickest: N/A
Handle: GFN
Weight: 3.6 lbs.
Overall Length: 23.5″
Sheath: Plastic, carry handle
MSRP: $70
---
Winkler KnivesRnD Compact Axe
A spike model, the RnD Compact Axe is the smallest in the Winkler Knives (WK) axe line, though that doesn't mean it's the least capable. The hatchet-like head is only 5.5 inches long. The 80CrV2 carbon steel head is ⅜ inch wide. The tang sports a distal taper toward the handle butt to improve balance and shift weight distribution toward the head. The spike is commonly found on tomahawks and does everything from prying to puncturing. WK also offers a front spike option integrated into the head's main cutting edge. A black oxide finish helps resist corrosion.
The 80CrV2 offers extreme toughness and edge retention. It withstands an impressive amount of abuse yet remains easy to resharpen, even in the field. Daniel Winkler is a fan of 80CrV2 and uses it a lot for both his knives and axes.
The handle features two prominent grip positions. One is the traditional axe grip held close to the butt. A series of subtle finger grooves seats your fingers, and the butt has a bird's-beak design that hooks the handle into your hand to prevent it from sliding from your grip. A secondary close-quarters grip is below the axe head at the handle's humpbacked portion. This facilitates choking up for control in carving, whittling and using the cutting edge like a knife. The RnD feels very balanced and agile in the latter grip, one the other review axes don't offer. The Winkler would be great at processing kindling and bushcraft chores that require more control with close-in cutting or whittling. Due to its length and weight, it would not be a primary use axe but maybe a complement to a larger model that does heavy splitting or felling chores.
The walnut handle looks luxurious but pay heed to where you lay it down in the woods. The walnut's color blends in well with leaf ground cover and you might lose it easily. Thread a loop of brightly colored pink, red or yellow paracord through the lanyard hole to make the handle stand out. The RnD comes in three handle materials: black Micarta®, maple and walnut.
A molded form-fitting sheath of Boltaron encloses the head. A thick shock-cord-quick-release-retention device secures the sheath in place, yet releases easily and quickly. An interior felt lining facilitates the easy slipping on/off of the sheath, as well as muffling the sound. Two nylon webbing belt loops enable the RnD to ride comfortably at your side. MSRP is $815, the most expensive of the test group. WK is very well known for manufacturing excellence and attention to detail, and the RnD Compact is no exception. For a bigger axe in the same design, check out the full-size model.
Winkler KnivesRnD Compact Axe Specs
Cutting Edge: 2.25″
Head Material: 80CrV2 carbon steel
Head At Its Thickest: 3/8″
Handle: Walnut
Weight: 1.3 lbs.
Overall Length: 11″
Sheath: Boltaron
MSRP: $815
---
TOPS Knives High Impact 
The TOPS Knives High Impact is a full-sized hatchet/small axe hybrid that packs a punch. At 20 inches overall and around 3.5 pounds, it is a formidable chopping tool that can be used with two hands as a traditional axe or one handed a la a hatchet.
Starting with a backbone of .38-inch-thick 1075 carbon steel, the High Impact's main cutting edge is a little over 5 inches—plenty of cutting surface for large and small chopping jobs alike. The Black Traction Coating creates a layer of protection against corrosion and wear. The ergonomic handle is tan Micarta®, with a diagonal machined groove pattern for hand traction. Five pairs of large hex head screws fasten the Micarta scales, and there are two large brass-lined lanyard holes. The handle has a distinctive bulge that helps seat your grip, especially for one-hand use. The handle flares at the butt, creating a comfortable seat for your bottom hand when using two hands.
The first thing you notice is the High Impact's weight. It's impressive but will take some getting used to. Once acclimated with the heft, you will discover it is also an advantage for getting momentum in your swing. And when it hits, it lives up to its name. The High Impact takes out chunks of wood with each blow. TOPS has the heat treat on the carbon steel dialed in perfectly. The 1075 retains an edge really well but sharpens easily and quickly.
I tried both grip styles. With one hand, this is where the weight takes some getting used to. Due to the axe's weight, one-handed use might be limited to short spells.  Conversely, using two hands is where the power of this beast is unleashed. You can put power behind the swing and each blow is devastating. You can feel the axe head bite in with each blow. It's a sure bite as well. The performance with one or both hands is equally impressive. Due to its weight, it's a great candidate to store in your truck or ATV.
A nicely made leather holster fastens over the head, sealing the edge. Two button-snap straps secure it, though only the one at the end needs to be undone to slide the sheath off. Note the absence of a belt loop attachment to carry the axe. It's just too heavy. Despite the weight being a factor, the High Impact packs a serious punch and is the heavyweight champ of the test bunch. MSRP: $360. TOPS makes the axe in its factory in Idaho Falls, Idaho.
TOPS Knives High Impact Specs
Cutting Edge: 5.75″
Head Material: 1075 RC 56-58
Head At Its Thickest: .38″
Handle: Tan Canvas Micarta
Weight: 3.7 lbs.
Overall Length: 20″
Sheath: Leather
MSRP: $420
---
Wolf Valley Forge Camp Axe
The Wolf Valley Forge axe ate bundle after bundle of firewood like there was nothing to it.
The Wolf Valley Forge Camp Axe is in a class of its own. It came not with just a functional sling and cover, but also a small whetstone and a jar of wax by Axe Wax to help preserve it. Carrying the Camp Axe is comfortable and allows for a free hand while trekking. The handle is perfectly shaped and came with a leather strike guard.
Ike Bullington is the maker and the quality is immediately noticeable the second you unpack it. It is all properly shaped, textured and balanced for real work and has a very pleasing appearance. However, it is not a wall-hanger. The head is of a traditional profile and designed for a lifetime of work.
The edge arrived razor sharp, easily sharper than most knives. Not only that, but the edge is extremely durable and completely dispels the notion that you need a wedge-shaped splitter.
A sharp axe truly cuts the work in half and this one almost effortlessly passed through wood regardless of grain angle. In taking down bigger trunks it drove in the deepest and was the easiest to free. Chips flew with each chop and it made very short work of even the toughest test materials.
In addition to cutting wood, it was tested driving tent stakes and making kindling, which it did easily. As a camp axe it is very nice in the batoning role, and yes, you can baton an axe the same as you would a knife—so long as you grip it high up to the head and perform the task in a safe standing position as to not deflect the blade into your knee.
Wolf Valley Forge Camp Axe Specs
Cutting Edge: 4″
Head Material: 4142
Head At Its Thickest: N/A
Handle: Hickory
Weight: 2.5 lbs.
Overall Length: 23.62″
Sheath: Leather
MSRP: $375
---
Fox Sekira
Considering what you get, the Fox Sekira is a great axe and relatively inexpensive. It handles like a traditional axe in the swing but has a crescent-profile edge that is shaped much the same as a carpentry axe, though with a longer handle. The head is wide at the cheeks and quite narrow in the blade. It splits very nicely though isn't particularly deep-biting on each swing. 
The head, while substantial, isn't overly massive and there is a large concentration of weight in the handle. The weight is distributed across the axe, which could lend to some of the increased effort in getting it to send splinters flying.
As far as general performance, the Sekira is about as good as a traditionally constructed axe gets, and lacks nothing in utility. It stayed sharp and experienced no edge chipping, even after quite a bit of heavy use. The only noticeable downside is that the handle, while comfortable and very nicely finished, is somewhat on the large side and rounded from front-to-back.
When hands get wet or cold the axe has the tendency to want to rotate, which can be dangerous if you're not holding on tight. Other than that minor issue, the Sekira is a fantastic axe that should offer years of hard-use service.
Fox Sekira
Cutting Edge: 4.33″
Head Material: Carbon Steel C45
Head At Its Thickest: N/A
Handle: Hickory
Weight: 3.35 lbs.
Overall Length: 23.62″
Sheath: Leather
MSRP: $150
Editor's note: Dexter Ewing, Josh Wayner and Daniel Jackson contributed to this post.
More Axes, Hatchets And Tomahawks:
---
NEXT STEP: Download Your Free KNIFE GUIDE Issue of BLADE Magazine
BLADE's annual
Knife Guide Issue
features the newest knives and sharpeners, plus knife and axe reviews, knife sheaths, kit knives and a Knife Industry Directory.
Get your FREE digital PDF instant download of the annual Knife Guide. No, really!
We will email it to you right now when you subscribe to the BLADE email newsletter.