5 of today's small factory choppers go edge-to-edge
By Josh Wayner
While some say the art of the axe has been lost on many, the same might be said of five smaller models that neatly fit in the hatchet category. Make no mistake, these choppers are capable of more than splitting tinder—each is a substantially different tool in its own right. I tested each equally in the field. Each excelled and failed at different things. There is no right answer, just things to consider as you enter the woods.
My tests ran a gauntlet of various survival and camp tasks. I used the hatchets to chop into dry and green wood, split wood, take down limbs, make kindling, smash bricks, drive tent stakes and strike to start a fire. These were hard tests but not outside the realm of use for any of these handy hackers.
THICK & HEFTY, HALFBREED BLADES CRA-01
I must thank KnifeCenter (knifecenter.com) for expediting the Halfbreed Blades CRA-01 to me for evaluation. This fine tool is made in Australia and, due to the current state of international shipping, my sample got hung up waiting for a ride across the Pacific. The CRA-01 arrived just in time to be harshly tested alongside the rest.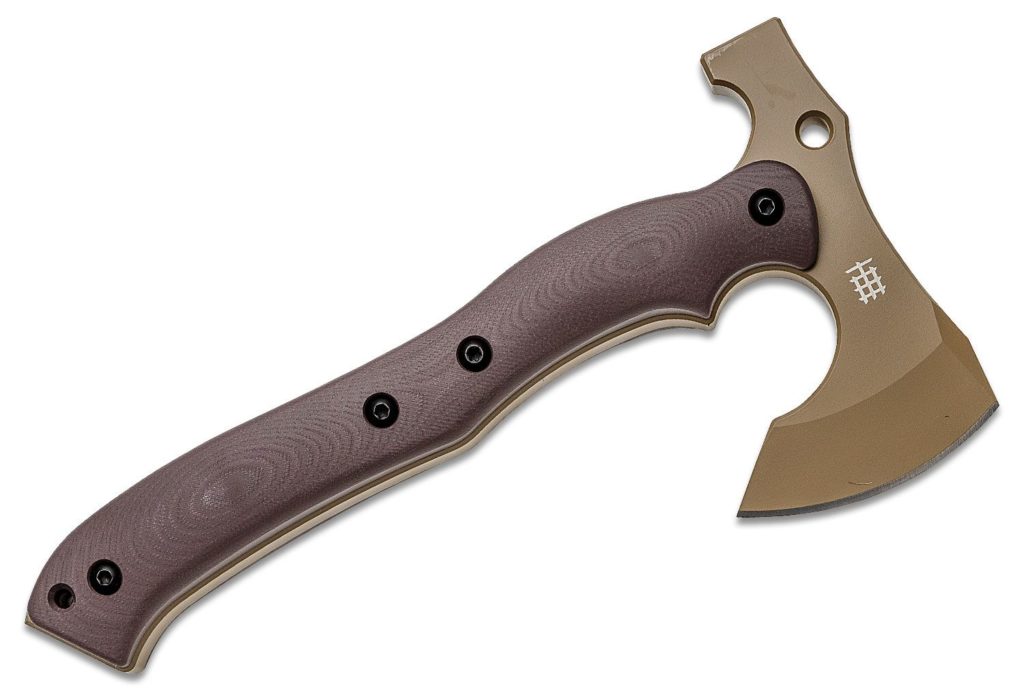 The Halfbreed is a very heavy-duty piece. It is thick and hefty, and capable of taking a serious beating and dishing one out. The variant I received is finished in a dark earth color and comes with a substantial sheath that allows for secure carry adaptable to a variety of belts and packs.
The first thing I noticed is how heavy the little hatchet is. It feels very nice in the hand and allows for either a low or high grip depending on the task. The grip is round in profile and consists of somewhat smooth scales. The edge out of the box was shaving sharp and easily removed hair from my arm*.
For fine work, the CRA-01 was the best performer of the group. The high, comfortable grip allowed for great control when scraping tinder. It also was a beast breaking bricks to make a windbreak for small fires. That said, it is not great for splitting tasks and, due to the thickness of the edge, does not bite deep for chopping. The grip is very comfy for general chores, though because the hatchet has equal weight dispersion along its length, it can fatigue your hand in use. It can be swung quite hard but there is a great deal of wasted energy in each strike because the head doesn't carry the bulk of the forward momentum.
The dark earth finish was also the fastest to come off in heavy use. This is to be expected; however, be aware that if used heavily, the hatchet head likely will show wear far more than the other review subjects.
In terms of fire-starting ability, the CRA-01 proved mediocre as a striking tool, though it was very easy to control the direction of the sparks. Overall, it is fine for small fire-starting work and if it was what I had, I could easily make it work.
SPECS: HALFBREED BLADES CRA-01
STYLE: Tomahawk
HEAD STYLE: Curved edge w/hammer poll
BLADE MATERIAL: K110 D2 tool steel
HEAD THICKNESS: .31"
BLADE FINISH: Dark earth (available in Ranger green and black)
HANDLE MATERIAL: G-10
WEIGHT: 25 ozs.
SHEATH: Kydex w/safety strap, belt and PALS/MOLLE mounting options
COUNTRY OF ORIGIN: Australia
AUTHOR'S COMMENTS: Advanced and modular sheath assembly, easily adaptable to a variety of packs and belts. The CRA-01 was an excellent performer overall for the size and weight. It doubles as a hefty smasher and performed best in tests requiring brute power
OVERALL LENGTH: 9.52"
MSRP: $400+
GENERAL-USE TOOL,
WINKLER KNIVES HIGHLAND HATCHET
Winkler Knives is a brand I have become quite familiar with in recent months, and I have always been impressed with its quality and ruggedness. I have yet to have a Winkler piece arrive with what I would describe as a razor edge. The four in my collection all came with a hard and durable edge, though they are somewhat V-ground in profile and display a wider edge cross section than other blades I use regularly. The Highland Hatchet is no different and surprisingly was not sharp at all. In fact, it displayed a discernible severity in the grind angle of the edge, and I was concerned it would simply bounce off if I hit hard, dry wood with it.
Like most of the review hatchets, the Winkler has a full tang with scales attached. It is the only one with hardwood scales, the others being G-10 or Micarta®. I worried the handle would crack in hard testing but it held up nicely. The finish is matte and held up well in testing. It has a durable sheath that is simple and intuitive to use.
The Highland was probably the best general-use hatchet in the test. Despite the edge angles, it bit right into most wood, easily de-limbed trees and handled very light splitting. It stood no chance of taking a large log apart, though anything under 3 inches in diameter was taken to task.
For hammering and strength testing the Winkler held up extremely well. It broke bricks in a single strike and took very little finish damage in the process. Tent stakes were easy to drive in and were barely worth a mention, as a nice part of this little hatchet is it handles just like a 4-ounce tack hammer.
The Highland was the most reliable fire maker of the bunch, which surprised me. I was not expecting the edge to strike so well, but it generated showers of sparks and was the fastest getting a flame going given equal materials. The edge showed no handicap in making kindling, though it was a bit less fine at it than the CRA-01 or TOPS Knives Ucon Hawk (read on for more on the latter).
SPECS: WINKLER KNIVES HIGHLAND HATCHET
STYLE: Camp hatchet
DESIGNER: Daniel Winkler
HEAD PROFILE: Hammer poll
BLADE MATERIAL: 80CrV2 carbon steel
BLADE FINISH: Black oxide
HEAD THICKNESS: .336"
HANDLE MATERIAL: Maple (laminate and walnut available)
WEIGHT: 20 ozs.
OVERALL LENGTH: 10 7/8"
SHEATH: Lined Kydex
COUNTRY OF ORIGIN: USA
AUTHOR'S COMMENTS: This is a compact, extremely well-balanced hatchet that has a fast and intuitive sheath system. Get your order in when you can, the wait times for this one are long
MSRP: $550
JUNGLE HATCHET, THE CONDOR TOOL & KNIFE MOUNTAIN PASS AXE
The Condor Tool & Knife Mountain Pass is what I would call a jungle hatchet. It has a low beard and narrow thickness that is arguably much better at cutting wet wood, vines and bamboo in fast, repeated swings. In my opinion it is a foliage tool. As such it isn't something I would recommend for heavy splitting and camp chores. It ships with a very nice sheath of brown leather.
Swinging the Mountain Pass allowed for fast, accurate strikes. It bit in deep with each blow and was easy to withdraw. The edge was perfect for a camp axe when it arrived—not too sharp, not too obtuse. It handled limbs like a pro but was not up to heavy splitting. It sank in but lacked the mass to deliver sufficient splitting energy on the strikes.
A downside to hitting hard wood and other materials is Condor's profile of the grip. It is visually appealing and very functional but narrow in cross section and wide front-to-back, thus making the impact of each hit apparent in a smaller area of the hand. If the grip was even 1/16 inch wider on each side it would have been an easy favorite in this test.
As far as hard camp work it broke brick easily with one hit, took little damage and easily drove tent stakes. It is not intended for either of these roles, but it did just fine considering it lacks a hammer poll.
The Mountain Pass was not particularly good at splitting fine kindling, but it did well and was easy to strike on, if not a bit large. Putting it in this role immediately made me realize it was really not meant for the work; it's far better for clearing brush and gathering medium branches to process with a smaller tool.
SPECS: CONDOR TOOL & KNIFE MOUNTAIN PASS AXE
STYLE: Camp axe
DESIGNER: Jason Breeden
BLADE MATERIAL: 1075 carbon steel
BLADE FINISH: Condor Classic
HEAD PROFILE: Curved edge
HEAD THICKNESS: 3/16"
HANDLE MATERIAL: Micarta®
WEIGHT: 29.28 ozs.
OVERALL LENGTH: 14"
SHEATH: Brown leather
COUNTRY OF ORIGIN: El Salvador
AUTHOR'S COMMENTS: Meant for the field; has a very attractive price point considering the size and utility offered
MSRP: $175.98
CAMP COMMANDO:

TOPS KNIVES UCON HAWK
The Ucon Hawk from TOPS Knives is probably the most visually striking hatchet in the evaluation, as well as the sharpest. It's large with a wide cutting edge and deep belly. It has a long, very pointy and sharp beard and a substantial grip. I will say I don't think the edge needs to be as sharp as it is; a dull knife is clearly a danger but an extremely sharp, full-size hatchet can be a hazard.
As an experienced outdoorsman I like the Ucon's size for general camp tasks. However, when it came to splitting, the deep belly and sharp tips made pulling it out of a stubborn log relatively dangerous as the blade rarely penetrated all the way, thus leaving the tips exposed. If you were to put your foot on the log to apply pressure to withdraw the head, a possibility exists that you could injure your foot in the process.
That said, performance was fantastic as a camp tool and it could simply lop off branches in a single swing. The finish held up nicely and the edge stayed sharp even after hard use. It should be noted that only the TOPS and the Winkler had edges unaffected by use. The Ucon ships with a two-part sheath—one part goes over the blade and the other is a belt loop the hatchet can slip through.
For heavy-duty tasks it did well, easily passing through limbs. Splitting was possible, though the hatchet was a bit thin and grip-heavy to dive deep enough to separate a full-size piece of firewood. Breaking brick with the hammer poll was easy; it left virtually no damage to the tool. Driving tent stakes also was easy.
Making fire was a challenge in that you had to be extremely aware of where the tips of the edge were at all times. If you get in the mode where you're striking rapidly, say if you're cold and frustrated, you need to calm down and take your time (as you should always do when using any sharp edge). The Ucon produced the finest kindling of the bunch by scraping with its sharp edge. My general opinion is the hatchet needs to lose the super-pointy beards—otherwise it is a great performer.
SPECS: TOPS KNIVES UCON HAWK
STYLE: Camp axe
DESIGNER: Leo Espinoza
BLADE MATERIAL: 1095 carbon steel
BLADE FINISH: Tumble
HEAD PROFILE: Curved blade, hammer poll
HEAD THICKNESS: .25"
HANDLE MATERIAL: Orange and Black SureTouch G-10
WEIGHT: 31 ozs.
OVERALL LENGTH: 15"
SHEATH: Black leather
COUNTRY OF ORIGIN: USA
AUTHOR'S COMMENTS: A large, powerful chopper with a wide cutting surface; a great general use camp tool for taking down limbs and trees quickly
MSRP: $330
BARGAIN THROWER, COLD STEEL AXE GANG HATCHET

The Cold Steel Axe Gang Hatchet was the longest review piece and the only one with a traditional handle and head construction. In addition to being the most affordable, it is also the only one balanced enough to throw with any sort of accuracy. I don't think axe throwing has much use in a survival situation, but it's fun and this one is inexpensive enough that you won't mind the misses.
Unfortunately, the Axe Gang was not exactly cut out for the rigors of testing, nor was it especially great at any one task. The handle has a smooth, rounded profile that is nice in the hand. However, when wet and cold it slips easily and allows rotation on impact should the edge not penetrate. There lies another issue: the straight edge certainly looks cool but it doesn't do much to really bite into wood and, when it does penetrate, it's difficult to withdraw. It can be used to take off limbs, which it did well. Splitting was a no-go unless the wood was under 3 inches in diameter. For its size, it did not split better than the smaller review hatchets.
Hard testing was again middle-of-the-road. It broke brick and drove stakes but the handle was unnecessarily long for the tasks. The finish took damage in these uses; it just flaked off. The hatchet's general utility was further compounded by the fact it was almost useless in making fire. It did not spark well or consistently, nor did it make kindling well. It could certainly work in a pinch, but I would not rely on it as a mainstay camp tool.
All that said, it is a fun hatchet and I enjoyed throwing it. I don't think it is exactly the same as the others in terms of construction and intended end use, but it can keep up—just not as well.
COLD STEEL AXE GANG HATCHET
STYLE: Chinese martial arts
BLADE MATERIAL: 1055 carbon steel
BLADE FINISH: Black enamel
HEAD PROFILE: Straight edge for throwing
HEAD THICKNESS: 1"
HANDLE MATERIAL: American hickory
WEIGHT: 32 ozs.
OVERALL LENGTH: 20.25"
SHEATH: None
COUNTRY OF ORIGIN: Taiwan
AUTHOR'S COMMENTS: Differentially heat treated head with hardened edge and soft body for impact resistance; designed for use in throwing competitions
MSRP: $41.99
.
*Editor's note: Removing hair from your arm with any blade edge can result in injury. BLADE® does not recommend it.
---
NEXT STEP: Download Your Free KNIFE GUIDE Issue of BLADE Magazine
BLADE's annual
Knife Guide Issue
features the newest knives and sharpeners, plus knife and axe reviews, knife sheaths, kit knives and a Knife Industry Directory.
Get your FREE digital PDF instant download of the annual Knife Guide. No, really!
We will email it to you right now when you subscribe to the BLADE email newsletter.