Depending on where you live and by what method you hunt, deer season is underway. There are any number of blade patterns you could select for a skinning knife, but why are they shaped the way they are? What is the maker considering when he crafts a knife he calls a skinner? Let's look at 20 examples of 5 types of skinners, plus an extra.
1. Bull-Nose Skinners
"The blunt tip in conjunction with the trailing point helps from punching through the hide," noted Travis Fleming of Fleming Fabrications in North Texas about bull-nose skinners.
Josh Bryant of JB Custom Knives put it this way: "The bump and large drop at the tip are intended to go over guts without popping them."
"I like a skinner made with a CPM steel," Mike Cleveland of Half Life Knives commented. "(It) keeps its edge longer and that means more game prepared before sharpening." Mike added: "I prefer the fuller belly for its ability to cape around tight areas. I value that over the ability to stab in a skinner. With this style of blade you'll finish ahead of those with a sharper point."
2. Drop-Point Skinners
The drop-point skinner is one of the most, if not the most, popular skinning knife blade design. Within the drop-point category, however, there is plenty of individual styling.
When Raymon Hunt of 3H's Knives LLC makes a skinner, he strives for "enough belly for caping, but with enough point to make opening the cavity easy without piercing the organs." A skinner should be balanced and lightweight, he notes. "It is amazing how carrying a heavy knife along with a rifle on a six-hour stalk through the bush can wear you out." Raymon added that comfort is important. There should be no areas on the handle that could produce hot spots.
"I feel the most important parts of a good skinner are on edge-holding and the ability to be sharpened easily in the field," Lane Ferrell of Farrell Custom Knives commented. He pointed out that comfort, not being too heavy and being balanced well, is essential "since some skinning jobs can take a while to finish." He noted that a skinner "should also be small enough to be carried on a belt or in a pack, but large enough to get the job done effectively."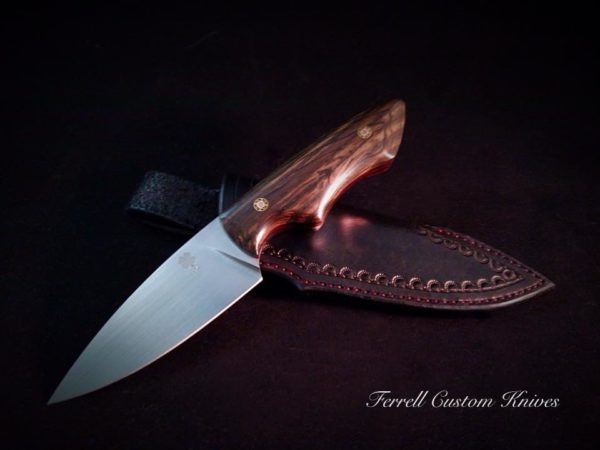 "I do such a wide variety of skinners that it all depends on what the customer wants," Spencer Aplin of STA Custom Knives noted. "Most people want a 3- to 4-inch drop-point. Then the second most requested is a trailing-point 4- to 5-inch blade." And in Spencer's experience, a whopping 99 percent want finger grooves.
Mike Jeffries of 2 Birds Metalworks made the smaller skinner in this set as a companion to the camp knife. "The slight fighter profile and small size make it excellent for thumb, as well as index, purchase for those internal and fine skinning tasks," Mike noted.
The carbon content in the steel James McClendon used to make this skinner is approximately 1.27 percent. "Makes a most excellent knife," James declared. "Those old files are getting harder to find." James likes the "second-to-none on edge-holding–at least as simple-carbon steels go." He added that the addition of a soft backdraw gives the blade toughness. "I just prefer a guard on a blade so sharp it could take a finger off with one slip. LOL. I also leave just a hint of the file teeth but not enough to hold contaminants."
Will Thompson put it this way: "The 3 1/4-inch blade is perfect to get around those places that you just can't get to with a bigger blade. It's ready to help you get those hams and backstraps to the ice."
3. Nessmuk-Style Skinners
Joe Elinburg in northeast Florida likes the Nessmuk pattern for a skinner. "The rounded point makes skinning easier with less chance of putting a hole in the hide if you're going to save it for tanning," he commented. "Also the swoop in the back of the blade makes a great finger rest for more control of the blade."
4. Spear-Point Skinners
"I have always been a fan of spear-point skinners," Jon Waltz commented. His son designed this model, and Jon made a few changes by adding the thumb ramp and expanding the belly. The deep finger guard and thumb ramp allow for full control of the blade. "The hollow grind makes for a extremely sharp cutting edge, and the large belly is great for slicing through flesh with precision," Jon added.
5. Trailing-Point Skinners
Trailing-point skinners excel for skinning small game, and are probably the second most popular skinning knife blade design behind drop-points.
"I believe that the finger groove and the thinned spot between it and the spine allows for easier indexing when trying to be precise while skinning raccoons or fox," commented Tyler Freund of Freund's Custom Knives. "One can simply pinch the knife between their thumb and finger. Much like you would a scalpel." In addition, "the thin tip and thin steel lets the user make less intrusive cuts and more precise cuts around the wrists and ankles of the coon," Tyler explained. He feels this would be more challenging with a bigger-bellied or thicker-bladed knife. "The knife has just enough belly in it that you can draw the knife and skin efficiently once you've gotten around the ribs," he concluded.
"This skinner has a short blade with pointed tip to reach into tight areas when skinning and caping," Scooter Davis of Rough Run Forge explained about his Shrade-Sharpfinger-like knife. "The recess on the spine serves as a finger rest, allowing you to choke up forward on the knife for more control."
Although not a traditional trailing-point blade shape, an upswept point is still evident. Richard Darby's customer said you can make long sweeping cuts with this big-bellied blade design, as well as flesh with it. "Plus it gives a longer cutting edge for the length of the blade," Richard noted.
Miscellaneous Skinners
When you skin, the idea is to pull the skin back and make sweeping slices like you would when using an ulu, but it's not an ulu, Matthew Nolan from Angry Beaver Knives explained. "The whole handle fits in your hand while grasping the blade with thumb and pointer finger…more blade…angles…equals more slicing…and it fits nice in the hand for sweeping strokes."
Learn Which Knife Designs Stand The Test Of Time
Compare and contrast different skinner designs as well as knife patterns of all types. Hiro Soga's images will satisfy your knife eye-candy jones, you'll be able to delve into the theory of blade design and you'll get 101 scaled patterns that you can use to initiate you're own design. "101 Knife Designs" by Murray Carter is a must-have in hard copy so you can work with the designs, mark with notes and refer to again and again.
---
NEXT STEP: Download Your Free KNIFE GUIDE Issue of BLADE Magazine
BLADE's annual
Knife Guide Issue
features the newest knives and sharpeners, plus knife and axe reviews, knife sheaths, kit knives and a Knife Industry Directory.
Get your FREE digital PDF instant download of the annual Knife Guide. No, really!
We will email it to you right now when you subscribe to the BLADE email newsletter.