Home
Tags
Knife Sharpener
The Work Sharp Professional Precision Adjust Knife Sharpener is upgraded to ensure the utmost consistancy and sharpness.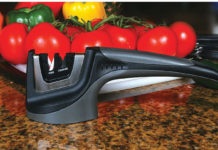 The knife sharpener is an excellent tool to have in your kitchen. No matter the model, they are easy to use and can help revive your knives.
Correct sharpener selection is imperative for keen household cutlery. Here are four kitchen knife sharpener options that make the cut.