Editor's note: This article originally appeared in the March 2012 issue of BLADE. Keep exploring BLADE's extensive archives with this download of back issues.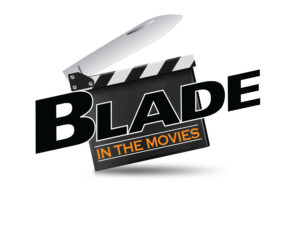 Through knives I have met some of the most amazing people, one of whom is actor Johnny Strong.
Last summer I received an e-mail from Johnny. He was interested in my Dragon Waki he had found on Bladeart.com's website. We exchanged e-mails about his new waki, music and his interest in knifemaking. I learned Johnny is an actor, musician, martial artist and artist. He has been collecting knives since he was 8.
From Collecting to Making Knives
"It was when I was on tour with my band, Operator, that I got serious about collecting custom knives. I would be on the tour bus searching the web for knife dealers," he said.
After talking with Johnny and learning a little about him, I suggested he visit my shop and hang out for a weekend. He did—and he jumped in with both feet.
We started out forging two blades to shape. Then I taught him grinding and heat treating. The crash course was three long, fun-filled days. As Johnny told BLADE®, "It was a great experience coming to Wally's and having him share all his knowledge with me. I learned how to manipulate steel and apply these skills to my edged art."
As soon as Johnny returned home, he ordered a belt grinder, drill press and some steel. In the past year he has created some very original designs. His computer-drawing skills enabled him to develop a practical and aggressive-looking knife style. As he noted, "With my knives, I like to paint in tactical colors."
Johnny Strong's Knives
His blades are flat ground from CPM-S35V stainless steel and heat treated by Paul Bos Heat Treating.
Johnny has created some unusual blade finishes with a combination of bead blasting and etching. The blades are ground with a wide secondary bevel that makes his knives razor sharp, similar to those by Shiva Ki.
Johnny hand carved a mold to make his handles. He casts them one at a time. The handle material is an impact/chemical-resistant resin. The cutouts in the handle butts are multi-purpose prying/shaping tools. He also designed and ordered custom-made black titanium handle fasteners. Three of Johnny's models are the Urban Assassin, Canine Assassin and Combat Assassin.
Respective blade lengths are 6.5, 8.5 and 11 inches. The blade of the Canine Assassin has a tiger-stripe finish, while the Combat Assassin blade features a sawback. Each blade has what Johnny calls his three-edge design, which was inspired by the knife-combat training he has received. All his knives come with custom leather sheaths.
Sinners & Saints
Johnny has starred in Black Hawk Down, The Fast and The Furious, Get Carter, The Glimmer Man and his new (as of the original publication of this article) action movie, Sinners and Saints. Johnny plays the lead role of Sean Riley, a New Orleans detective.
To prepare for one of the movie's knife fight scenes, Johnny trained with Ron Balicki for three months. Balicki is well known as a practitioner and teacher of the martial arts, and is a student and son-in-law of Dan Inosanto, a legendary martial arts instructor who studied under Bruce Lee. Balicki is also a top Hollywood stuntman and plays the role of Rucker in Sinners and Saints.
Johnny learned both one-handed and two-handed combative drills. In a knife-fighting scene in the movie, Johnny uses an Allen Elishewitz "Phalanx" folder and a Cold Steel Tai Pan dagger. Balicki plays Rucker, a bad guy Johnny's character must kill. The knife-fighting scene took two days to shoot. Balicki uses a Cold Steel Voyager folder in the scene.
"Ron has a ton of experience and was great to work with," Johnny noted. "We wanted to make the knife-fighting scene as realistic as possible."
Johnny has a strong background in martial arts with a black belt in Brazilian Ju-Jitsu, and is training hard to get in shape for his next movie.
Movies, Music and Knives
This past fall I flew down to Johnny's to help with his knifemaking and have some fun playing music as well.
Music is a big part of Johnny's life. When not acting, he works on music either for film scenes or his own CDs.
Prior to press time he had released his new album, The War of Art, on iTunes. It features two of his Urban Assassin models silhouetted on the cover. I was asked to bring my guitar so I could play lead on a couple of songs in his studio.
What a blast—mixing knifemaking with recording music! Stay tuned for more movies, music and knives from a very talented guy.
---
NEXT STEP: Download Your Free KNIFE GUIDE Issue of BLADE Magazine
BLADE's annual
Knife Guide Issue
features the newest knives and sharpeners, plus knife and axe reviews, knife sheaths, kit knives and a Knife Industry Directory.
Get your FREE digital PDF instant download of the annual Knife Guide. No, really!
We will email it to you right now when you subscribe to the BLADE email newsletter.