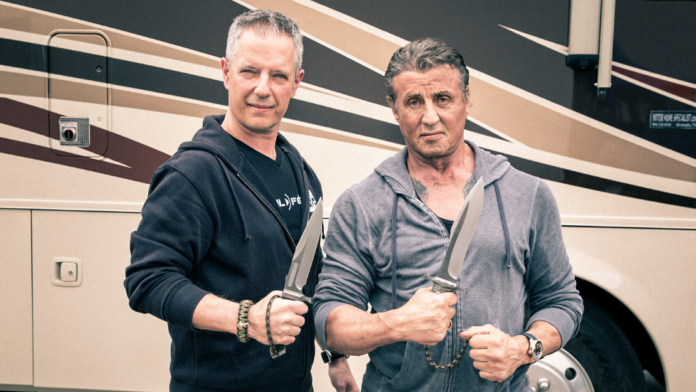 Answer: Dietmar Pohl designed the two knives used in Rambo 5: Last Blood, called the MK-9 and MK-8.
Whereas in years past, the titular character of the Rambo movies carried a single knife on the silver screen, Rambo 5: Last Blood will feature two blades. Both were designed by Dietmar Pohl, a German custom knife designer.
Pohl joins Jimmy Lile and Gil Hibben on the roster of those supplying Sylvester Stallone's Rambo. As a testament to the longevity of the franchise, and the importance of the knives appearing in the movies, Pohl cited Lile's First Blood knife as an early influence on his path to knifemaking. In fact, he even came into possession of one of Lile's movie originals.
"It closes a circle," Pohl said in the video above about the chance to supply Rambo 5. He echoed the comment on Twitter.
A storm will be unleashed tomorrow. I am extremely proud to be a part of it. The circle closes for me after 36 years!#film #movie #movieknife #movieknives #pohlforce #dietmarpohl #edge #knife @BladeMagazine pic.twitter.com/XVOa1MMHRU

— Pohl Force (@pohlforceknives) September 18, 2019
MK-9
Nicknamed the "Heartstopper," the Pohl's MK-9 is the larger of the two knives Rambo uses in Rambo 5. Pohl said the MK-9 pays homage to the survival knife featured in First Blood, tweaked for a modern tactical aesthetic.
Blade length: 9 inches
Blade thickness: 0.24 inches
Steel: Niolox
Finish: two-tone satin finish
Style: sub-hilt fighter
Handle: olive drab canvas Micarta
Guard: titanium
"Skull crusher" pommel
Weight: 1.41 pounds
MK-8
The MK-8 is the smaller of Pohl's Rambo knives. This time, the maker dipped even further back into knife history for inspiration, paying respects to the bowie design that influenced the First Blood knife.
Blade length: 7.8 inches
Blade thickness: 0.24 inches
Steel: Niolox
Handle: ebony wood
Guard: titanium
Style: bowie
Weight: 1.1 pounds
Where to Get Rambo 5 Knives
Pohl is keeping reproductions of Rambo knives in-house. Collectors can order direct at MovieKnife.com, a website he created exclusively for the MK-9 and MK-8.
Rambo 5 Knife Photos
(via imdb.com)
Keep Reading About Knives Used in the Rambo Movies
Browse BLADE's archives about the knives designed and made for First Blood, First Blood: Part 2, Rambo III and Rambo.
---
NEXT STEP: Download Your Free KNIFE GUIDE Issue of BLADE Magazine
BLADE's annual
Knife Guide Issue
features the newest knives and sharpeners, plus knife and axe reviews, knife sheaths, kit knives and a Knife Industry Directory.
Get your FREE digital PDF instant download of the annual Knife Guide. No, really!
We will email it to you right now when you subscribe to the BLADE email newsletter.