Who will be the 50th inductee into the BLADE Magazine (www.blademag.com) Cutlery Hall Of Fame at this week's BLADE Show & Living Ready Expo (www.bladeshow.com)? Find out when the world's biggest and most important knife show begins Thursday, May 31, and runs through Sunday, June 2, at the Cobb Galleria Centre in Atlanta.
While there, check out the latest in the finest custom and factory knives, the greatest knifemakers and knife companies, the legends of the industry, the most comprehensive seminar slate of any knife event, and much more.
Last year knifemaker Harold "Kit" Carson was a most popular 49th inductee into the Cutlery Hall Of Fame, and a who's who of the knife industry attended the BLADE Magazine Awards Banquet the Saturday night of the show to celebrate the occasion. The 50th inductee will be announced at the BLADE Magazine Awards Banquet show Saturday night this year, too (tickets required).
The induction process began in February when living members of the Cutlery Hall Of Fame were contacted to submit a maximum of two nominations each for this year's induction. Once those nomination submissions were made, a final ballot was compiled for the members to vote for their choices. Each member could vote for up to two nominees, with their first choice receiving two points and their second choice one point. The person with the most points is this year's inductee.
Who will it be? Attend the BLADE Show & Living Ready Expo to find out. The inductee's name will be included in a special news release that also will announce the BLADE Magazine Knife-Of-The-Year® awards and will be sent out via electronic media after Saturday night's banquet.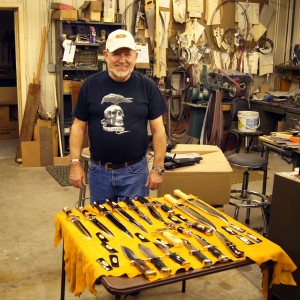 ---
NEXT STEP: Download Your Free KNIFE GUIDE Issue of BLADE Magazine
BLADE's annual
Knife Guide Issue
features the newest knives and sharpeners, plus knife and axe reviews, knife sheaths, kit knives and a Knife Industry Directory.
Get your FREE digital PDF instant download of the annual Knife Guide. No, really!
We will email it to you right now when you subscribe to the BLADE email newsletter.