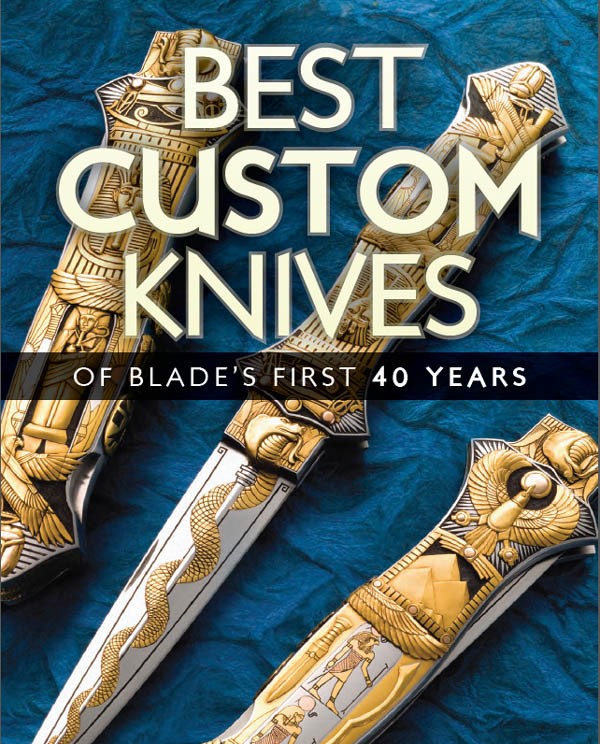 Atlanta, Georgia (June 4, 2016) – Awards recognizing the highest achievement in the custom and factory knife industries were bestowed the evening of Saturday, June 4, 2016, at the BLADE Show (www.bladeshow.com) in the Cobb Galleria.
2016 BLADE Show Knife of the Year® Award Winners
Representatives from BLADE Magazine (www.blademag.com) distributed Knife of the Year® awards in 15 categories. Two of the awards—Industry Achievement and Publisher's—went to a retail knife store and a knife-related organization, respectively, for their contributions to the world of knives.
• Overall Knife Of The Year®: Lionsteel – Metamorphosis
• American-Made Knife Of The Year®: Spartan Blades – SHF
• Imported Knife Of The Year®: Dragon Claw – SUPER HITMAN47
• Most Innovative American Design: Mike Vellekamp Knives & Designworks – CDHK (Cold Dead Hands Karambit)
• Most Innovative Imported Design: CRKT – Field Strip Homefront
• Best Buy Of The Year: CRKT – Tighe Tac Two
• Kitchen Knife Of The Year®: KAI-USA – Shun Hikari
• Investor/Collector Knife Of The Year®: Pro-Tech – BR-1 Ultimate Custom
• Knife Collaboration Of The Year®: Florian Knives & Russ Kommer – Sniper
• Manufacturing Quality Award: Chris Reeve Knives
• Accessory Of The Year: Work Sharp – Combo Knife Sharpener
• People's Choice Knife Of The Year®: Schrade – SCHF52
• Industry Achievement Award: The Delavan Family and Plaza Cutlery
• Publisher's Award: Forged in Fire
• BLADE Magazine Cutlery Hall-Of-Fame© Inductee: CJ Buck
All entrants in the Knife of the Year® competition were judged on a number of factors, including utility, design, creativity, materials, aesthetics, feel and other traits.
2016 BLADE Show Custom Knife Winners
The 2016 BLADE Show Custom Knife Award Winners were also announced on Saturday, June 4, 2016, at the Cobb Galleria in Atlanta.
Hugh Bartrug Best of Show: Mike Quesenberry and Saign Charleston
Yvon Vachon Best Miniature: Shigeru Tozaki
Best Folder: Gus Cecchini
Best New Maker: Michael Zieba
Best Bowie: Brian Thie
Best Handle Design: Jean-Louis Regel
Best Fighter: Bill Luckett
Best Art Knife: Bertie Rietveld
Best Collaboration: Mike Quesenberry and Saign Charleston
Best Damascus: Dionatam Franco
Best Fixed Blade: David Broadwell
Best Tactical Folder: Kirby Lambert
Best Sword: Ron Chen
Best Utility Hunter: Josh Fisher
Most Innovative Design: Phil Booth
Best of the Rest: CAS
About BLADE Show
The BLADE Show is the world's largest, most important knife show, and has taken place every year since 1981 and in Atlanta since 1992. Upwards of 1,000 exhibitors from more than 20 countries display their knives and knife-related items over a three-day cutlery celebration that also features BLADE University knife seminars, knife auctions, custom knife awards, celebrity appearances and much more.
About BLADE
BLADE® Magazine (www.blademag.com) is the world's No.1 knife publication. It is also the world's oldest knife magazine, publishing its first issue in 1973. In conjunction with the BLADE Show, it has sponsored the Knife of the Year® Awards annually since 1982. The awards are the most coveted honors in the factory knife industry and are voted on by the booth exhibitors at the BLADE Show, who this year number more than 200. Only BLADE Show booth exhibitors are eligible to enter. The People's Choice Award is open for voting to all visitors of blademag.com.
The BLADE Show and BLADE Magazine are the properties of F+W of Cincinnati, Ohio.
---
See 40 Years of Knives that Changed the World
BLADE collected the very best factory and custom knives into two digital collections to showcase the blades that changed the edged world forever. Click a cover to grab yours today.
---
NEXT STEP: Download Your Free KNIFE GUIDE Issue of BLADE Magazine
BLADE's annual
Knife Guide Issue
features the newest knives and sharpeners, plus knife and axe reviews, knife sheaths, kit knives and a Knife Industry Directory.
Get your FREE digital PDF instant download of the annual Knife Guide. No, really!
We will email it to you right now when you subscribe to the BLADE email newsletter.