Gear up with the Team Jackal Survivor fixed blade from TOPS Knives, a great everyday utility and/or bug-out-bag knife.
The Team Jackal Survivor sports a 5-inch blade of 3/16-inch-thick 1095 high-carbon steel heat treated to a Rockwell hardness of 56-58 HRC. The cutting edge is 4 5/8 inches long. A steel favored by many bladesmiths and a growing number of factory knife companies, 1095 is easier to sharpen than some of the higher-grade stainless steels such as CPM S30V. This is a valuable trait to have in the field and/or for novice knife enthusiasts who have not quite mastered the proper sharpening techniques required or do not have the proper sharpening equipment to put an edge on the higher-grade steels.
Of course, the trade-off with carbon steel is that it tends to rust more easily than stainless steel, though if you wipe the knife down after each use rust should not be a problem. However, just in case, the Team Jackal Survivor blade features a Coyote Tan powder coating to help reduce rust. The coating also holds down on glare. Still, though, a wipe down after each use never hurts!
The contoured, straight-backed handle is a black G-10 hard synthetic textured in TOPS' Rocky Mountain Tread for secure purchase and a cool look. Enhancing purchase is a jimped blade ramp just forward of the handle spine and a finger groove behind the choil. The knife's overall length is 9.75 inches. Without the sheath, it weighs 8.9 ounces.
The sheath is a black Kydex with a rotating spring steel clip. Counting the sheath, the complete knife package weighs 11.7 ounces.
The manufacturer's suggested retail price for the made-in-the-USA Team Jackal Survivor is $175, but if you visit topsknives.com while its sale lasts you can get it for $140.
---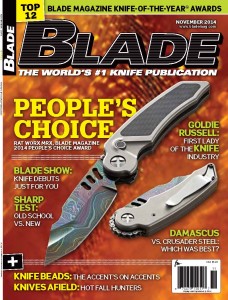 Recommended:
Stay abreast of the latest developments on this and many more knife rights issues with a subscription to BLADE.
---
NEXT STEP: Download Your Free KNIFE GUIDE Issue of BLADE Magazine
BLADE's annual
Knife Guide Issue
features the newest knives and sharpeners, plus knife and axe reviews, knife sheaths, kit knives and a Knife Industry Directory.
Get your FREE digital PDF instant download of the annual Knife Guide. No, really!
We will email it to you right now when you subscribe to the BLADE email newsletter.