KA-BAR has announced its long-awaited reintroduction of the Ek Commando Knife line with its update of the Ek Model 4.
The Model 4 sports a 6.625-inch double-edged blade of 1095 Cro-Van carbon steel, an "S" double guard, a textured glass-filled nylon handle and traditional X-head fasteners. It features a Celcon® sheath with a retaining strap, a self-locking function and multiple tie-down points. MSRP: $125.40.
With its modern materials, double guard and much-more-streamlined shape, the new Model 4 is a far cry from the World War II-vintage version, which had a wider blade and a wooden handle with an integral single guard and a bulbous pommel. The new Model 4's handle shape with X-head fasteners is in keeping with later versions of Ek knives.
EK BACKGROUND
John Ek created Ek Knives in 1941. He contributed to the World War II effort by overseeing the production of knives for most all American service branches from his Hamden, Connecticut, shop. He employed disabled Americans to help build six knife models during the war.
He called the knives "Ek Commando Knives" for their intended purpose of close-quarter combat. He began registering each knife's serial number to its original owner in 1943. The Ek Commando Knife became a hallmark of the U.S. Marine Raiders and other American special operation units during the war. At the peak of wartime production, he employed three shifts working seven days a week making knives, and is reported to have sold over 100,000 models by war's end.
U.S. troops have carried Ek Commando Knives in every major American conflict since World War II.
Ek moved his shop to Miami, Florida, in 1949, and continued to make knives for private sale to military men, with thousands of his knives seeing service in Korea and Vietnam. He died in October 1972 and his son, Gary, took over the business. Robert A. Buerlein obtained the rights to Ek Knives in 1981 and resumed production in 1982. Blackjack Knives bought Ek in 1993 and sold it to Century International Arms in 1997. KA-BAR acquired the Ek knife brand last year.
For more on the new Model 4, visit Ekknives.com.
---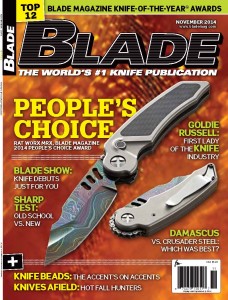 Recommended:
Stay abreast of the latest developments on this and many more knife rights issues with a subscription to BLADE.
---
NEXT STEP: Download Your Free KNIFE GUIDE Issue of BLADE Magazine
BLADE's annual
Knife Guide Issue
features the newest knives and sharpeners, plus knife and axe reviews, knife sheaths, kit knives and a Knife Industry Directory.
Get your FREE digital PDF instant download of the annual Knife Guide. No, really!
We will email it to you right now when you subscribe to the BLADE email newsletter.