Case and Zippo saluted Medal Of Honor recipients with a special personalized knife and lighter set on the 13th anniversary of 9/11.
The presentation of the sets to MOH recipients occurred last week as part of the 2014 Medal of Honor Convention and celebration in Knoxville, Tennessee.
In an official release, Case and Zippo presented the Medal of Honor Commemorative Lighter and Knife set "to the recipients of America's highest military honor, in recognition of their outstanding service in preserving America's freedom. Case knives and the American military have gone hand-in-hand for decades, as far back as World I, when the U.S. government called on Case to make military knives for American servicemen and women. Later, during World War II, Case manufactured the V-42 stiletto, issued to the First Special Service Force, aka the Devil's Brigade."
The knife is a Case trapper boasting a red, white and blue bone handle laser-engraved with images of an American flag, a reproduction of the Medal Of Honor Society seal and an eagle. The Zippo lighter has a high-polish chrome Armor™ case with deep dimensional engraving, 24k-gold reproduction of the MOH Society seal and a heavy gold-plated inside unit. Both pieces are personalized for each MOH recipient and were made in Bradford, Pennsylvania, home to Case and Zippo.
The MOH Convention included a number of special events throughout downtown Knoxville, including many awards and appreciation presentations. A number of the events were sold out, including a Charlie Daniels Band performance at the Tennessee Theatre as well as the Patriot Award Gala at the Knoxville Convention Center. A number of MOH recipients were available for questions from the audience during special live interviews at the Cox Auditorium at the Alumni Memorial Hall on the University of Tennessee campus. Autograph sessions and other special events also were offered.
For more info visit http://www.mohknoxville.com/2014-convention/events/
---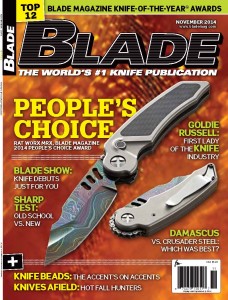 Recommended:
Stay abreast of the latest developments on this and many more knife rights issues with a subscription to BLADE.
---
NEXT STEP: Download Your Free KNIFE GUIDE Issue of BLADE Magazine
BLADE's annual
Knife Guide Issue
features the newest knives and sharpeners, plus knife and axe reviews, knife sheaths, kit knives and a Knife Industry Directory.
Get your FREE digital PDF instant download of the annual Knife Guide. No, really!
We will email it to you right now when you subscribe to the BLADE email newsletter.