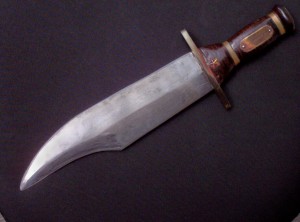 One of the many things that make knives so fascinating is the unusual pieces that turn up from time to time. Such is the case with a bowie knifemaker Steve Hill (www.stevehillknives.com) dubbed the "Iron Waitress" as a play-on-words salute to the famous "Iron Mistress."
He found the Iron Waitress on eBay a few years ago. He and I had been emailing back and forth about the upcoming Bowie Knife Show in Natchez, Mississippi, and he emailed pictures of the knife and gave me a brief history.
"It was listed as a World War II theater handmade knife," he wrote. "It's for sure inspired by the 'star' of the Alan Ladd flick—or is that vice versa? Perhaps the designer of the movie knife remembered seeing this back in 'The Big One'?
"I have fitted it with a brass spine since acquiring it. Joe Musso [the leading authority on knives from the Iron Mistress movie] thinks it's most likely a Korean War theater knife. It's an impressive piece of work with a sharpened false edge and cool stacked-leather handle with an escutcheon plate engraved Normand(y?). There's good steel in the blade and it even has a tight radiused and sharpened point so it keeps on cutting through a slash maneuver without hanging up like a needle point could.
"To paraphrase Nez Coupe, the fictional Cajun friend of Jim Bowie in Paul Wellman's Iron Mistress book, 'This knife, she is death!' Of all the knives in my collection," Steve noted, "this one does seem to intimidate those who see it."
According to Steve, the knife made the front page of a Vidalia, Louisiana, newspaper with a close-up of Knife World Editor Mark Zalesky looking cross-eyed—"Too funny!" Steve added—at it during a previous Bowie Knife Show.
For the latest knife news, stay sharp with www.blademag.com.
Keep Reading:
---
NEXT STEP: Download Your Free Vintage BLADE Magazine Complete Volume (4 Issues) From 1973!
Download the 1973 BLADE magazine issues in digital PDF!
Delivered straight to your e-mail inbox for instant download. It's 1973, and the future of the modern knife industry was being forged by a pioneering group of knifemakers with a magazine and a mission. Get these collectible first issues of the World's #1 Knife Publication!
Click Here to Download the Pack