United Cutlery has paired with custom knifemaker Mikkel WIllumsen of Denmark to produce a new line of knives, including his popular "Blondie" model with machined G10 handle scales, a 440C blade, thumb-hole opener, a solid frame lock, low-profile pocket clip and smooth, flick-of-the-wrist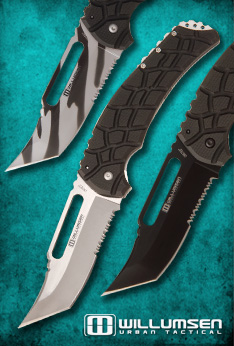 opening. The modified tanto blade offers strength and versatility. The Blondie is available in a black-coated, urban camouflage or satin-finished blade with a partially serrated or straight edge totaling six versions in all.
Willumsen has been a custom knifemaker for the past ten years in Copenhagen, Denmark, calling his designs Urban Tactical. Specializing in folders, fixed blades and balisongs, Willumsen's designs are based on functionality and quality, mixing classical designs with modern tactics. Renown for his inovative and tactical designs, Mikkel Willumsen brings his talents and knifemaking experience to United® Cutlery.
"We are thrilled to partner with Mikkel Willumsen," said Clint Kadel, CEO and owner of United® Cutlery. "Mikkel is a well respected designer with years of experience. Willumsen's knives are already highly sought-after in the custom-knife world, fetching as much as $600 each for a tactical folder. We are excited at the opportunityto give all knife enthusiasts a chance to purchase a Willumsen Urban Tactical knife at an affordable price with no compromise in the quality of materials."
For more information, or to download a free catalog, go to: www.unitedcutlery.com
---
NEXT STEP: Download Your Free KNIFE GUIDE Issue of BLADE Magazine
BLADE's annual
Knife Guide Issue
features the newest knives and sharpeners, plus knife and axe reviews, knife sheaths, kit knives and a Knife Industry Directory.
Get your FREE digital PDF instant download of the annual Knife Guide. No, really!
We will email it to you right now when you subscribe to the BLADE email newsletter.