Sponsored Content
Single Mark KA-BAR®
KA-BAR's website says that the Single Mark KA-BAR is the knife for those who have "never been in the military." That's less of a dig at those who haven't served than it is being true to the brand. Every KA-BAR knife traces its lineage back to the USMC Fighting/Utility Knife. As such, the Single Mark is made to the exact specifications of that legendary knife.
Unlike the military, however, you can personalize the Single Mark right out of the box. One side of the blade is stamped with, "KA-BAR, OLEAN NY," while the other side is blank. That's a perfect spot for an engraving.
Plus, this made-in-the-USA slice of history is built for the masses with an MSRP of $113.45.
Manufactured: USA
Overall Length: 11.875"
Blade Length: 7"
Blade Width: 1.188"
Bulk Weight: 0.7 lb.
Handle: Leather
Blade Stamp: KA-BAR
Steel: 1095 Cro-Van
Thickness: 0.165"
Grind: Flat
Angle: 20°
HRC: 56-58
Sheath: 1217I – Leather
Spartan Harsey Difensa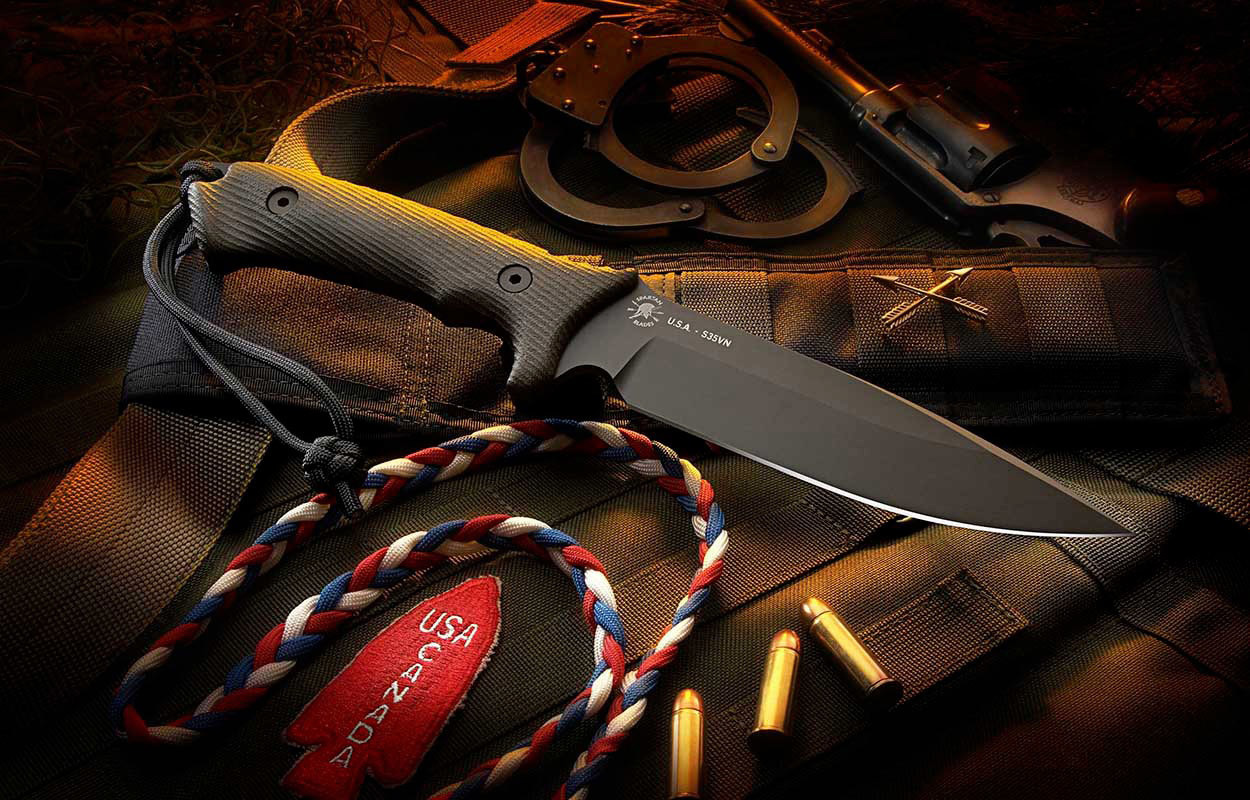 Named after the 1943 battle for Monte la Difensa in Italy during World War II, the Spartan Harsey Difensa is a prime example of military history meeting modern knifemaking.
The knife got its start when the Canadian special forces commissioned Spartan Blades and William Harsey to produce a blade for it. This U.S./Canada collaboration harkens back to the Allied heroism of that 1943 battle, so the result needed to be perfect.
From the looks of it, the spear-point Difensa hit its mark and then some. Its design wouldn't be out of place in either country, or abroad for that matter.
Designer: William Harsey
Overall Length: 11 5/8″
Blade Length: 6 1/4″
Blade Thickness: 3/16″
Blade Steel: CPM S35VN
Blade Hardness: 59-60 HRC
Blade Style: Spear Point
Grind: Flat ground main bevel with tapered top edge.
Coating: SpartaCoat – PVD – Tungsten DLC (Black) or ZrN (Flat Dark Earth)
Handle Material: 3D Contoured CE Canvas Micarta® Black or Green
Weight: 0.710 LBS
Spyderco Native 5 Abel Reels Exclusive Signature Series
Spyderco's collaboration with fine fishing tackle manufacturer Abel Reels has turned out a creel of keepers with the painstakingly detailed Native 5 Abel Reels Exclusive Signature Series.
One look will show you what makes this series of three knives stand out. The same proprietary process Abel Reels uses to make its tackle so realistic is also applied to the design of the knives. That's not to say the knives can be used as fishing lures, but it's pretty close.
Each work of art wraps itself around Spyderco's popular Native 5 folding knife platform. These photorealistic knives might swim away if you don't watch out.
Available are brown trout, rainbow trout and bonefish designs.
Steel: LC200N Corrosion Resistant Steel
Grind: Full Flat
Lock: Back Lock
Handle: Hand Anodized Aluminum
Carry: 4-Positions Hourglass Pocket Clip
Open Length: 6.95″
Closed Length: 4″
Blade Length: 2.95″
Blade Thickness: 0.126″
Weight: 3.3 oz.
Origin: USA
QSP QS131
QSP doubles down on the growing interest in urban EDCs with the Hawk QS131 line of four knives (A, B, C and D). The handle and blade material separate each of the four, but the rest of the specs are roughly the same.
The squared off handle design in each Hawk softens the overall design, staying true to urban EDC's non-aggression ethic. The same could be said for the damascus on two of the Hawk knives; urban EDCs need to have something to talk about.
Ceramic ball bearings mean no matter which of the four Hawk knives finds its way into your pocket, it's sure to pop open like a true flipper every time.
Mechanism: Flipper (Ceramic Ball Bearing)
Blade: Chinese Damascus Steel or CPM35VN (Satin Finish)
Handle: Carbon Fiber (A), Verawood (B) or Carbon Fiber (C)
Lock: Locking liner
Overall: 7.35"
Closed: 4.125"
Cutting edge: 3.225"
Net weight: +/-3.6oz
SOG Trident AT
With flippers all the rage, is there still room for an assisted opener? Absolutely.
SOG's Trident AT is an overbuilt example of the enduring assisted opening category, marketed as being "designed for professional users." Anyone can order up the AT, though, and why wouldn't they? The assisted mechanism opens rapidly, and the blade stays securely in place with SOG's renowned AT-XR locking system, including an ambidextrous safety in the handle.
Why so much security? SOG anticipates you're going to beat the heck out this knife. SOG prides itself on taking its folders to the limits, and this is no different.
Plus, the line cutter and glass breaker mean that no matter what you encounter in the field, you'll be ready.
Open Length: 9.03″
Blade Length: 3.7″
Closed Length: 5.33″
Weight: 5.15 oz.
Blade Thickness: 0.12″
Blade Steel: Cyro D2
Finish: Titanium Nitride
---
NEXT STEP: Download Your Free KNIFE GUIDE Issue of BLADE Magazine
BLADE's annual
Knife Guide Issue
features the newest knives and sharpeners, plus knife and axe reviews, knife sheaths, kit knives and a Knife Industry Directory.
Get your FREE digital PDF instant download of the annual Knife Guide. No, really!
We will email it to you right now when you subscribe to the BLADE email newsletter.