Contingency by Winkler Knives II is a concealable personal protection knife with a sheath system that allows for inside- or outside-the-waistband carry. (You'll want to order a left-hand-draw sheath for right-hand IWB draw.) The 3 1/2-inch blade on Contingency is made of 80CrV2 steel and has thumb-grip gimping. The knife has a tapered, skeletonized tang and measures 7.625 inches overall.
The curved-handle design is well-suited for easy draw and positive grip or 90-degree reverse-grip positioning. It comes in your choice of walnut, maple or Black, Tan or Green Micarta. Rubber is available but is not recommended for concealed carry. The MSRP is $300. You can also order yours with sculpting, $15; sculpted WASP (air injection), $30; or sculpted multi-camo, $30.
Daniel Winkler's Early Frontiersman Style
Daniel Winkler, along with wife and leather craftswoman, Karen Shook, started Winkler II Knives in 2016. Daniel's ever-present love of early American history intensified when he started using black-powder weaponry to extend his hunting season. He added to his 18-century woodsman outfit by making powder horns and other accessories, and in 1975 he made his first knife. He was a member of The American Mountain Men and other historically strict reenactment groups, and began selling knives at gatherings, called rendezvous. The money he made allowed him to upgrade his car-wheel forge to a hand-cranked model. By 1988 he was making knives full time.
When he'd been at it for nearly two decades, he spent a few years entering cutting competitions. He says those experiences taught him more than he had learned in all the other years combined. Not only did he improve his knife-handling skills, he came to understand what made a knife perform in a wide variety of tests. Cutting competitions are timed events that involve a number of stations at which the maker and his knife must cut, say, a hanging rope, an upright straw, a row of water bottles, a cardboard tube, a pool noodle and then chop through a piece of lumber. The blade either cuts or it doesn't.
Now he establishes the use of the knife before anything else, because no single knife can do all things well. He is honest about how knifemaking is always changing, sometimes advancing, sometimes failing.
In 1992 Daniel had the opportunity to make the knives and tomahawks used in the movie "The Last of the Mohicans." His pieces also made appearances in 2012's "Zero Dark Thirty." It was his work on "Mohicans," however, that would send him on the path to making knives and combat axes for today's Special Operations personnel, while continuing to serve the hunter-outdoorsman community.
Contact Daniel Winkler, Winkler Knives II, P.O. Box 2166, Blowing Rock, NC 28605; 828-295-9156; danielwinkler@bellsouth.net; www.winklerknives.com and on Facebook at Winkler Knives.
A Digital Subscription To BLADE Is The Answer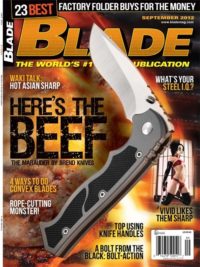 Save $4 off the print price of a annual subscription to BLADE Magazine with a digital subscription. If piling up issues of magazine seems like a waste for you… If you feel like you don't have time to read a magazine… If you like the stories we offer in BLADE, but want a more economical option, then a digital subscription is the answer. An annual digital subscription to BLADE is $17.98.
---
NEXT STEP: Download Your Free KNIFE GUIDE Issue of BLADE Magazine
BLADE's annual
Knife Guide Issue
features the newest knives and sharpeners, plus knife and axe reviews, knife sheaths, kit knives and a Knife Industry Directory.
Get your FREE digital PDF instant download of the annual Knife Guide. No, really!
We will email it to you right now when you subscribe to the BLADE email newsletter.