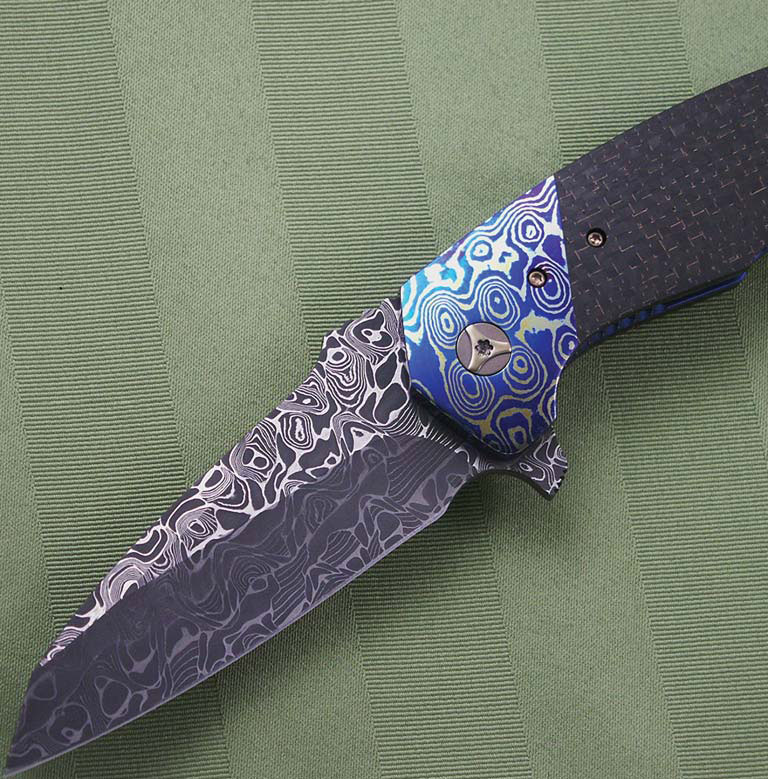 Mokume + Titanium Laminate = MokuTi Damascus
In the northern Mississippi town of Blue Springs, in a rural area between Tupelo and the Tennessee border, a company called Chad Nichols Damascus is forging steel that is taking knives to a new level. The company's owner and namesake, Chad is an easygoing Southerner who created a damascus product called MokuTi that boasts a stunning combination of shapes and colors.
The name explains it perfectly. It is mokume that includes titanium laminates. MokuTi adds an exceptional visual boost to a knife, with swirled or mosaic tones of blue, gold, orange, silver and pink, depending on the composition of the materials used.
In his affable manner, Chad assured that Chad Nichols Damascus did not invent the colorful titanium laminate; the company just came up with a new way to achieve it—which, he noted, was not an easy task.
"We haven't invented the wheel or anything," Nichols said of MokuTi. "I don't have to be the first one doing anything. I just want to be the last one doing it. We run this like a business, not an ego trip."
Years in the Making
It would figure that something that looks as good as MokuTi would be difficult to produce. Nichols said it took several years to figure out.
"That's not blowing it out of proportion," he laughed. "I messed with it for a while, then I just put it away because I kept failing."
He remembered getting tunnel vision trying to figure out why it was not working.
"You keep doing it and it's insane," he said, "because if it didn't work the first three times and you didn't do anything different, it's not going to work the fourth time."
Through trial and error he was finally able to figure out how to bond titanium with the other metals, but he is understandably tight-lipped about his proprietary secrets.
"I'm not going to tell you how we do it," he admitted, "but there's things we do that might seem minute to some people. However, we found those things to be critical."
He explained a myriad of variables when bonding the layers in presses and rolling mills, including oxygen, heat and surface texture.
"Without getting into too much detail as far as bonding the layers, I'll just say it's tricky and it doesn't always work," Nichols allowed. "If I don't make MokuTi for a month or two, I kind of count on the first two tries being crap."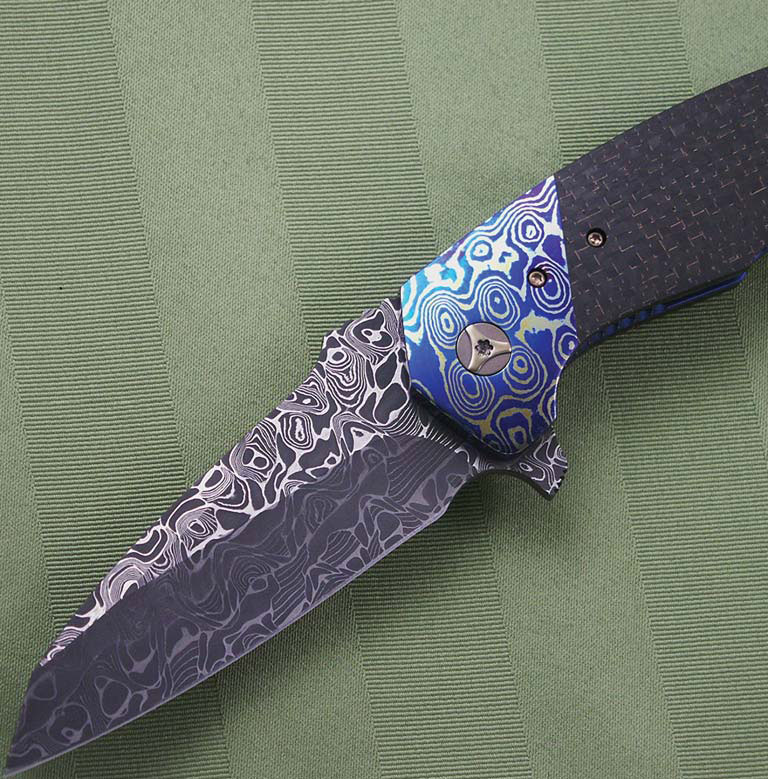 The experimental journey to fruition brought Nichols' shop down some rocky roads.
"We recently made some MokuTi and threw zirconium in there," he noted. "We love bonding titanium to other metals, but you just can't do anything with [titanium and zirconium]. They just won't bond because I guess the ductility is too different and the metals move at different rates during forging. It was a disaster, so we quit trying."
It is all part of the ride, he said, and you cannot be scared to "just throw something in there" and see what happens.
Meteorology Matters
Another variable that affects producing MokuTi successfully is the atmosphere. While forging carbon damascus is fairly predictable, Nichols said forging MokuTi is much more complex.
"When you get into stainless and even Mokume, with the copper and brass with the nickel silver in it, and especially with the MokuTi, it gets complicated," he continued. "What people don't understand about forging, especially down where I live, is that with humidity of 100 percent is going to get hotter than if it's 50 percent the next day."
A Sixth Sense for MokuTi Damascus
Nichols searched for the words to explain his approach. Maybe it is a feeling, maybe it is a sixth sense, and maybe it is just exposure and experience.
"I hate saying this but you just get in tune with what's going on. It's like using the word 'organic.' I hate it when I have to use that word, but sometimes there's no other word to describe it," he lamented. "We made a new pattern a couple weeks ago called 'Boomerang' and some guy goes, 'What's it like?' and, between groans, I said, 'It's very organic looking.'"
Put a Tie on that Knife
"I've used MokuTi on a variety of styles," said Michael Burch, Missouri knifemaker and owner of Burchtree Blades. "It's like putting a tie on a knife—it just adds some class."
Adding MokuTi as an accent is a common way to integrate the material into a knife without breaking the bank. Still, it is not cheap. The more of it the maker adds to the knife, the more it adds to the sale price.
"I charge twice as much for MokuTi bolsters as I would titanium bolsters due to the extra finishing time with polishing and heat coloring," explained knifemaker Peter Carey. "I use MokuTi on all my folders because it's strong and has an exotic look."
Carey said he also uses it as an accent material on his knives, such as for bolsters, pocket clips, back spacers, thumb studs and pivot rings. He said accenting with MokuTi injects some color and flash without overwhelming the knife. A good example of employing MokuTi is as a pivot collar on a stonewashed framelock, Burch added.
"It makes for great contrast and can really dress up a user folder," he observed. "It's costly but if customers saw what went into making it, it would seem cheap."
"It appears that everyone likes the material and it usually ends up on my higher-end knives," Carey said. "Some of my customers ask for it as full scales or for a framelock, so I use it that way also."
As Carey noted, MokuTi comes from Nichols Damascus as a billet that must be worked to shape and then colored.
"[Chad] usually colors it so you can see the pattern, but that gets ground off when you work it," Carey said, explaining that it is a surface color that does not go all the way though the material. "When you get it to final shape and finish, you have to heat color or anodize it to the colors you want."
"The other cool thing about MokuTi is dealing with Chad," he maintained. "He's a great guy, a friend, hard working and you can't beat his customer service."
Your Turn: Learn How to Forge Damascus
---
NEXT STEP: Download Your Free KNIFE GUIDE Issue of BLADE Magazine
BLADE's annual
Knife Guide Issue
features the newest knives and sharpeners, plus knife and axe reviews, knife sheaths, kit knives and a Knife Industry Directory.
Get your FREE digital PDF instant download of the annual Knife Guide. No, really!
We will email it to you right now when you subscribe to the BLADE email newsletter.