In a recent Facebook post, Mike Jeffries of 2 Birds Metal Works asked fellow knifemakers if they had a website, if it was worth the time and money to set up and maintain and how they approached it. He often throws out marketing-related topics for discussion. If you've followed any of those threads, you've already picked up some digital marketing tips from fellow makers. So, with Mike's permission, our first in a series of Marketing For Knifemakers articles will delve into some of the feedback he received, assess some statistics and provide examples of custom knifemaker websites. Obviously, if you are an uber-successful full-time knifemaker, you can stop reading, unless you want to reach a still wider audience. This article, though, is aimed at those on the cusp of going larger or full-time with their craft. So, knifemakers: Do you need a website?
We'll save whether you should go the do-it-yourself route or hire a pro for another time. We simply want to determine if a website is worth your time, money and effort at this point in your knifemaking career.
What Are Your Knifemaking Goals?
Are You A Hobbyist Or Part-Timer?
There is no shame in continuing to improve your craftsmanship, loving the journey and decidedly not going forward with a website. Continue to learn with each knife, sell a few to keep yourself in supplies and follow along with the community to stay up on industry news. Facebook (FB) and Instagram (IG) are all you really need.
Is Knifemaking Your Calling?
If you're "arrived," you already have a website and you can stop reading, unless you want a few tips on maximizing your customer base. If you're striving to reach higher rungs on the artisan ladder, focus on bettering each knife, learning from mentors and obtaining your journeyman smith rating if you forge. You can either start a website or wait. Once you think, and your peers confirm, that you've hit your knifemaking stride, though, you will definitely need a website. You will also need to tailor that site to reach the public you set out to attract.
Are You Actively Growing Your Business?
You're comfortable with your style and level of craft. You're 100 percent committed to knifemaking as a full-time trade. You're making money at it. You may be maxed out, or you may go through times of feast and famine. You, perhaps more urgently than other custom knifemakers, could benefit from a website sooner rather than later.
Whom Do You Want To Reach?
Honestly assess your style of knives and ask yourself who would be interested in your work? That can be a distasteful question when you solely want to focus on your art, but it's not just about selling knives. It's about tapping into the community that will be assessing and judging your pieces.
The Collector
If your folders are carried in a velvet pouch or arranged on a display shelf, a website, of course, is essential. You already know this. You're spending the majority of your time in your shop or socializing with your clientele in the normal course of living your life. However, "owning" your name may not be enough in a waning high-end knife market. Is your site attracting the gentleman who wants something to go with his watch, the art collector who may be looking for a new-to-him art to explore, or neither. We'll be exploring more about best practices for your site in an upcoming Marketing For Knifemaker's article.
The Brotherhood
If you're making tactical knives for the military, for law enforcement or for civilian self-defense, then you need a website, period. This category also includes trainers and balisongs for combatives instructors and practitioners.
The Outdoorsman
If you're making knives and tools for bushcrafting, camping, hunting, fishing or survival, you, too, need a website. Obviously, there is crossover in these categories. Your Rambo-esk survival knife may be totally tacticool, so you'll want to appeal to The Brotherhood as well as The Outdoorsman.
The Everyman
The everyman carries a knife for everyday chores, or keeps one in her purse, or has a few in a kitchen "junk" drawer. You absolutely need a website to reach this person.
The Cook
How can you convince people who cook that you can make a knife that will perform as well as an expensive classic, but in a color other than black? Answer: a website.
How Do People Find You?
Word Of Mouth
There's still 30 percent of the adult US population (250 million) that is not online. That's where you stake your name on the quality of your product and never let it out your door if you're not 100 percent sure of it.
You also learn to ask. You ask your happy customers to write reviews for you. You ask your less-than-happy customer to honestly share his disappointment and how you went above and beyond to not only make it right, but make it better than all right. You ask fans to tell their friends about you. You ask them to share your posts.
Article Appearance
Print publishing is indeed on the decline, but digital publishing is coming into its own. Articles in which your work is included can give you a boost in search engine optimization because it's packaged with over 300 words and includes links, images and video—all things that help rank that article, and thereby your knife images, higher.
Social Media
If you're on the cusp of growing larger, you undoubtedly have social media well underway. We'll be doing articles on each platform and how you can best maximize it to get your type of knives in front of a broader audience.
Online Search
This is where we want to focus. In order to meet new customers where they are, you must put yourself in their shoes. Sit down at the computer and think like a non-knifemaker. That can be a challenge. By focusing on Facebook and Instagram, knifemakers are talking to each other and customers who already know them. There is so much overlap that the circle of influence has shrunk to solely each other and fans. Fellow knifemakers are the best source of cheerleading, constructive guidance and fellowship, but they can't help you reach those outside the knife industry.
Make a list of the things that people might type into a search engine to find you. Enlist a non-knifemaker's input if necessary. Let's use 2 Birds Metal Works as an example. Mike makes knives to handle your cutting needs "from kitchen to camp." So, his aim will be to attract the The Outdoorsman and The Cook. Except for current customers and fellow makers, people know neither "Mike Jeffries" nor "2 Birds Metal Works," so what might they enter to stumble upon Mike's work.
As clumsy as that sounds, that's what you want to have happen. Mike offers a chef knife with a teal blue and lime green handle. Let's say a woman is searching for a housewarming gift for her sister, whose favorite color combination is teal and lime. She types in "teal and lime gift." That's it. Nothing about knives in the equation. If Mike has written a full caption to go with an image of his knife on his website along with the suggestion that it makes a nice gift, he has just increased the chances of his site coming up in a search. If he also describes in a blog post how he made this knife and covers his reasoning behind his color choices as well as all his other creative decisions, he's gone even farther to ensure his site has a chance of coming up on a vague search like in our example.
Is it foolproof? Of course not, but you're honestly playing the search engine optimization game with images and descriptions and blog posts. If you do that for each type of knife you make, over time, it will pay off in higher rankings for a variety of searches.
Isn't Social Media All A Maker Truly Needs?
In A Word, NO!
Digital marketers had predicted that websites would give way to social media and email would die at the hand of Messenger. That's not how it's turned out.
The only way your Facebook profile will come up in a online search is if someone actually searches for your name or company name. You're trying to reach people who have never heard of you and don't even think of knives as an option for, say, gift-giving. You could argue that you would never want your art falling into the hands of someone who can't appreciate what a custom knifemaker does. OK, but what if by getting a knife into their hands by whatever means, you create an impassioned fan, who then tells her friends how brilliant the colors were, how perfectly the knife worked, how great it felt…
Content Is Still King
Words still matter in this hashtag world. "Content" refers to anything used to fill an article, social media page or website. It can be writings, visuals in still or video form, and links, but in order for visuals and links to have weight, they must have words associated with them. And you need a place to park your content where it's forever accessible, and not lost on some never-ending feed. (Saving posts helps you, but not your potential customer.)
How can this be? Isn't Facebook pushing video? You bet. It's trying to be You Tube, which is owned by Google, and although FB has a more engaged audience, more people visit You Tube in a month than visit FB. Efforts are probably underway to extract video content so transcriptions can be combed by search engine robots. But even that won't help if a maker is just silently showing all sides of a knife. We'll talk more about video and how best to harness it in another Marketing For Knifemakers article.
So back to words. Every day the Google bots do their thing, combing articles, photo titles and captions, video titles and descriptions, links and meta data fields, to rank websites according to relevancy. Ever wonder why video is embedded in an article, or why slide shows come with accompanying written commentary? Words, dude, words. The term "blog" may be passe, but blogs still matter—greatly. You are reading one. We call it an "article," but it's still an article under my name and the Mightier Than The Sword banner. Every single example of a website that comes up high under a search for "custom knifemaker" includes either a blog or highly descriptive photos captions. J. Neilson's blog ranks high in a search for "custom knifemaker" not because it's filled with "Forge In Fire" references, but because of his depth of description on each of many, many knives.
Battling Anti-Knife Bias
As many of you are fully aware, there is definitely bias at Facebook and it's against weaponry. Selling of guns and knives is not allowed, so don't put prices on your marketplace items. Even though they encourage you to boost your post, if you ever try to, you'll be informed that what you're selling goes against FB policy. So, what's a custom knifemaker to do? Play the game, organically and on your own terms—with a website. Your post to Facebook lasts about 5 hours; your blog post/article has a 2-year lifespan.
What does "organic" mean, anyway? It refers to building content naturally and not paying for ads to boost results. It's about "articles" or "blog posts" on your website, photos, video and links that all work together to speak on a specific subject. The words are compiled naturally, and not "stacked" repeatedly in an unnatural cadence.
Let's say you have a blog on your WordPress website. You should aim for a minimum of 300 words per post to optimize search engine optimization (SEO). You explain what you're working on that week. You mention blade lengths, because people use blade lengths as part of their search criteria if they're in a state that limits them. You mention steel, your process, the handle material, including color, price, what comes with it, how it is shipped, and how people can put in an order for one. You give shouts out to your suppliers and mentors or supporters on the project then share it to Facebook.
You will still be speaking to your established audience while increasing your chances of being picked up in a generic search. Pretend you are talking to people who know nothing of custom knifemaking, because you are. Take the opportunity to educate as you go, minimizing abbreviations and lingo. You're broadening and educating your clientele with each post. You write, "Everyday (one-word adjective) carry, abbreviated as EDC, refers to something you carry every day (two-word noun)." See how I did that? (Laugh here.) At the end of the week, you write another post sharing how you did. You include pictures of your works-in-progress, rather than "WIPs," and a finished example. You share your successes and challenges.
Instead of saying "click here" for a link, link to the applicable words. Never forget the "web" part of the worldwide web. Link to others when appropriate, but do not link to everything. You don't want to pull your potential customer away too frequently. Pick and choose wisely, and be sure to set the link so it opens in another window so they can easily return to your site. All of this helps to rank you higher in searches. It's more time-consuming than FB or IG, but can be done less frequently, and over time, garners stronger returns on time spent.
5. Who Controls Your Website Experience?
Guess what? You don't get put in a time-out on your own website. You control your content and exactly how it looks and reads. You can build a photo gallery of finished work that includes a written description with all specs and includes the prices—imagine, no Facebook jail! You can have an About page that gives your journey as a person and as a knifemaker. It doesn't have to be long, but it should be at least 300 words and include images from benchmarks in your life. People are buying a part of something you've poured your heart and soul into; they want to know who you are.
You can include platforms to sell directly from your website. You can and should drive traffic to your social media sites and include your website on your social media profiles, but you are in charge of your website content, for better or worse. Best of all, you can include at the very least, a newsfeed, but hopefully you're seeing the benefit of a blog, so you can share industry new that your customers might benefit from, including your own promotions, giveaways and waffles (sorry, a website won't change state laws). A blog within your site gives you a platform from which to explain thing about your craft, offer your opinion, talk about your life as a knifemaker, projects you have in mind, specials you're running, shop tours you're hosting, hammer-ins you're organizing. It's a place where you can put in words what you normally say in a video.
"But I hate writing. That's too much of a time-suck." Agreed. Perhaps you know someone who likes it. You can offer them short money to do weekly posts for you. "Arrgh, a money-suck." Try to look at it as an investment in growing your business. I see plenty of knifemakers who can't even Share a post. Their buddies do in 2 seconds what they couldn't figure out in two weeks—that's an actual quote from one of them. Trade your buddy a knife for an equal value of his digital expertise.
What Does Your Knifemaking Destination Look Like?
Ranking higher in online searches is a long-term endeavor. It takes consistently delivered content over the course of an extended period of time. Google is no more friendly to weapons than Facebook, but all knifemakers are playing under the same set of rules and the ones with websites and blogs are being rewarded.
Make a list of all the terms you want to "own." Start building content around those terms, and your website will populate itself into relevancy. Remember, it sometimes happens in life that the most gifted are not always the ones who obtain success with their given talent. It is the ones who can take their art and persistently and accurately market it, who will garner both recognition and thereby profitability.
At the same time, if you're constantly sucked into the money and time trap of marketing, there will be no knives to market. Use your time at the forge and the grinder to think. Start a notebook of both your big vision and the baby steps necessary to get there. Then enlist the help of people who truly get who you are and what your knives are about, so that you are free to make more knives.
A Digital Subscription To BLADE Is The Answer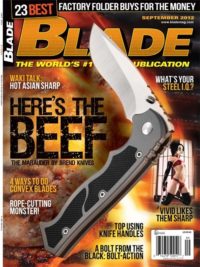 If piling-up issues of magazines seems like a waste to you… If you feel like you don't have time to read a magazine… If you like the stories we offer in BLADE, but want a more economical option, then a digital subscription is the answer. An annual subscription to BLADE is $17.98, $4 off the print price.
---
NEXT STEP: Download Your Free KNIFE GUIDE Issue of BLADE Magazine
BLADE's annual
Knife Guide Issue
features the newest knives and sharpeners, plus knife and axe reviews, knife sheaths, kit knives and a Knife Industry Directory.
Get your FREE digital PDF instant download of the annual Knife Guide. No, really!
We will email it to you right now when you subscribe to the BLADE email newsletter.