David McConnell is a stamping press repairman who hopes to convert to full-time bladesmithing soon. His first knife, was a cheap Wal-Mart special. Over the years he got frustrated with the lack of quality in such knives and began thinking about making his own. He knew he could make a better knife for himself, and he did. Only his buddy loved it so much that he bought it from him, David said, laughing.
The self-taught bladesmith has been making knives for 11 now, including tomahawks and axes. "I like to make hunting knives and more traditional stuff," David noted.
He is an avid grouse and deer hunter, as well as and ice and fly fisherman. He lives in Kalkaska, Michigan, with his wife and 15-year-old son.
Best-selling knife patterns: 3 ½- to 4-inch-bladed bird-and-trout, 4- to 7-inch-bladed straight-back hunter, classic bowie
Favorite blade steels: W2 for hamon, toughness, ease of forging and grinding; 1075 for ease of forging and heat-treating
Blade grinds: flat ground, sometimes with appleseed edge
How he tests his knives: "If it can cut a nail and have no deformation or chipping and still stay shaving-sharp, I would have to say that's a pretty good blade," David commented.
Favorite handle materials: bone, wood, antler. "I just like the feel and warmth you get from natural materials."
Price range: $85-$600
Knife shows he attends: local gun-and-knife shows and blacksmithing events
Member of: American Bladesmith Society
Forums he participates in: ABS
His website: www.northwoodsforge.com
Contact David McConnell at 989-858-6344, northwoodsforge@yahoo.com or on Facebook at North Woods Forge.
A Digital Subscription To BLADE® Is The Answer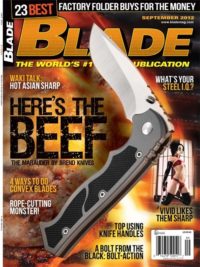 If piling-up issues of magazines seems like a waste to you… If you feel like you don't have time to read a magazine… If you like the stories we offer in BLADE, but want a more economical option, then a digital subscription is the answer. An annual subscription to BLADE is $17.98, $4 off the print price.
---
NEXT STEP: Download Your Free KNIFE GUIDE Issue of BLADE Magazine
BLADE's annual
Knife Guide Issue
features the newest knives and sharpeners, plus knife and axe reviews, knife sheaths, kit knives and a Knife Industry Directory.
Get your FREE digital PDF instant download of the annual Knife Guide. No, really!
We will email it to you right now when you subscribe to the BLADE email newsletter.