There are four categories of "glow." Bioluminescence is, say, a firefly. There's chemiluminescence, caused by a chemical reaction—think glow stick. Radioluminescence is most frequently used in clock or watch paints and on instrument panels. Then there's phosphorescence, frequently used in toys, or toys for grown-ups: knives, or more specifically knife handles. The old-school invisible type of glow-in-the-dark scales show white-ish in daylight. The handle might have tinges of color, but it's essentially white. If it has been exposed to enough sunlight, it will glow in blues, purples or greens in the dark. New-school daylight glow is visible day or night and comes in variety of colors. Here are six knife handles that glow in the dark, three of each variety, perfect options for Halloween or the everyday kid in all of us.
1. A son makes glow-in-the-dark-handled knife for his dad
Randy Madan of Patriot Horde Knives made this Pig Poker for his dad, Randy, who uses it on his farm in Kentucky. This type of old-school glow will appear creamy or pasty by day and either blue-violet or green by night, provided it has absorbed some UV light, explained scalemaker, Rob Carper of Rob Carper Innovations (RCI).
2. This GITD friction folder is pinned by a grenade pull
A rescue knife has a blunt point for two reasons, explained Denny Furey of Furey's Urban Combat Knives – Unlimited. One, it can be used to pry with, and two, if you needed to cut someone's seatbelt, for example, you don't want to run the risk of sticking them with a sharp point.
The grenade pull locks the blade in the open position for secure cutting. The pin can then be stored in the attached slot on the sheath, similar to how a ferro rod might be stowed.
3. New-school daytime glow is visible day or night
Jason Batdorf of Delaney Knives makes his own glow mix, using raw materials, but one would need to be a chemist with a laboratory to actually make the glow powder.
4. Knife named for a customer's departed sister
Brent Vacarro of Black Widow Knifeworks & Tactical Gear designed this blade for a customer as a custom order. When Brent began receiving interest in the knife, he wanted to introduce it into his lineup. But there were two problems. "First, I had to get permission from the customer, and second, I needed a name for it," Brent explained. He contacted the customer and asked if it would be OK if he made more of this knife model. The customer was fine with that. "Then I asked him to name the blade," Brent continued. "This is where it becomes very special very fast. He had told me about his sister passing away when they were younger, so he had asked if we can name the blade after her. My immediate response was 'Of course!' So that's where H.E.R.L comes from, her initials."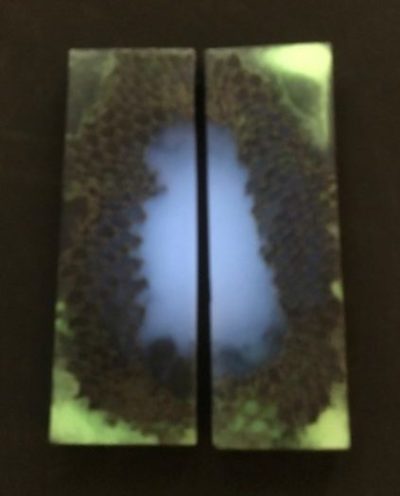 5. Glow-in-the-dark honeycomb pattern is echoed in leather sheath
6. Old-school Glow Hex emits violet shade in the dark
A Digital Subscription to BLADE Is The Answer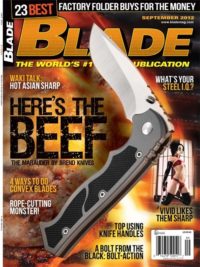 If piling-up issues of magazines seems like a waste to you… If you feel like you don't have time to read a magazine… If you like the stories we offer in BLADE, but want a more economical option, then a digital subscription is the answer. An annual subscription to BLADE is $17.98, $4 off the print price.
---
NEXT STEP: Download Your Free KNIFE GUIDE Issue of BLADE Magazine
BLADE's annual
Knife Guide Issue
features the newest knives and sharpeners, plus knife and axe reviews, knife sheaths, kit knives and a Knife Industry Directory.
Get your FREE digital PDF instant download of the annual Knife Guide. No, really!
We will email it to you right now when you subscribe to the BLADE email newsletter.