Randy Madan, known as JR on social media, served in the U.S. Marine Corps from 1992 to 1996 as a combat engineer. "I blew things up," he said, laughing. Now, at 43, he has been a federal correctional worker for 20 years.
He always loved and carried knives, but he got his start in knifemaking in October 2016. "The knifemaker that I idolize, Michael Cleveland from Half Lives Knives, afforded me the opportunity to join a knife build-off for a veteran charity. Me being a vet myself, I jumped at the opportunity," he explained. He has continued to make knives and to encourage other veteran makers.
"I am just a small-time maker, wanting to perfect my knives so that when I retire in a couple of years I can make more," he said. Other makers who have helped along the way include John Savage, Ryan Schreiber, Denny Furey and Mark Wagoner.
Best-selling knife patterns:

DaCleva, PMAT, Flatliner

Favorite blade steels:

1095 with plans to start using O1 and 80CrV2

Blade grinds:

flat with plans to add hollow

How he tests his knives:

shave hair, skive 7- to 9-ounce leather, cut ¼-inch bolts, chop 2-by-4s

Favorite handle materials:

Voodoo Resins, Rob Carper Innovations, 8th Dimension Concepts and J Hue Customs. "I am a big fan of the hybrid materials," Randy noted.

Price range:

$250 and up

Forums he participate in:

The Real Knife Makers of America, Global EDC and other Groups on Facebook
Randy uses All Star Abrasives in Lawrenceburg, Tennessee, for his abrasive supplies, which is what he puts to his hybrid scales to bring out their color.
Contact Randy Madan at randy@thepatriothorde.com, 760-885-9370 on Facebook at Patriot Horde Knives and on Instagram @the_patriot_horde.
A Digital Subscription to BLADE Is The Anwswer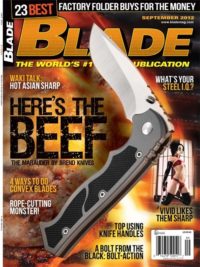 If piling-up issues of magazines seems like a waste to you… If you feel like you don't have time to read a magazine… If you like the stories we offer in BLADE, but want a more economical option, then a digital subscription is the answer. An annual subscription to BLADE is $17.98, $4 off the print price.
---
NEXT STEP: Download Your Free KNIFE GUIDE Issue of BLADE Magazine
BLADE's annual
Knife Guide Issue
features the newest knives and sharpeners, plus knife and axe reviews, knife sheaths, kit knives and a Knife Industry Directory.
Get your FREE digital PDF instant download of the annual Knife Guide. No, really!
We will email it to you right now when you subscribe to the BLADE email newsletter.