Kelly Pilcher of Collinsville, Texas, was 20 years old when doctors told her that hope of regaining feeling in her right side lay in having her first rib removed. She put the surgery off for as long as she could, but at 22 opted to go under the knife to alleviate her thoracic outlet syndrome. During surgery preparations Kelly asked, "'What happens to body parts that come out of people?'" She was told that they were disposed of properly, but that if she wanted to take her rib home with her, she could. It was hers. She was adamant that she wanted to keep it. When she awoke from surgery, her dad was there and he had an idea of what to do with the bone. Shane Pilcher works at the New Gainesville Livestock Auction barn and when someone had mentioned making a knife with the rib, they knew just who to ask. Travis Payne, of T-Bones Custom Creations in Telephone, Texas, makes castration knives so all the cattlemen knew he could fashion a knife made from her rib. "Let's do it!" Kelly remembers saying.
TOS is a condition in which the surrounding soft tissue constricts nerves and blood vessels between the collar bone and first rib. Normally it is something diagnosed in people in their 40s to 60s, more commonly women, or perhaps mail carriers who consistently carry a heavy bag on their shoulder. Kelly was diagnosed when she was 14. It is believed in her case that years of catching slow-pitch softball as well as playing volleyball may have constituted the kind of overuse usually only seen in older patients.
By 17 Kelly had undergone a year of physical therapy. Although the therapy improved the symptoms of her TOS, it did not eliminate them. She went for an additional course of physical therapy a couple of years later, but the results were not as good. Her condition continued to worsen. "It's different in each person," she explained. She endured numbness that started in her arm, but then advanced to her whole side. Although she learned how to teach her body to move when numb, she was left with few options if she wanted to become fully functioning again. She decided to have her rib removed.
Shane had been at the livestock sale barn and was expressing some hesitation about Kelly's decision to keep her rib. Someone pointed out that knives are made with animal bone and antler all the time, why not a human bone? "'And doesn't T-Bone make a knife?'" Travis said, recreating how the conversation may have gone at the barn. Since 1993 when Travis was still in high school he'd been making knives. His father and brother work the ranch where he lives in Telephone, Texas, but he makes knives full time. He is renowned for a style of castration knife that is frequently copied, most annoyingly by manufacturers using cheap steel. Since Travis' father-in-law frequents the same sale barn where Shane works and the barn owner had purchased several of Travis' knives and many of the cattlemen owned his knives, he was the first knifemaker that came to mind. Shane warmed to this idea and presented it to Kelly in the recovery room.
Like everyone involved in the project—except Kelly—Travis was hesitant, but he agreed to make the knife. He decided on his 3100T everyday carry model, a spey in cowboy parlance, usually the second blade on an old-school slipjoint trapper. Only this would be a fixed version. "It came to me in a hospital specimen jar," Travis said, taking a drag on his cigarette and waiting for the laughter. "With the meat still on it."
He approached the project like he would any deer skull. "Only I knew I wasn't going to be using my wife's cook pot," Travis said, laughing. He bought a throw-away pot and boiled the bone to get off any connective tissue. Although bleaching a bone works, it also can break the bone down. Travis soaked the 3-inch bone in hydrogen peroxide for a week. The same whitening was achieved without compromising the strength of the bone. Then he let it dry for several months, providing a convenient delaying excuse. The bone was very thin, only an 1/8-inch at its widest point. Travis feared breaking it.
"I had to regroup and talk to Kelly," he said. She remembers the call. He explained to her that the bone was too small and thin to make a handle out of, but that he could arrange for it to be cast in resin. Only he would need to slice it down the middle to have bone on each side of the handle. He could break it in the process. "I told him to go for it," Kelly said.
"Anyone who knows me, will tell you that I procrastinate," Travis said. He continued to analyze the problem. Meanwhile, he needed to find someone who would cast a human rib. Travis figured if anyone would do it, it would be Robert Belcher of Mental Co. Robert eschews phones and social contact, but his resins like Plantstone are innovative. "'No, but hell no. I can't be touching that,'" Travis recalled him saying. Travis moved on and got similar responses, but at least there was no point cutting the rib if he didn't have someone lined up. Finally, he took the rib to a show and unwrapped it for Pat Ankrom, of Ankrom Exotics in Centerville, Iowa, specializing in natural and cast scale materials. "Pat was like, 'I'm leery, but I also think it's kind of cool,'" Travis said. The men discussed the casting, and Pat agreed to do the job. Pat did not want something to happen to the bone in the process of packing up from the show, so Travis said he would mail the rib to him.
Now Travis had no choice but to cut the bone, but it was a nerve-wracking proposition. Travis wasn't about to charge a young woman who didn't have a lot of money and who had a debilitating condition more than the $200 he normally charged for such a knife, but in hindsight the cost to attempt something like this again would be closer to $500, Travis said. Kelly, of course, was excited to both see the knife and to have her rib back in her possession, so periodically she'd call for a status update. Finally, Travis got his courage up and sat down with a jeweler's saw. "Even with a jeweler's saw it was a tedious process," he said. The whole project was "intense," he said, laughing.
The two halves were packaged up and shipped to Pat, an exercise in trust in itself. Meanwhile, the blade awaited. It was made out of PSF27, a powered version of D2 that allowed for a true mirror finish. The lack of a point on a spey design means it's ideal for active cattlemen, ensuring nobody stabs themselves or punctures a sheath. It has a hollow grind, and a finger groove for more controlled cutting. The file work on the spine increases a sure grip in what can be wet or messy work.
The bone was cast in clear resin so you could see it, but so that you couldn't see the full tang Travis consulted with Kelly about colors. She was open to a turquoise or blue. Travis added a blue liner, which casts the clear with a blue tone. The knife was then sent to Jack Andress, who made a sheath in a yellow leather, complimenting the blue perfectly.
How'd it come out? "I love it," Kelly declared. Shane and Kelly came together to pick up the knife from Travis. Kelly said that she'd had that rib her whole life and she saw no reason why she shouldn't have it with her for the rest of her life. She carries it everywhere, either on her person or in her vehicle. Although she does use it, she tries not to. Her surgery was a success, and feeling has mostly returned. There is no cure for the many variations of TOS and symptoms can return, however, Kelly's pluck and resolve are ever-present. "I can't complain," she said.
Which Knife Designs Work?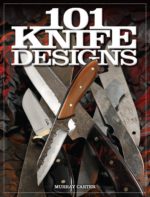 "101 Knife Designs" gives you 101 scaled patterns that you can use to design your own knives. Learn how to compare patterns and understand how some designs survive the test of time. If you've enjoyed Murray Carter's other writings, you will be sure to enjoy this one. On sale now for $19.53.
---
NEXT STEP: Download Your Free KNIFE GUIDE Issue of BLADE Magazine
BLADE's annual
Knife Guide Issue
features the newest knives and sharpeners, plus knife and axe reviews, knife sheaths, kit knives and a Knife Industry Directory.
Get your FREE digital PDF instant download of the annual Knife Guide. No, really!
We will email it to you right now when you subscribe to the BLADE email newsletter.