A question we often hear is What are the best blade steels? A better way to approach the question is to determine what jobs the knife will be asked to perform.
Do you need a hunting knife or an everyday carry knife? A kitchen knife or a camp knife/chopper? There are others. The type of knife and how it will be used often will dictate the type of steel.
Say you need a hunting knife. Rather than ask what kind of blade steel will be best for it, research the websites of companies or makers who specialize in hunting knives. Such companies and makers will offer hunting knives not only with the steels that they find best for hunting knife purposes, but also with the edge geometries that the companies and makers feel they are most accomplished at making/offering.
Edge geometry refers to the blade's grind and edge. If the grind and/or edge is too thick or otherwise not formed properly, it doesn't matter how good the steel is—the knife will not cut well. As for the grind itself, there are many—hollow, flat, convex, chisel, etc., and combinations thereof. Usually the companies or makers employ the grinds they are best at. In cases where you have the option of picking the grind from a custom knifemaker, ask him which grind he's best at and go with it.
Another important factor is the heat treatment of the steel. In fact, a low-grade steel heat treated properly often will outperform a high-grade steel with a substandard heat treatment.
In addition to the type of steel, ask how it is heat treated. While many makers are adept at heat treating their blades, many simply ship their blades off to professional heat treaters who specialize in the process. Blades heat treated by the pros usually will be heat treated properly and according to industry standards.
High-grade steels such as CPM S35VN, ZDP-189 and others are cutting tigers but can be difficult to sharpen and are more expensive. Lower-grade steels such as 440A, 5160 and others, all things being equal (including proper heat treatment and edge geometry), may not perform as well or hold an edge as long, but are usually easier to sharpen and will do most everyday cutting jobs that most people require. And, knives with such steels should be less expensive. In the case of 5160, while it is not a stainless steel, if you clean it and dry it off after each use, you should not have a problem with corrosion. The same is true with most non-stainless steel knives. Meanwhile, it's not a bad idea to clean and dry off stainless steel knives after use as well. They can corrode, too—it's just that they corrode less, as their name indicates.
Bottom line: Tell the company and maker what you plan to do with the knife. They make knives for a living and usually will be able to fit you with the proper knife and suitable blade steel for your needs.
---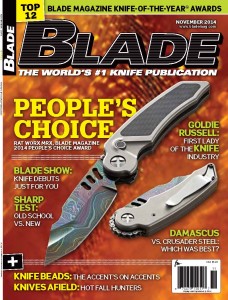 Recommended:
Stay abreast of the latest developments on this and many more knife rights issues with a subscription to BLADE.
---
NEXT STEP: Download Your Free KNIFE GUIDE Issue of BLADE Magazine
BLADE's annual
Knife Guide Issue
features the newest knives and sharpeners, plus knife and axe reviews, knife sheaths, kit knives and a Knife Industry Directory.
Get your FREE digital PDF instant download of the annual Knife Guide. No, really!
We will email it to you right now when you subscribe to the BLADE email newsletter.