The factory knife industry is always evolving and the evolution of change exhibited by the latest and greatest sharp stuff at the 2015 Shooting, Hunting, Outdoor Trade Show at the Sands Convention Center in Las Vegas was a case in point.
Automatics appeared in increasing numbers, both by companies known for them, such as Pro-Tech and Benchmade (CLA or Composite Lite Auto), and those not known for them as much, including Buck (Impact), Kershaw (Launch 1, 2 and 3), Hogue (EX-AO1, AO3 and AO2) and Timberline (18-Delta). Machetes were in abundance, including those by Outdoor Edge (Brush Demon), CRKT (Mah-Chete designed by Liong Mah), Timberline (Machete Survival System), Condor (Duku and Mini Duku) and the CHOP slated for a BLADE Show debut by DPx Gear. More in big fixed blades included a bolo (Jungle Bolo) and a bowie knife (Jungle Clip-Point) from Benchmade, the Camp 12 by Kershaw, a Steel Will bowie and also tactical fixed blades, the latter including a stretched-out-and flatter version of the Jerry Fisk Sendero in CPM S30V from White River, and Canal Street Cutlery's Green River Tactical Knives in D2 tool steel with handle slabs by VZ Grips and model numbers based on special dates/battles of the Iraq and Persian Gulf Wars.
Also proliferating were models in a tomahawk, hatchet or hatchet configuration from 5.11 Tactical, Hogue, Spyderco (Szabohawk), Kershaw (Tinder), SOG Specialty Knives & Tools (Survival Hawk), Timberline (Tomahawk CBT/Combat Breaching Tool) and Puma (Tomahawk XP and Packable Hatchet). A design collaboration with Allen Elishewitz, the Hogue model is especially noteworthy with hammer poll and spike attachments to make it two hawks in one.
Knives designed by or dedicated to military heroes were highlighted by a Case V-42 based on vintage drawings of the original model made for World War II's First Special Service Force, the father of today's spec ops units, with two surviving FSSF members—93-year-old Eugene Gutierrez and Del Stonehouse, 90—on hand at the Case booth to visit with show attendees. Buck offered the 245 Matt Would Go Knife designed by Navy SEAL Matthew J. Leathers, who was lost at sea during open ocean training exercises in 2013. Camillus featured new tactical fixed-blade designs by retired Green Beret Grady Powell and retired Navy SEAL Jared Ogden of National Geographic TV's Ultimate Survival Alaska. (Editor's note: All of the preceding military knives will be featured in special stories in an upcoming BLADE®.)
Other knives with a celebrity influence include new Kutmaster fixed blades inspired by the Pigman TV series. Condor premiered the Primitive Bush Knife used by survivalist Matt Graham on the Discovery Channel's Dual Survival reality show.
It's not a knife event without new tactical folders. Emerson Knives, Inc., debuted four entries—the Sheepdog, Iron Dragon, Hattin and Combat Systems Fighter—and Kershaw a larger version of its most popular Emerson collaboration, the CQC-4KXL. Coast Cutlery presented three smooth-opening, economical tactical folders (models TX399, TX395 and TX360) with design input from Spec Ops personnel. Krudo had four new folder designs—three flippers and an Asian-influenced model with a modified tanto blade called the Dao.
Other introduced models and items of note include:
ESEE's long-awaited Camp-Lore bushcraft series, the Ontario Bushcraft Woodsman chopper and the Saker, a bushcraft design by BLADE contributor Abe Elias for CRKT;
Zero Tolerance addressed the lower-end and smaller-knife industry segments with smaller folders (the 0450 and 0452CF) designed by Dmitry Sinkevich in the $200 MSRP range, and also introduced the model 0630 folder which includes Ernest Emerson's wave-opening feature;
DPx is working on a new version of its pivoting-handle-and-blade-guard design, also set for a BLADE Show debut, that is easier to operate and will be in a skinning knife configuration;
White River's hunting knife collaborations with Fisk, the Sendero Bush knife, with CPM S30V blade steel and an MSRP of $220;
Hogue and Benchmade (a river knife) fixed blades with lock-and-switch-release sheaths for both secure knife carry and easy deployment;
For the ladies, 5.11 Tactical's black folders with assorted handle color inserts with matching anodized liners;
Traditional pocketknives by Queen that include Schatt & Morgan Anglo-Saxon patterns and those by Case in handles by Eagle Grips;
Timberline's Trophy Drop-Point hunters designed by knifemaker/professional Alaskan hunting guide Russ Kommer;
Spartan Blades is developing a lapel dagger and a redo of an old Bill Harsey tactical folder design;
Smith's and its new Edgesport outdoor specialty tools and product line includes a natural tinder maker w/fire starter ($8.99 MSRP); Pack Pal Sharpener and Fire Starter w/emergency whistle ($9.99 MSRP); Pocket Pal X2 Sharpener and Survival Tool (sharpener, LED light, compass, whistle and fire starter, $14.99 MSRP); Survival Knife (a folder w/sharpener, whistle and fire starter, $19.99 MSRP); Survival Knife and Kit (w/collapsible silicon cup, fishing kit, duct tape, safety pins, emergency blanket, zip ties and tinder, $39.99); and Ultimate Survival Kit and Multi Tool 10-N-1 Multi-tool w/basic survival and first-aid kit, $49.99 MSRP).
---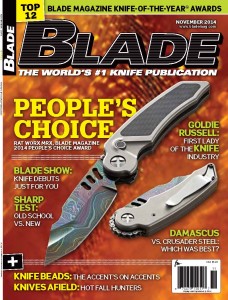 Recommended:
Stay abreast of the latest developments on this and many more knife rights issues with a subscription to BLADE.
---
NEXT STEP: Download Your Free KNIFE GUIDE Issue of BLADE Magazine
BLADE's annual
Knife Guide Issue
features the newest knives and sharpeners, plus knife and axe reviews, knife sheaths, kit knives and a Knife Industry Directory.
Get your FREE digital PDF instant download of the annual Knife Guide. No, really!
We will email it to you right now when you subscribe to the BLADE email newsletter.