The latest 2015 factory knives as seen at the SHOT Show—including the Pro-Strider SnG cover knife from Pro-Tech—how to make a knife with basic tools, hot bottle-opener knives, the edgiest custom knife-sheath combos going and much more highlight the new BLADE®, on newsstands NOW!
The Shooting, Hunting, Outdoor Trade (SHOT) Show is the annual coming-out party for the year's brand new guns and related products for those in the applicable trades—including factory knives. BLADE was there to visit with factory knife and knife accessory companies from all corners of the globe to see what their latest and greatest knives are for the new year. Check out the results in "A Beveled Bevy of Blade Beauties" on page 12.
Many people seem to think you must have a complete shop setup to make a good knife, but BLADE field editor and ABS master smith Joe Szilaski knows better—and shows you how to make a knife from a file with a few basic tools on page 20.
Bottle-opener knives are nothing new—Swiss Army and boy scout knives with folding bottle-opener tools have been around for ages—but the recent crop of bottle-opener knives with the opener incorporated into the butt of the handle is going gangbusters. Check out this hot new trend on page 50.
Time was a sheath with a fixed blade was a given, kind of like milk with your cereal, bacon and eggs, and toast and jelly. However, it is not uncommon for some of today's fixed blades to be absent a sheath. On the other hand are those custom makers who take pride not only in making world-class knives but pairing them with world-class sheaths as well. Meet some of these makers and their handiwork in "Edgy Combos" on page 72.
There's much more in this issue, including a salute to the late, great BLADE Magazine Cutlery Hall-Of-Fame© member Chuck Buck, tests of two fixed blades and three bowies, some hot wharncliffes, a profile of "Mr. and Mrs. Sharp," Lee and Donna Williams, the newest assisted openers and a whole lot more in the latest issue of BLADE.
---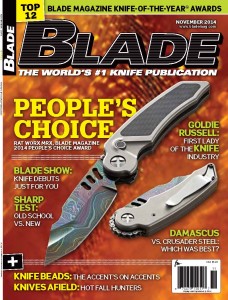 Recommended:
Stay abreast of the latest developments on this and many more knife rights issues with a subscription to BLADE.
---
NEXT STEP: Download Your Free KNIFE GUIDE Issue of BLADE Magazine
BLADE's annual
Knife Guide Issue
features the newest knives and sharpeners, plus knife and axe reviews, knife sheaths, kit knives and a Knife Industry Directory.
Get your FREE digital PDF instant download of the annual Knife Guide. No, really!
We will email it to you right now when you subscribe to the BLADE email newsletter.