These babies will unzip your catch with ease.
While you may think a fillet knife has only one purpose, there's as much variation in fillet knives as there is with any other knife type. Just as there's no one type of pocketknife, neither is there one type of hunting knife. Treating the fillet knife as an afterthought for your fishing is a mistake. In other words, you want to match your quarry to your blade.
Fillet Knife Size
The vast majority of American anglers, and most in Europe, fish either in inland waterways or along coastal waters. While it is certainly possible to catch large fish in these places, few people realize just how large of a difference there is between a 5-ounce bluegill and a 50-pound sturgeon. When you get above 10 pounds, you run the same risk of breaking fillet blades as you would breaking hunting blades on large game like deer. The flesh, bone and scales of fish are far tougher than many realize and a fragile blade can and will break if you put too much pressure on it. Heavy-duty fillet knives exist and are specially designed for larger fish.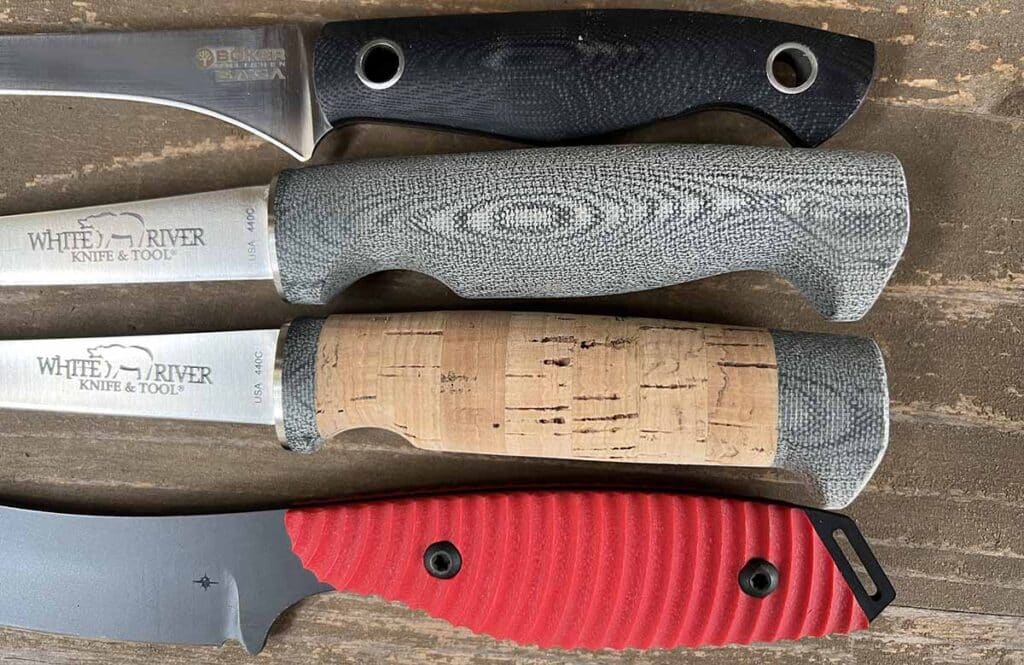 Likewise, small fish do not benefit from larger knives. This should seem like common knowledge, but I see anglers with 8-to-10-inch knives going after panfish. This is not a bad thing overall, just really unnecessary for the task. In my experience, large work like skinning deer and breaking down large game needs a 7-inch blade; you want to be able to see what you're working with and keep your hand out of the body and highly visible. With small fish, you want the tip closer to your hand to better control your cuts. Fish cleaning is an activity that leads with the tip. You need to have it cut in easily and then glide. A paper-thin blade isn't meant for chopping or sawing, unlike what you can accomplish with a thick-spined hunting knife.
Blade Flexibility
Flex is another important aspect of a fillet knife. Because of the way fish are shaped you want a blade that has the ability to match contours and glide along the spine or under the skin. Flex varies depending on the task. On large fish you'll want the least flex, on small ones you'll want the most. As for the tip, the largest fish need a reinforced tip because skin and fat can be extremely thick, and a thin tip is more likely to bend or break. Ideally, the tip should be as fine as possible and come to a narrow-angle. However, this becomes a hard thing to accomplish when you need a fillet knife that is also very strong. To get this, you need something like the tip of a wharncliffe pattern that provides a fine point while maintaining a thick blade.
Some Of The Best Fillet Knives
Toor Cardiff
The Toor Cardiff is perhaps the most well-designed and best-thought-out knife for large fish. Just about every part of the knife is properly contoured and ground to achieve a light, thin blade that is also very strong and razor-sharp. It is the thickest knife of the test bunch, but, at just .09-inch thick, is still considerably thinner than standard blades. It does not taper substantially from pommel to tip. The point of the knife is quite fine but shaped with strength in mind. Its edge geometry enables it to be used on most sizes of fish, though it is at a slight disadvantage on the smallest bluegill or anything you would throw in the pan as one piece. This has more to do with the overall size of the knife than it does cutting ability.
The blade has a curve with a deep belly. It permits the hand to sit at a more relaxed angle if you are cutting steaks or slicing a thick fish along the spine. The grip is very aggressive and promotes a firm hold even when your hands are covered in fish slime, water and blood. The knife is ruggedly designed and a suitable tool even for large game, including deer. While it does have some disadvantages as compared to a dedicated hunting knife, you could certainly get away with it as your primary blade for a mixed-bag hunting/fishing adventure. It does very well in the kitchen but you can tell it needs to be in the field.
White River Knife & Tool Traditional Fillet
When you think of a fish knife, the White River Knife & Tool Traditional Fillet is probably what comes to mind. White River is excellent when it comes to delivering traditional appearance with modern function. I have been using White River knives almost exclusively in the field for years for deer hunting, and I jumped at the opportunity to look at its fillet knives. Not only are White River fillets some of the best money can buy, they also are the best across-the-board for general fishing use. Moreover, they display some noteworthy properties.
While there are two White Rivers in the review group, they are for all purposes the same except for the fact that the cork-handle version will float. I especially like this feature considering I spend some time in kayaks and canoes. A cork handle is not as durable as the full Micarta® version but will last a lifetime if properly maintained and not abused. The two are not for hunting. They are dedicated for fishing and should be used as such.
As far as overall performance, the White Rivers will do everything you need and nothing you don't. They are dedicated fillet knives that are, at least in the 6-inch size, best on intercontinental species. There really isn't anything you can fish for in an American river that you can't process with these knives. They are a tad thin for heavy-boned fish and the largest river catfish, but if you're careful you should be just fine.
The knives come in an excellent wooden presentation box and have a functional, adjustable sheath with multiple mounting options. When sheathed, the blade can be used as a line cutter thanks to a small cutout toward the end that you can slip a line into. For dock work these knives are great. I eventually came to prefer the cork-handled version even though it is a little harder to keep clean. In the kitchen, they performed equally and stayed razor-sharp for the duration of testing.
Boker Solingen Saga Filetiermesser
From the moment you open the box, the quality of the Boker Solingen Saga Filetiermesser is immediately apparent. You can tell it was made with great attention to detail and is a singularly specialized tool. Unlike the other test models, it does not come with a sheath. It is also quite smooth in the grip and clearly meant for end processing in the kitchen.
It is the sharpest test blade and also the thinnest. The thickness at the choil is just .07 inch, and it tapers from grip to tip quite aggressively considering how thin it is to start. The tip is like a scalpel point. It is so incredibly fine that you must be aware of its presence when working. If you cut yourself with it, you probably wouldn't even know. I didn't.
Working with this knife in the kitchen is effortless. It is so sharp that it cut through all the fine bones in salmon; it simply glided right through. The blade is the most flexible in the review and bends quite a bit, though this is not a concern. The quality of steel and manufacture ensures it goes back to true even after substantial use. Because it has a smooth grip and is so incredibly fine at the tip, I would not immediately recommend the Boker for use in the field. If you decide to take it to camp, I would suggest either transporting it in a dedicated case or find a sheath that fits it.
Buck Abyss
The Abyss is a fillet knife Buck brought a little style to by using a Kryptek Pontus camo handle. Normally you just get some kind of bright rubber but this handle has some style to it. Overall length is 12 inches and the blade measure 6.5 inches. Buck lists it as a 6-inch blade but I can tell you my tape measure isn't broken.
The 420HC stainless steel blade features a double-ground tip and a distal taper. The double grind gives you an edge on the back of the tip to make puncturing and entry cuts easier. The distal taper gives the blade stiff ness toward the handle for use with large game fish. A more flexible tip area makes it useful for smaller fish. By using a distal taper, Buck can get away with having the Abyss straddle the fence between a stiff fillet knife and a flexible one.
The Kryptek scales have a slight texture but they also sport lateral contouring to aid in a secure grip. Sure, the Abyss does not have a super blade steel, but 420HC has been holding its own for years.
During testing the Abyss did fine for handling and cutting—in fact, I like the knife very much.
I would have to say my only doubts are about the sheath. Buck provides a simple pouch sheath with a plastic insert to carry the knife. Though I'm not planning any long adventures hauling it around with me, I still find the sheath lacking. Inserting and drawing the knife is a clumsy affair, as the fit is tight. I also find the material, in my opinion, not robust enough to take years of use.
Kershaw Folding Fillet K-Texture
As with many folding fillet knives, the excessively large handle of the Kershaw Folding Fillet K-Texture tends to be disproportionate to the entire design. The 6-inch blade has a slight distal taper and is 420J2 stainless steel.
Even with a distal taper the blade has a mid-range flex—not really stiff but not very flexible, either. The lockback folder's closed length is 7.75 inches. The knife does not come with a sheath.
I like to test the blade's edge right out of the box. One of the most difficult things to do with a knife, believe it or not, is put the first edge on the blade. To the best of my knowledge, with all the CNC machinery out there, this is an operation that is still predominantly done by hand. Out of the box, the Kershaw was razor sharp.
Even before I took it fishing, I put it through some paces in the kitchen by skinning a tomato. I was impressed with the initial edge. Holding the knife is easy thanks to the duel-textured, or "K-Textured," handle. The rubber has many small "K's" patterned into it for the texture while the main plastic part of the scales is slightly textured. Accompanying the texture is an ergonomic handle, which seals the package.
Overall, I like the knife. It can be used for fishing under most any condition, but I see it as a great tool for fishing holes that require a long journey to access. The fact the knife folds gives you a fillet model in a smaller, safer and more convenient carry package.
Gerber Controller
I am not in favor of loading a knife down with too many features. In the case of the Controller 10-inch fillet knife, Gerber has provided more than a knife but did not get carried away. The Controller is a full system fillet model. At 15.5 inches overall, it has a 10-inch blade of 9Cr18MoV stainless steel.
There are three knives in the series: the 10-inch and also 6- and 7-inch blades. I wish I had gotten the 6-inch model to test as well. All have a plastic molded sheath that provides secure carry and is puncture-resistant. Along the sheath's body are multiple drainage points. On the sheath's edge is a diamond rod sharpener for quick blade touch-ups.
Here is where the devil is in the details. The sharpener is not fixed and can be rotated by hand so you won't wear down one side of the diamond rod. The sheath impresses me. It comes with a nylon belt dangler and a clip molded in the back for belt carry. To finish it off they built in a natural thumb push-off that matches up with the handle. The knife clips into the sheath as well as having a fabric-fastener retaining loop.
If the sheath isn't enough, Gerber hit it on the head with the knife. The handle consists of two materials: a hard plastic at the core and soft, textured rubber inlays at all the tactile points. The blade has a full flat grind with medium flexibility. The Controller sports the same style tip as the Buck Abyss except the edge is not ground back. I am very impressed with the whole system.
Editor's Note: Josh Wayner contributed to this post.
Check Out More Outdoor Knives And Tools:
---
NEXT STEP: Download Your Free KNIFE GUIDE Issue of BLADE Magazine
BLADE's annual
Knife Guide Issue
features the newest knives and sharpeners, plus knife and axe reviews, knife sheaths, kit knives and a Knife Industry Directory.
Get your FREE digital PDF instant download of the annual Knife Guide. No, really!
We will email it to you right now when you subscribe to the BLADE email newsletter.