If you spend time camping, you know the importance of proper tool selection for your excursions. The right kit makes a difference in how you enjoy your weekend woods getaway.
From batoning firewood to prepping dinner, these are the blades that will help you conquer the wild.
An important part of your gear should always include a camp knife of some sort. This multipurpose cutting tool takes on multiple roles in your camping trip and can handle the bulk of hard use when it comes to campsite tasks, campfire prep, processing food, and any other cutting task that comes up inside and outside of camp.  
What Is A Camp Knife?
When you hear the word "camp knife", what immediately comes to mind? Well, a rather larger fixed blade that has some heft to it. Which is partially true. Keep in mind not all camp knives are big, brawny choppers. And not all choppers can be camp knives either.
Blade: Camp knives have a proven blade shape. Nothing wild, but rather a design that can handle multiple tasks. Blade shapes like clip point, drop point, or even spear point.
Size: The knife also has to be of some length, around 7-8 inches is good. Such a blade length will facilitate tasks involving whittling, batoning firewood, chopping wood, or expediently slicing up food for cooking.
Handle: On the handle side, it's important to have a handle shape that is very comfortable in your grip and incorporates design elements such as (but not limited to) finger grooves, palm swells, radiused edges, machined-in textures, and choils.
These features seat your hand better on the handle, making for a more comfortable user experience. Face it, if a handle isn't comfortable you're are not going to use the knife, regardless of how expensive it is or if it uses the best blade steel. Plus, as you are working, you want the handle to feel secure in your hand and not feel like it's going to fly out. Therefore, such materials as G-10, micarta, and some molded thermoplastics are great choices for handle materials on camp knives.
Steel: What about blade steels? What about them? You have to remember the camp knife is a workhorse and you will probably have to sharpen the knife in camp. Carbon steel is still the steel of choice for this very reason of being easy to resharpen in the field.
1095 seems to be a factory favorite, found on outdoor knives, some fixed blade tactical, and EDC fixed blades. 1095 sharpens very easily but it's not stainless so you will have to exercise extra care to make sure it's dry as possible to prevent rust and stains.
Higher-end super stainless steels like S35VN are great and have the muscle to go the distance without frequent sharpening. Yet when it comes time to resharpen, you could end up investing a good deal of time.
To negate this, you can switch to a maintenance mode from resharpening mode, meaning, frequent honing will preserve the cutting edge. Something must be said for going old school, with carbon steel. There is a trade-off with frequent short-duration sharpening of blade steel that is softer and easier to manage, as opposed to spending a lot of time in the field sharpening a high-performance super stainless steel.
Now we have the basics out of the way, let's dive further into some good examples of camp knives that might interest you.
TOPS Brakimo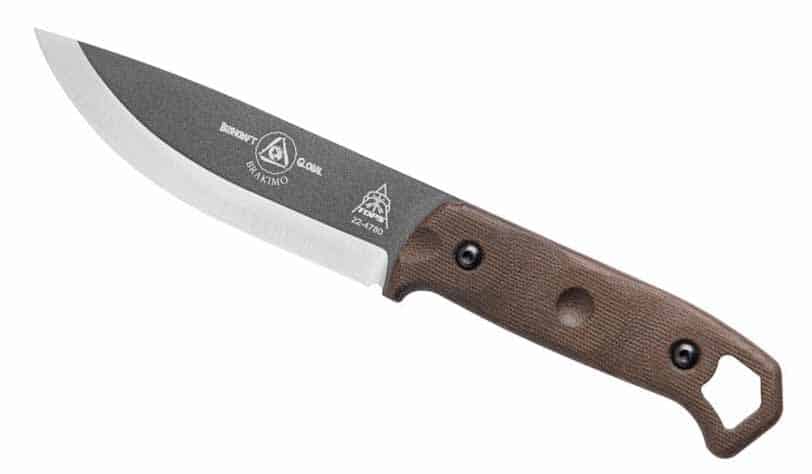 Designed by noted survival/outdoor expert Joe Flowers of Bushcraft Global, the TOPS BRAKIMO is as close to a do-it-all knife that can handle all tasks from whittling to cutting to chopping and baton work.
Its blade is 5 2/4-inches long and 0.190 inches thick and is made from 1095 carbon steel. The drop point shape gives plenty of belly to facilitate a broad range of tasks including but not limited to food prep. The modified Scandi grind is there for cutting performance as well as a thicker cross-section of the blade to promote strength in the blade. The handle is of OD green canvas micarta and has been finished to leave a "grip you back" quality to it. The edges have been chamfered for ultimate comfort, and there's a divot for use with a bow drill. An extra-large lanyard hole allows you to use any cord diameter for a lanyard and possibly even attach it to a carabiner. Finishing out the Brakimo is a nice Kydex sheath that carries the knife at your side securely. A spring metal clip is the means to attach the sheath to your belt.
The Kydex sheath is nice although basic. But really in the end as long as it works, that's all that matters.
MSRP: $169 Origin: USA
ESEE Expat Darien Machete
I know. This is a machete, but this is an article on camp knives. Truth is that machetes can be used in conjunction with camp knives. More so with the ESEE Expat Darien machete, this is also part machete and part knife as well.
Measuring a little over 18 inches, the Darien has a reach like any other machete, but it also has excellent balance and feels so agile in the hand that you can use it as a knife for whittling, chopping, batoning, and maybe some heavier cutting of camp food prep tasks. The blade is made from 1075 carbon steel and is very easy to resharpen in the field. At 0.094-inches thick, the blade stock is thin enough to be nimble and is thinner than most camp knives, which are at least ⅛-inch thick (0.125 inches). 
The blade itself is a little over 12 inches, which is enough length to get work done. The handle is made from black micarta, which is a great choice because it's a synthetic material that is dimensionally stable and has an excellent grip you back quality. The sheath is sewn canvas and is well made. An integrated belt look allows the Darien to be at your side whenever it is needed. Pair the Darien with a favorite full-blown camp knife and you have the ultimate combo!
MSRP: $121 Origin: El Salvador.  
Spartan Blades Hersey Nessmuk
Spartan Blades made a name for itself as a top producer of high-end tactical and outdoor knives. It recently came out with a USA-made mid-grade line of professional use knives that are OEM'd by Kabar Knives in the Kabar factory in upstate NY. This series is known as the Silver line and offers enhanced features and value pricing. These are a step up from the company's Bronze line of entry-level knives and a step down from its Gold line of elite, high-end knives. The Harsey Nessmuk was designed by knifemaker Bill Harsey to be a heavy-duty field companion on the hunt or at the campsite. 
The Nessmuk skinner-inspired blade shape flares at the tip and is great for, well… skinning and slicing tasks. The 5-inch blade is big enough to get work done but short enough to not get in the way. 1095 carbon steel is used for the blade, and the high flat grind tapers allows it to slice cleanly and effectively. A black powder coating reduces glare and adds a layer of protection against corrosion.
One look at the handle design and you can tell it's pure Harsey. Multiple features are integrated such as the lower hand guard, the palm swell in the middle, the traction notches at the thumb rest on the blade spine. There's 3D machined texture for grip retention, all built into the black injection molded handles. Wrap your hand around the handle and you feel how secure and comfortable it is to grip, lending a feeling you can use the Spartan Harsey Nessmuk for extended periods.
It is a very well-thought-out design overall and meant for hard use in the great outdoors. The Harsey Nessmuk comes with an injection molded sheath with a thick webbing belt loop. An innovative retention feature locks the knife into the sheath, preventing it from coming out unless you want it to. There is a thumb button on the sheath you push up on as you grip the handle naturally to release the blade from the sheath. Not too many fixed blades have a feature like this and just rely on locking the sheath up around some part of the handle. When you insert the knife into the sheath, you will hear an audible click, indicating that the blade is locked. Very cool!
MSRP: $190 Origin: USA
Buck Knives General Pro
Any article talking about outdoor knives isn't complete without a mention of a Buck knife. The company has been synonymous with the great outdoors since its inception. Its model 120 General Pro is one such knife, built to take whatever the great outdoors can dish up.
Crafted with a blade made from premium CPM S35VN stainless steel, the General Pro is built for hard use in all environments. Measuring a little over 7 inches in length, the clip point blade has a hollow grind, pronounced swedge, and a milled-in fuller, giving the knife its aggressive look. The handle is made from OD green canvas micarta for the ultimate all-weather grip.
The signature aluminum guard and pommel, present on all Buck fixed blades, cap off the handle's construction and appearance. The General Pro excels at camp food prep, whittling, some chopping, and baton work for wood splitting. At 12 inches overall, it's the perfect large fixed blade to have when you hit the great outdoors. It is accompanied with a sewn leather sheath, as is common with all Bucks.
The General Pro is the tonier model, but if it's out of your price range, the General model offers the same design only with 420HC stainless steel blade, black phenolic handle and lower price.
MSRP: $128
Ontario RAT 7
Ontario's collaboration with Randall's Adventure & Training has yielded a very highly successful series of folding and fixed-blade knives that are aimed solely at outdoor adventures. One such example is the RAT 7. The fixed blade is a larger knife that can handle all of your camp chores and some food prep. But tough work like chopping and batoning wood is what the RAT 7 is built for. 
The 7-inch long, flat ground, drop point blade is ground from 1095 carbon steel and given an epoxy powder coating to keep rust and corrosion at bay. The handle is a tan canvas micarta, an excellent choice for outdoor knives because it is fully synthetic and is impervious to moisture, cracking, and gouging. The handle design itself incorporates an integral lower finger guard, an ergonomic curved gripping area, and an exposed pommel with a lanyard hole. There is also a forward choil at the tang so you can employ a choke grip for more control over the blade.
Each RAT 7 comes with a nylon belt sheath that features an exterior accessory pocket for storage of a sharpener, folding knife, or additional survival supplies.
MSRP: $135
CRKT Bugsy
Designed by custom knifemaker and Discovery Channel's Naked and Afraid star Kaila Cummings, the Bugsy is CRKT's first USA-made fixed blade in the lineup. The knife receives its moniker from Cummings's first appearance on the TV show when she received numerous big bites in the jungle in Colombia.
Featuring a 1095 carbon steel harpoon-style blade and a micarta handle, the Bugsy is as at home in the outdoors as it is an EDC fixed blade. With a blade length of a hair under 4 inches, the Bugsy is sized appropriately to take on most tasks inside camp or at home. Again, like some of the fixed blades discussed here, 1095 is used due to its low cost-to-performance ratio. It's easy to resharpen in the field and offers reasonably good edge holding, which makes it a favorite amongst outdoor users.
The highly ergonomic handle showcases multiple finger grooves and an expanded butt end capture your hand to provide a secure, non-slip grip. Micarta is used due to its dimensional stability and excellent all-weather qualities—necessary for an outdoor use knife.
A leather fob is tied to the handle and acts as a handle extension for those with larger hands.
Accompanying each Bugsy is a high-quality leather sheath that holds the knife securely and at your side. There's also a tactical version of Bugsy that features a black-coated, part-serrated blade and black G-10 handle. It comes with a black Kydex rig for belt carry.
MSRP: $200 Origin: USA
Fallkniven F1 Pro
For those not familiar with Fallkniven, it is a Swedish knife manufacturer with among the best-kept secrets in the production knife industry—its fixed blades. These tools are elegantly refined and yet sport blade and handle designs geared towards the practical. Like anything European, Fallknivens are a bit costly but are very worth it. You get what you pay for and then some.
Fallkniven's F1 Pro fixed blade is a straightforward utility done up to the next level. The drop point blade is 4 inches in length and is ground from premium high-end ELMAX stainless steel, ensuring edge longevity and durability.
The handle is made from a polymer called Thermorun, a molded material soft to the touch. It sports checkered texturing that grips your hand back regardless of weather conditions. Hot, cold, wet, or dry…the Thermorun handle ensures a sturdy, comfortable purchase.
With an overall length of 8 and ½ inches, the F1 Pro carries very well in its hybrid molded Zytel sheath with nylon webbing belt loop. A secondary button snap strap secures the handle in place.
MSRP: $408
Mora Garberg Carbon
One of the best values in high-quality fixed blades undoubtedly is Mora, another Swedish knife manufacturer. Mora's knives are highly functional and well-designed, yet they sell at prices anyone can afford. They are what I recommend to folks who want a good quality knife without breaking the budget. Mora's Garberg is one of the company's larger knives and is designed and built for survival and camping.
Starting with the blade, the modified clip point is made from carbon steel for ease of sharpening and is given a Scandi grind for optimum cutting performance and blade strength. The blade measures a hair over 4-inches long, which is enough to take care of most cutting tasks while being easy to carry. The blade is given a black coating to help protect it from corrosion since it isn't stainless steel. The handle sports a full tang construction, the Garberg is the first Mora model to feature a full tang. This means the knife can withstand harder use than the other Mora knives.
The handle has a dual molded construction with molded Polyamide and hard rubber, for a durable and weather-resistant grip. The handle has rounded contours, which makes it easy on your hand for extended use. This handle design and construction is typical across the Mora knife line and is proven to be durable and comfortable in the long run. The sheath that accompanies the carbon steel Garberg is a nice leather sheath that protects the knife and allows the user to carry it conveniently.
MSRP: $130  
Cold Steel SRK
Those of you into knives for a while have heard of Cold Steel. It has been around for a long time and so have some of the company's classic designs such as the SRK (Survival Rescue Knife). Don't let the name fool you though, this knife also excels at camp chores as well as any cutting task indoors or out.
The 6-inch blade is ground from SK-5 carbon steel and given an epoxy coating to protect it from the elements. SK-5 is a Japanese steel that is roughly equal to 1080 carbon. The clip-point blade is straightforward, but pure utility all around. It can pierce, score, and slice its way through all your camp-cutting tasks.
The handle is a molded rubber-like material that Cold Steel calls Kray-Ex. It sports checkered texturing for the ultimate grip regardless of weather conditions. An integrated, lower hand guard prevents your hand from sliding forward. The handle color is available in black, tan, and OD green to suit your personal preferences and primary use environment. The overall length is a little over 10 inches, making this a larger fixed blade, and it's ideal for hard-use applications. Each SRK comes with a molded Secure-Ex sheath which is very similar to Kydex, allowing the sheath to be form-fitting and securely carry the SRK without rattle.
MSRP: $62
Spyderco Bow River
The Bow River from Spyderco is an affordable fixed blade in the SPYDERCO lineup that has great potential. Its trailing point blade style is highly adaptive to hunting, bird and trout, as well as general food prep in camp.
The blade is 4.4-inches long and is ground from 8Cr13MoV stainless steel, which is the Chinese equivalent of Japanese AUS-8 stainless. 8Cr13MoV is easy to sharpen out in the field and offers reasonable stain resistance. It's a good middle-of-the-road production stainless steel, favored by quite a few production brands. The full flat grind ensures optimum cutting performance through a variety of foods and meats. The trailing point blade design offers a continuous blade belly that works excellently with food prep, facilitating ease of slicing motions. At an overall length of 8.1 inches, the Bow River is an excellent choice for a fixed blade that carries easily and won't break the bank.
The handle is black and gray G-10, with alternating color layers that produce an interesting wood grain visual effect when the handle is contoured. The handle is rounded and contoured to lay in your hand easily and very comfortably. You can get a good grip on this shape, even though it lacks any texturing. Each Bow River comes with a sewn leather belt sheath that carries the knife, ready at hand for any task.
MSRP: $70
Check Out More Buyer's Guides:
---
NEXT STEP: Download Your Free KNIFE GUIDE Issue of BLADE Magazine
BLADE's annual
Knife Guide Issue
features the newest knives and sharpeners, plus knife and axe reviews, knife sheaths, kit knives and a Knife Industry Directory.
Get your FREE digital PDF instant download of the annual Knife Guide. No, really!
We will email it to you right now when you subscribe to the BLADE email newsletter.