It makes sense that pumpkin spice marketers would want to find ways to push a product that only got used once or twice a year in one or two pumpkin pies. Now, of course, it's a running joke that there's pumpkin spice in everything from dog treats to breakfast cereals. Some long for the days when only pumpkin-spiced candles and lattes accosted their sensibilities, others look forward to seasonal yogurts, beers and Oreos. While we're in the full swing of fall, deer season and stocking up on pumpkin spice M&Ms for Halloween, why shouldn't we celebrate pumpkin-spiced custom knives?
The pumpkin in this knife's G10 handle is tempered with black, but you'll still be able to find it if you drop it in the leaves while dressing a deer.
2. Go bold! There's no need to hide your love of spicy pumpkin with this mini skinner or everyday carry knife.
3. The pumpkin in this handle is subdued by the black in scales made by 8th Dimension Concepts.
4. The striking contrast in this pumpkin and maple handle was created by Tim Kipps of J. Hue Customs. He calls it Magma color. By whatever name, it's smashing.
5. A pop of pumpkin is all that's needed on this handle scale made by Voodoo Resins.
6. Pumpkin is just one of the orangey colors in Beyond Wood Products' Firey Labyrinth scales.
7. Buckeye burl was used by the maker to create this natural-shaded pumpkin, green and maroon handle.
8. It's a spice; not a whole meal!
9. Pumpkin is an ideal accent for black in this combined G10 handle.
10. Who says a spice can't be the whole meal?
A Digital Subscription To BLADE Is The Answer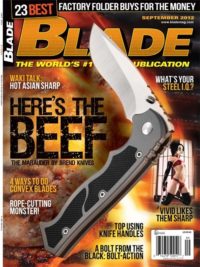 If piling-up issues of magazines seems like a waste to you… If you feel like you don't have time to read a magazine… If you like the stories we offer in BLADE, but want a more economical option, then a digital subscription is the answer. An annual subscription to BLADE is $17.98, $4 off the print price.
Keep Reading:
---
NEXT STEP: Download Your Free Vintage BLADE Magazine Complete Volume (4 Issues) From 1973!
Download the 1973 BLADE magazine issues in digital PDF!
Delivered straight to your e-mail inbox for instant download. It's 1973, and the future of the modern knife industry was being forged by a pioneering group of knifemakers with a magazine and a mission. Get these collectible first issues of the World's #1 Knife Publication!
Click Here to Download the Pack