Tyrell Johnson has always been interested in knives and firearms, and two-plus years ago he decided to take a knifemaking class at Montgomery Community College in North Carolina. "As my wife can attest, I've had many hobbies in my life, but knifemaking immediately struck a chord with me," he commented. "I knew right away that this was what I was meant to do, and I've been making knives ever since. I eat, drink and sleep knives." Travis Daniels, of TED Knives, has been a helpful mentor to him. Tyrell does both stock removal and forging, and especially enjoys forging brut de forges.
Tyrell currently works full time as a waste treatment plant operator, but in five years he expect to retire and focus fully on knifemaking.
• Best-selling knife patterns: drop-point hunters, kitchen and filet knives
• Preferred blade steels: W2, 1084, 1095. "I love carbon steel. It has a great history and the keeness of the edge is hard to beat," Tyrell noted.
• Blade grinds: hollow for slicing, flat for durability
• How he tests his knives: cutting paper, shaving hair, chopping wood
• Favorite handle materials: Micarta, exotic woods, burl wood, resins—"I love working with the scales produced by J Hue Customs by Tim Kipps," Tyrell added.
• Price range: $150-$350
• Knife shows he attends: BLADE Show
• Member of: North Carolina Custom Knifemakers Guild, American Bladesmith Society
Tyrell hand-makes all his sheaths from premium 8-ounce leather or Kydex.
Tyrell made a combat knife for the North Carolina Custom Knifemakers Guild's cutting competition last spring. The knife could not be longer than 15.5 inches overall with a maximum blade length of 10 inches. At least one visible pin had to pass through the handle, a tang was required and the knife had to have a lanyard hole with wrist lanyard and be accompanied by a sheath and zippered pouch.
Contact Tyrell Johnson, 252-341-4791, nctbone@gmail.com, on Facebook at Tyrell Johnson and on Instagram @Tyrell_Johnson_Knives
A Digital Subscription to BLADE Is The Answer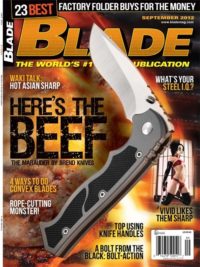 If piling-up issues of magazines seems like a waste to you… If you feel like you don't have time to read a magazine… If you like the stories we offer in BLADE, but want a more economical option, then a digital subscription is the answer. An annual subscription to BLADE is $17.98, $4 off the print price.
---
NEXT STEP: Download Your Free KNIFE GUIDE Issue of BLADE Magazine
BLADE's annual
Knife Guide Issue
features the newest knives and sharpeners, plus knife and axe reviews, knife sheaths, kit knives and a Knife Industry Directory.
Get your FREE digital PDF instant download of the annual Knife Guide. No, really!
We will email it to you right now when you subscribe to the BLADE email newsletter.