Mike MacInnes of Holland, Michigan, remembers his first two knives, both given to him by his dad. The first was a Buck 110 clone and the second was a Solingen hunting knife. Mike has been involved with black powder rifle hunting and gunsmithing all his life.
In 2012 he wanted to donate a knife for an auction to benefit the Michigan State Muzzle Loading Association. He called his friend Al Englsman and asked if he would help him make a Scagel-style knife. He enjoyed making the first one so much it lead to others. He advanced quickly, probably because his work on rifles aided his craftsmanship.
Mike had met Al, who is a breeder of Mountain Cur, when he went to buy his squirrel-hunting dog, Betty.
Mike is a route supervisor for a vending machine company by day, but loves his hobby. He only sells what he likes to make. He's grateful for the influences of Bill Binky growing up, Marv Palmer and Joe Valentin. He lives near Lake Michigan with his wife, Erin, and their two children.
Best-selling knife patterns: full-tang hunter with 3- to 4-inch blade; hidden-tang drop-point hunter with 4- to 5-inch blade
Favorite blade steels: 1080; 5160
Blade grind: full flat
How he tests his knives: slice paper, shave hair, cut phone books, chop wood
Favorite handle materials: Michigan native maple, walnut, ironwood, ash
Price range: $175 to $450
Knife shows he attends: Badger Knife Club Knife Show
Facebook Groups he participates in: The Real Knife Makers of America, Knife Gods, Blade Smithing World
Mike's isn't taking any more orders until he catches up on the orders he's taken and finishes knives for upcoming shows. Follow him on Facebook though for updates on peeks at works-in-progress and finished pieces.
Contact Mike MacInnes at michaelmacinnes@aol.com, 616-405-8759, at MacInnes Knives & Forge on Facebook or on Instagram @macinnesmike.
A Digital Subscription To BLADE Is The Answer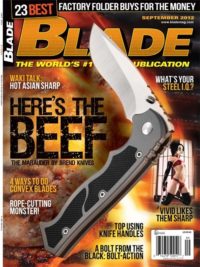 If piling-up issues of magazines seems like a waste to you… If you feel like you don't have time to read a magazine… If you like the stories we offer in BLADE, but want a more economical option, then a digital subscription is the answer. An annual subscription to BLADE is $17.98, $4 off the print price.
---
NEXT STEP: Download Your Free KNIFE GUIDE Issue of BLADE Magazine
BLADE's annual
Knife Guide Issue
features the newest knives and sharpeners, plus knife and axe reviews, knife sheaths, kit knives and a Knife Industry Directory.
Get your FREE digital PDF instant download of the annual Knife Guide. No, really!
We will email it to you right now when you subscribe to the BLADE email newsletter.