Once upon a time, two little boys were smashing their toy cars with hammers. An errant swing caused a brain injury that left one of them without his hearing. Thirty-four years later the deaf boy grew up to be a man who swings a hammer in the forge. He holds no grudges. They were just boys playing, neither knew any better. "I'm a forgiving person," wrote Norman "Buddy" Thomas of Quapaw, Oklahoma, in a Messager note. Today Buddy is a graphic artist and runs a screen printing shop by day, making knives part-time by stock removal and forge. He also strives to set a positive example in the deaf community. So, in essence, the hammer that took a bladesmith's hearing gave him his craft. Another loss would wound Buddy further, but he is grateful, always grateful, for the love of his family and the means to create beautiful knives.
Buddy was born in 1980. He and a neighbor boy were beating on their Hot Wheels with a hammer. Buddy was 3, the other boy, 5. The other boy's swing went wild, hitting Buddy in the head. But a baby's crown is not as forgiving as a die-cast model car. He irreparably lost his hearing. At first his parents tried the speech therapy route. Buddy began displaying social issues. It doesn't seem like a bad idea to teach a non-hearing child to speak, but it confuses people who can hear and who do not realize the person is deaf. "No matter how well you can hone the speaking skills of a deaf individual, one thing is concrete certain, you can't fix deaf," Buddy explained.* He has one ear that is slightly better than the other and a hearing aid can maximize what remains, but it can't cure the problem.
Pre-kindergarten began for Buddy in an all-deaf environment. Throughout elementary and middle school Buddy was educated through a public-school system that focused on teaching deaf students to speak. His parents saw that he needed a change and enrolled him in Oklahoma School for the Deaf in Sulphur, which, funny enough, is one town over from where Jantz Supply is located in Davis. Jantz has been offering knifemaking supplies to craftsmen worldwide for 50 years. It was at OSD where Buddy flourished and his interest in metalwork began.
Meanwhile, at this time there were not a lot of American Sign Language courses for Buddy's parents, but he taught them what he learned. His sister, Kalley, picked up on it quickly. Today, hearing parents are teaching sign language to their pre-verbal hearing children. Science is showing, in all mammals not just human babies, that possessing a non-verbal means of communication minimizes frustration and thereby aggression. Later these babies and, say, puppies who are taught means of communicating as early as three to four weeks of age, are more confident and better able to cope with the inevitable challenges of life. There are also positive physiological benefits. Buddy said that it was easiest to conduct a non-sign conversation with his parents, but even now he uses ASL frequently with his father. His mother passed away after an illness in 2014. Both of his parents encouraged Buddy tremendously, and his father, along with his fiance, June, remains one of his biggest supporters.
Buddy didn't realize how much his machine shop/metal working class would impact his life. He was focused on going to college. He graduated from OSD as a Salutatorian with a 4.0 grade point average, serving as president in the local National Honor Society. "The only mismatched puzzle was my machine shop/metal working class, which I loved because when I tried the first semester out in that class I got hooked to the welding and metal fabrication," Buddy wrote. His instructor Dwayne Bryant spent hours of one-on-one time with him, helping him develop his welding skills. Each advancement in his metal fabrication skill fueled his creativity. "In fact, my very first nonfunctional knife was made in that class in 1997 when I was just 17 years old," he recalled. "A piece of mild steel plating, ground into the shape of a knife roughly 8 inches overall. A DeWalt angle grinder was used to taper a bevel and create an edge. The handle was from a can of spray-on rubber. I wish I still had it. Well, after that it would be years before I attempted another knife build again." Buddy sprinkled laughing emoticons throughout that description.
"It was pretty much just a plain little skinner, probably only an inch wide but at least a quarter-inch thick," he noted with tears of laughter.
Buddy was also the co-editor of the school newspaper along with his good friend James Mitchell, who in his own right has had an impact on the deaf community supporting various organizations. Then it was off to major in visual communications art at the University of Oklahoma (UO) in Norman. "I was one of only three deaf students on campus: a football player recruited from Lee's Summit, Missouri, a French major and myself, an art major," Buddy wrote, revealing how isolating it can sometimes be for a deaf person in a hearing world.
But Buddy got to work, putting his art and journalism experiences into play as a cartoonist and copy editor for The Oklahoma Daily, the school newspaper. "My childhood dream was to be a comic book artist. Of course, dreams change as we go through life," Buddy noted. He grew up around several talented comic artists, including Steve Erwin, the original penciler for DC Comics' Deathstroke the Terminator, a character portrayed on the television show "Arrow." "I had originally wanted to attend the Joe Kubert School of Cartoon and Graphic Art in Dover, New Jersey, but I was persuaded to apply to UO and was accepted, so I went that route." It was nice to have UO on his resume, but by the end of his first semester all the visual communications art slots were filled and he was assigned to a painting major. That was definitely not where he wanted to take his art, so he did not return, despite his good grade standing.
Buddy now manages a screen print shop and does graphic designs and color separations. "Part of my time I'm out running the automatic press and printing T-shirts, and the other part of my time I'm cooking up some wicked graphics, either for the storefront or a customer order," he wrote. "At night and on weekends I work my forge and knife shop." Care to guess what the name of the print shop is? Metal Fab Trophy and Screen Printing. You don't have to hit Buddy over the head for him to get that he may be exactly where he was meant to be all along. The name he chose for his business: Tree of Liberty Bladecraft and Forge, invoking the freedom that he experiences through his creativity.
Buddy's design skills do help him when he's working up a pattern for a stock-removal knife on card stock, "but when forging, it's all in the eye," he wrote. Buddy started in stock removal and worked his way into forging by trial and error with lots of research and time spent learning from other forge artists. "A guy I ran into in a forum a few years back—his name was Ethan Paul Dobbins—he sent me tons of material to read up on. Another was a lifelong friend who did some blacksmith work as a tool maker, James Moore. I have actually learned most of my blacksmithing skills at the anvil from James, who was there to help me correct my hammering form and help guide me through and recognize heat requirements and steel reactions," Buddy explained.
Buddy can read lips and his hearing aid, although not the best, helps him hear a little. "James is as hearing as they come! Maybe selectively deaf at times," Buddy joked with a laughing emoticon. "I can read him pretty well, but sometimes have to have him repeat himself."
Buddy's wife, Sundae, is also hearing. They met at a football game in Picher, Oklahoma, and were married in 2001. She did not know sign language at the time, but she has learned from Buddy. They have two daughters, Annaleigh, 12, and Kaitlynne, 9, who also know sign language. Their first child, also a girl, Daisy Elizabeth, would be 15 now, but the couple lost her two weeks after she was born, to infection. "She passed in my arms," Buddy wrote.
"She was beautiful. I always wonder what she might have been like as their older sister. I'm so grateful and thankful for those two."
If you converse with Buddy for any length of time, you will sense the sad undercurrent of the tragedies in his life, but you simultaneously get the feeling of a silent, gentle but unwavering determination to not just live, but thrive. He doesn't minimize the impact of his losses—his hearing, his daughter, even his childhood aspiration to become a comic strip artist though he admits to outgrowing that aspiration—but the Tree of Liberty gives him more than solace; it restores his life-battered spirit.
He enjoys the stock-removal method of knifemaking, but whenever possible, he prefers to forge. He started on a coal forge and still loves it, but he often goes to the propane forge because it's quicker and cleaner. "Most CPM steels are difficult to forge," he observed. "Stock-removal methods work much easier for such jobs. Most of my stainless and powder steels I apply the stock-removal method to, but my high carbons benefit me better at the forge. Ultimately, they all go in the forge for heat treating."
Buddy's knifemaking style swings from old frontier to post-apocalyptic utilizing reclaimed steel. He also makes everyday carry knives and has a preference for using copper bolstering. "One of my biggest goals as a maker is to get a prop knife made for 'The Walking Dead' show," Buddy notes. His forging buddies, Aric Davis, Ryan Edwards and Louis Stark, often get together for Sunday forge-ins. In other words, the forge is the hearth of Buddy's heart.
"I would not be where I am in this world if I did not have the deaf community behind me, specifically my best friend who has always had great words of encouragement," Buddy said of a deaf woman who is like a sister to him. He recommends that deaf people who are interested in learning about knifemaking and forging do so through a deaf school or access vocational rehabilitation departments in their state for guidance and research. The next step is to seek out experienced bladesmiths who offer classes in their shops. "A deaf individual would acquire an interpreter to accompany them to the classes. It is actually my goal to establish a stronger bridge in that direction," Buddy added. His plan is to work toward his American Bladesmith Society journeyman smith rating and eventually his master smith rating so he can offer classes to other deaf people. He knows they would be more comfortable learning from a deaf instructor. Three-way conversations with an interpreter can lead to a loss in focus.
Buddy lives out his favorite quote, attributed to Helen Keller: "Optimism is the faith that leads to achievement. Nothing can be done without hope or confidence."
Contact Norman "Buddy" Thomas, Tree of Liberty Bladecraft and Forge, 304 W. 2nd St., Quapaw, OK 74363; 918-320-9349 (cell), email: tree.of.liberty.bladecraft@gmail.com; on Instagram @tree_of_liberty_bladecraft and on Facebook at Tree of Liberty Bladecraft and Forge.
*Editor's note: For this interview Buddy and I Messaged about using Facetime, but we felt it would be easier for him if we Messaged. It forced me to slow down and try to pick up on all of those nuanced things that happen even in phone conversations, like tone. In the end, Buddy and I both felt that he had told his story and I had heard his story in all its bittersweet humanness.
Buddy's Links for Deaf-Related Services And Assistance
September is National Deaf Awareness month. Here are a few organizations that deaf bladesmith Buddy Thomas of Tree of Liberty Bladecraft and Forge in Quapaw, Oklahoma, recommends.
Oklahoma Association of the Deaf
Promotes, protects and preserves the civil rights and quality of life of deaf and hard of hearing individuals in Oklahoma.
National Association of the Deaf
Carries out the same mission but on a national scale. Closed captioning and civil liberties issues are often addressed by NAD.
Oklahoma Department of Rehabilitation Services
Empowers Oklahomans with disabilities to live healthy, active, smoking-free lives.
A Digital Subscription To BLADE Is The Answer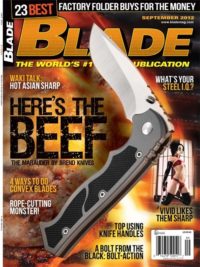 If piling up issues of magazine seems like a waste for you… If you feel like you don't have time to read a magazine… If you like the stories we offer in BLADE, but want a more economical option, then a digital subscription is the answer. An annual subscription to BLADE is $17.98, $4 off the print price.
---
NEXT STEP: Download Your Free KNIFE GUIDE Issue of BLADE Magazine
BLADE's annual
Knife Guide Issue
features the newest knives and sharpeners, plus knife and axe reviews, knife sheaths, kit knives and a Knife Industry Directory.
Get your FREE digital PDF instant download of the annual Knife Guide. No, really!
We will email it to you right now when you subscribe to the BLADE email newsletter.