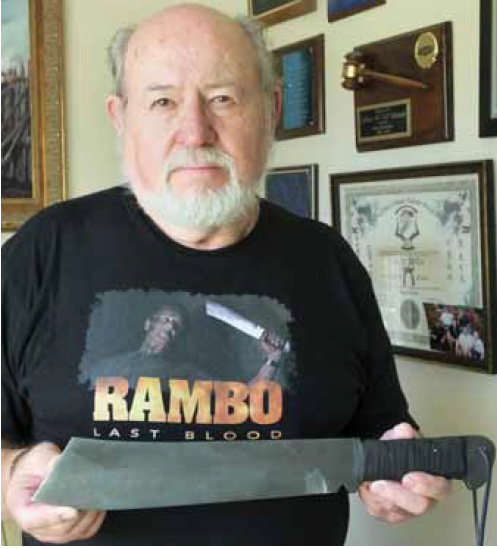 With the Hibben Machete in Rambo's latest sequel, Last Blood, BLADE Magazine Cutlery Hall-Of-Fame® member Gil Hibben now holds two records: 1) having knives in the most Rambo movies—the trio of Rambo III (1988), Rambo (2008) and now Last Blood, and; 2) being the only maker to have the same custom knife model in more than one Rambo film: in this case, the Hibben Machete in Rambo and Last Blood.
Before Last Blood, Hibben was tied with Cutlery Hall-Of-Famer Jimmy Lile for having knives in the most Rambo movies at two. Lile, of course, made the original First Blood Rambo knife for First Blood (1982) and also the Mission knife for Rambo: First Blood Part II (1985).
In addition to the Hibben Machete for the fourth and fifth Rambo films, Hibben made the fixed blade for Rambo III. It's interesting to note that if not for the decision to omit the Mission knife from a scene in Rambo, Lile would have knives in three different Rambo movies as well. However, according to celebrated collector of all things Rambo, Randy Rousseau, the scene with the Mission knife did not make it off the cutting room floor of the fourth Rambo film.
"The Lile Mission knife does make an appearance in the outtakes of Rambo when it's used to cut gas cans and then is thrown into the fire on the pirates' boat," Randy noted, "but the entire scene didn't make it into the theatrical release."
Including the Hibben Machete, Mrs. Linda ZeTur Hibben wrote that Sylvester Stallone contacted Gil to make four different knives for Last Blood. The other knives Gil made for Stallone and, ostensibly, for the fifth Rambo movie include a gut hook that Linda said was dropped in the early stages of Last Blood's creation.
"Sly also had Gil make a bowie and a very pretty dagger/letter opener that Rambo was going to make on screen," Linda observed. "Gil even provided handmade blade blanks for the bowie and dagger so it would appear Rambo was making the knives."
However, other than the Hibben Machete, none of the additional Hibben knives made it into Last Blood. Meanwhile, since the fifth Rambo film is reputedly the final one in the series, neither the four aforementioned Hibben knives for it nor any other of the Rambo knives, including the new ones designed by Dietmar Pohl, will appear in another Rambo film, either.
On the other hand, one thing we've learned with Rambo is to never say never.
---
NEXT STEP: Download Your Free KNIFE GUIDE Issue of BLADE Magazine
BLADE's annual
Knife Guide Issue
features the newest knives and sharpeners, plus knife and axe reviews, knife sheaths, kit knives and a Knife Industry Directory.
Get your FREE digital PDF instant download of the annual Knife Guide. No, really!
We will email it to you right now when you subscribe to the BLADE email newsletter.