Modern custom knife history was made this past weekend in the first-ever International Custom Cutlery Exposition (ICCE) held at the Marriott Downtown in Kansas City.
It was the first time the Knifemakers' Guild and the American Bladesmith Society, the world's two oldest and best-known knifemaker organizations, combined forces to hold a joint knife show.
And from all indications, things went about as smoothly as anyone could have hoped.
Over 120 makers exhibited their knives at the show. A number of exhibitors commented on how nice it was to see makers from both organizations displaying side-by-side and getting along so well. Of course, that was a far cry from the old days when the two groups competed openly and did not get along so well, to say the least. However, those days seemed to be forgotten over the weekend as both organizations came together and voted on the best knives of the show, with members of each group often voting for knives by makers in the other. Among the winners of the awards were Bruce Bump for Best In Show for his cut 'n shoot knife, Paul LeBatard won an award for his stag hunter, Adam DesRosiers for Best Combat Knife and Best Hunter, Jerry Moen for Best Tactical Folder, Johnny Stout for Best Folder, Charles Vestal for Best Fighter, and J.W. Randall for Best Damascus. Other honors included Betty Dowell being presented with the Nate Posner Award and Dianna Casteel winning the Red Watson Award.
There was a lot of history at the show, as it was held in the very same showroom as the one where BLADE Magazine Cutlery Hall-Of-Fame© member Bill Moran introduced his revolutionary damascus knives at the 1973 Knifemakers' Guild Show. In honor of that monumental event, the ICCE presented a special Bill Moran Memorial Damascus Knife Award, with the winner being Bill Burke.
A complete rundown of other of the show's knifemaking awards and other highlights will be in a future issue of BLADE®.
---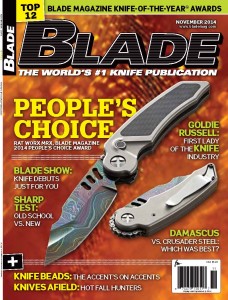 Recommended:
Stay abreast of the latest developments on this and many more knife rights issues with a subscription to BLADE.
---
NEXT STEP: Download Your Free KNIFE GUIDE Issue of BLADE Magazine
BLADE's annual
Knife Guide Issue
features the newest knives and sharpeners, plus knife and axe reviews, knife sheaths, kit knives and a Knife Industry Directory.
Get your FREE digital PDF instant download of the annual Knife Guide. No, really!
We will email it to you right now when you subscribe to the BLADE email newsletter.