The BLADE Magazine 2014 Knives Of The Year®, the top knives of the BLADE Show, the latest inductee into the BLADE Magazine Cutlery Hall Of Fame© and much more highlight the new BLADE®, on newsstands NOW!
Gracing this issue's cover is the Rat Worx MRX, winner of the first-ever BLADE Magazine People's Choice Award, voted on by visitors to the BLADE website, blademag.com.
Other top Knife-Of-The-Year winners named at the 2014 BLADE Show include the CRKT/Ken Onion Hi Jinx, Kershaw's Kershaw/Emerson CQC-7K, Shun Dual Core Kiritsuke and the Zero Tolerance/Rick Hinderer 0562, Spartan Blades' Les George V1-14 Dagger and Les Halpern Nymph and others.
The BLADE Show was one of the most successful in recent memory and, in addition to the Knives Of The Year, also featured the winners of the custom knife judging competition, the introductions of many new factory knives, the first-ever induction of a woman—Goldie Russell—into the Cutlery Hall Of Fame and much more.
In the custom knife judging, the Tembo Bowie by Russ Andrews, David Lisch, Mike Quesenberry, Steven Rapp, Jim Small and Jane Tukarski took home both Best Of Show and Best Collaboration, and was auctioned off to raise money for the Elephant Protection Association.
Other knifemaker winners included Mike Williams, Stephanie Lemelin, Brian Nadeau, John White, Joe Szilaski, RJ Martin and more.
And among the factory knives that debuted at the show were the "Battlechef" from Olamic Cutlery, the Emerson Knives, Inc. "Vindicator," the Chris Reeve Knives "Impofu," the Winkler Knives "Operator" and many more.
In one of the more popular inductions ever, Goldie Russell entered the Cutlery Hall Of Fame for her many contributions to the knife industry, including her pivotal role as president of the American Knife & Tool Institute when it helped defeat a U.S. Customs proposal that would have defined all one-hand knives as switchblades/autos, thus making them illegal nationwide.
---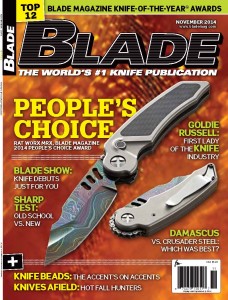 These stories and many more are all awaiting your perusal in the latest issue of BLADE.
---
NEXT STEP: Download Your Free KNIFE GUIDE Issue of BLADE Magazine
BLADE's annual
Knife Guide Issue
features the newest knives and sharpeners, plus knife and axe reviews, knife sheaths, kit knives and a Knife Industry Directory.
Get your FREE digital PDF instant download of the annual Knife Guide. No, really!
We will email it to you right now when you subscribe to the BLADE email newsletter.