BLADE's Complete Knife Guide Spring 2016 is your one-stop knife road map. It features the latest in knives, sharpeners, sheaths, knifemaking safety equipment, a comprehensive directory of knives/knife accessories and who sells them, and much more—and is on newsstands now!
Your annual buyer's guide includes a complete directory of factory knife, accessory and other cutlery industry businesses, with each company's specialties, contact information and other vital stats in easy-to-find alphabetical listings. Stories include the latest sharpeners that will put an edge on all sizes and types of knives, the hottest new everyday carry knives and the state-of-the-art in sheaths. There's also an inside look at the newest custom flippers made by BLADE Magazine Cutlery Hall-Of-Fame© member Ken Onion and a number of his top protegees.
The first-ever International Custom Cutlery Exposition was held in September at the Downtown Marriott in Kansas City, and BLADE's Complete Knife Guide (BKG) has exclusive coverage of the historic event. It was the first time members of both the American Bladesmith Society and the Knifemakers' Guild—the world's two oldest and most important knifemaker organizations—joined forces to produce and coordinate their own knife show. BKG also examines the latest folding knives for executive wear and some of the most convenient of all knives—the newest in keychain cutters.
For hobbyist, part- or full-time makers, BKG offers tips on must-have safety equipment for every knife shop, as well as an excerpt from knife-and-gun-rights attorney Evan Nappen's new book "Knife Laws of the U.S." The excerpt focuses on what to say and do, and, perhaps more importantly, what not to say and do if you get arrested for carrying a knife.
There's much more, including the latest factory knives and accessories for the coming year, how knife professionals can get the most from social media and other sharp stuff, all in the latest BKG!
COVER KNIFE: The Hogue EX-F02 features a choice of a 4.5-inch tanto or clip-point blade in a low-glare black finish, and an ergonomic handle with an easy-to-grip insert in a choice of colors. An ambidextrous automatic retention sheath locks the knife in place and releases smoothly with the push of a trigger lever.
---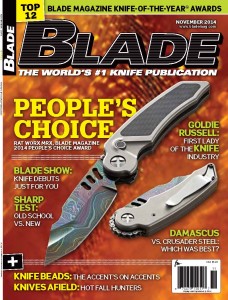 Recommended:
Stay abreast of the latest developments on this and many more knife rights issues with a subscription to BLADE.
---
NEXT STEP: Download Your Free KNIFE GUIDE Issue of BLADE Magazine
BLADE's annual
Knife Guide Issue
features the newest knives and sharpeners, plus knife and axe reviews, knife sheaths, kit knives and a Knife Industry Directory.
Get your FREE digital PDF instant download of the annual Knife Guide. No, really!
We will email it to you right now when you subscribe to the BLADE email newsletter.