The Gut Hook Is One Of The Most Important Hunting Knives. Finding One That Works For You Can Save Hours On A Hunt
What Is a Gut Hook?
A gut hook on a knife blade is a highly specialized feature designed to open the belly of a downed deer, elk, or other critters; the notion being the gut hook will make the single purpose easier. After opening the belly the hunter would then use the primary edge to dress out the animal.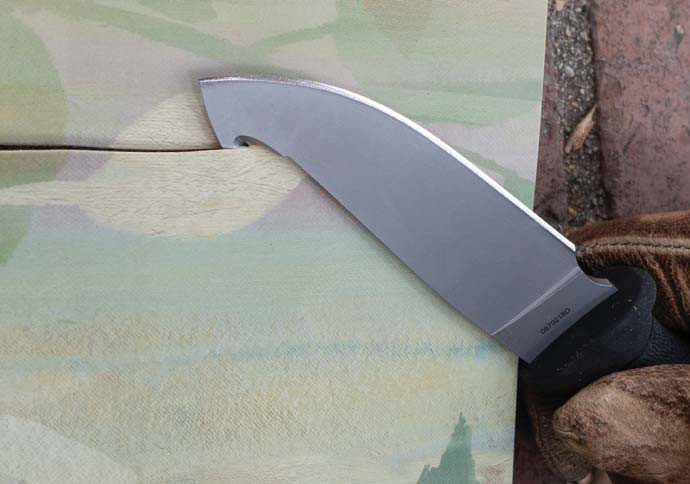 During more than a half-century of hunting on three continents, I have taken more deer, elk, and other large game than I can count—often with a bow or other primitive weapon. I have dressed my game with whatever knife I had at the time, folder or fixed blade, and sometimes with flint or obsidian blades. I have never used a gut hook. When I was assigned to review four knives with gut hooks I thought of it as a learning experience.
4 Best Gut Hook Knives
The four knives are the Camillus Prym1 Veil, Gerber Myth Fixed Blade Pro Gut Hook, the Fremont Knives Hide Glider, and the Outdoor Edge Wild Skin.
The Camillus, Gerber and Outdoor Edge are familiar hunting knives with the gut hook on the spine. The Fremont is a wild card, the blade having no point and a semicircular edge similar to the ulu, an all-purpose knife traditionally used by Inuit and Aleut women to skin and clean animals, cut food, and trim blocks of snow and ice to build an igloo.
Nothing was in season at the time of the assignment. Taking suggestions from my editor and others I assembled a group of materials that would more or less replicate the hide of a freshly killed deer: an old pair of boots with leather about as thick as elk hide, floor mats, plastic sheeting (a bit of a stretch), and scraps of tanned deerskin I obtained from my brother-in-law who uses two or three deerskins a month to make bags and pouches in the Native American style. As an aside, one of his pouches can be seen in the accompanying photos.
None of the gut hooks made the slightest cut into the boot leather. All of the primary edges easily cut into the boot. After having a slit to start with, I inserted each of the gut hooks in turn and attempted to cut the leather—without much success.
Only by exerting considerable effort was I able to get any of the gut hooks to cut the boot leather. I reverted to the primary edges of the four knives to do most of the cutting and found that they sliced boot leather like it was sushi.
Next, I tried cutting the floor mats with each gut hook in turn. None would cut the floor mat. All the primary edges cut the floor mats with ease. Then I went at the plastic sheeting, which I had included because it was quite thin but resistant. All four gut hooks sliced the plastic with little effort.
Thinking about the geometry of the gut hooks and wondering if they would perform better on actual deerskin, which is thinner than elk hide or boot leather, I attempted to cut the deerskin scraps my brother-in-law had given me. With much difficulty, I was able to cut deerskin with each of the gut hooks. Again, the primary edges easily cut the material.
History of Gut Hooks
Many hunters use gut hooks. They must be efficient at their designated job or no one would buy them. What was I doing wrong?
Merle Seguine, a custom knifemaker who popularized the gut hook back in the 1960s, reportedly designed it to pick up a coffee pot or small pot by the ladle from the cook fire, and in fact designed some blades for that exact purpose. He later refined the hook and sharpened it for removing animal hides.
I didn't have a campfire handy or a pot with a bail, but it's easy to see the Outdoor Edge, Gerber, or Camillus would serve that function. As for the Fremont Knives Hide Glider, being all one piece of steel with no handle, not so much.
And here's the MSRP for all the blades that were reviewed from least expensive to most:
Outdoor Edge Wild Skin – $18.95
Camillus Prym1 Veil – $30.64
Fremont Knives Hide Glider – $34.99
Gerber Myth Fixed Blade Pro Gut Hook – $54
Hunting Knife Review: The Gut Hook Results, Ranked
The flat-ground Gerber was the best all-around cutter, the flat-ground Outdoor Edge a close second and the hollow-ground Camillus third. The edge of the Fremont was quite sharp and though it placed last in all-around cutting, I suspect that with more experience on my part it would make a good slicer. The Fremont is also an intriguing design and being flat should easily fit into any kit bag.
Sharpening the gut hook would be an exercise in patience. A small, round sharpening tool should serve to get into the tight space.
Are Gut Hooks Necessary?
I have never found opening the belly of a critter to be especially difficult, though there is some technique required.
The hardest part of opening an elk's belly is getting the huge critter—elk often weigh 500 to 600 pounds—on its back. Deer, of course, even "mulies," which can reach 300 pounds, are much easier to manage.
I'm very much old school, as my sons remind me, and have a great deal of experience, so I'll continue to dress game with whatever knife I have at hand. But if you're new to dressing game the gut hook can likely do a better job for you.
If you dress out a great deal of game, say as a hunting guide, the gut hook will make your job easier and faster.
Three More Gut Hook Knives Worth A Look
This trio of gut hooks may not have gotten a hands-on review, but they are more than capable of serving you well when dressing a deer.
SharpWorld Beautiful Damascus Gut Hook
This knife lives up to the name and then some. The full-tang blade is made from a spectacular damascus alloy that looks even better with the ram horn handle. At eight inches in length it's long enough to get under the hide without being too big to become cumbersome.
MSRP: $49.99
Buck Zipper
When it comes to outdoors knives there are few companies better than Buck. And their gut hook, the Zipper, is named based on what it's designed to do: open animals like a zipper. The drop point is made from 420HC stainless with a Heritage Walnut DymaLux handle and comes with an included leather sheath.
The current CEO and President, CJ Buck, personally helped design the knife after seeing a glut of subpar gut hooks on the market in the early 1990s.
MSRP: $122.99
Case Lightweight Hunter Gut Hook
Case has made an incredibly light and strong gut hook that's just over four ounces in weight as part of the brand's Lightweight Hunter line of knives.
The gut hook has a sabre concave grind on the Tru-Sharp surgical stainless steel blade. The steel itself is a high-carbon variety designed to hold an edge longer than more conventional steels. The handle is a ballistic nylon material that increases strength without adding unnecessary weight.
MSRP: $78.99
Editor's Note: Michael Abelson contributed to this piece.
Read More
---
NEXT STEP: Download Your Free KNIFE GUIDE Issue of BLADE Magazine
BLADE's annual
Knife Guide Issue
features the newest knives and sharpeners, plus knife and axe reviews, knife sheaths, kit knives and a Knife Industry Directory.
Get your FREE digital PDF instant download of the annual Knife Guide. No, really!
We will email it to you right now when you subscribe to the BLADE email newsletter.