"Gent's Knife" Definition
The term "gent's knife" has been around as long as I can remember. It loosely describes a folder that is usually slim, somewhat elegant, may or may not have an exotic handle material and should, as BLADE Magazine Cutlery Hall-Of-Fame® member A.G. Russell said, have a blade under 3 inches long.
Gent's knives are meant for carry to social functions, church—thus the name "Sunday-go-to-meeting knives"—or anytime, really. They satisfy the dapper individual in each of us, for they are pocket jewelry with an edge. Call them gent's knives or EEDC (executive everyday carry) knives—they not only look great but also function as very capable cutting tools.
Kershaw Copper Natrix
The Kershaw Copper Natrix is an interesting variation of the company's Natrix series of tactical folders notable for a modern look, sculpted handle and modified drop-point blade. There's also the flipper opening, and the blade rides on Kershaw's KVT bearing system for ultra-smooth, fast action.
The copper handle stands out. Copper is a dense material and hence a bit on the heavy side (3.7 ounces). Relief pockets milled into the interior of the handle reduce weight.
"Copper is a fun material because it tarnishes rather quickly, gaining a unique and interesting patina," notes Jim MacNair, a designer with Kershaw/KAI USA's sporting division. As a result, over time the grip turns darker and has a gorgeous, well-handled look.
Each knife will appear a bit different from the other due to the level of patina. The 2.75-inch blade is D2 tool steel known for being tough and impact resistant. "D2 is a nice step up for an imported knife and provides a welcome increase in edge retention," MacNair says.
A nearly full-length blade fuller adds a visual edge without being aggressive. A deep-carry steel pocket clip holds the knife low in the pocket and out of the way until needed. The clip is reversible to accommodate lefties. Just back out the two T6 Torx screws that affix it to the handle.
The blade is secured open by Kershaw's sub-framelock lock. The all-steel lockbar fastens to the handle by screws. It is a sturdy lock and a close relative to the framelock, exhibiting the latter's strength and rigidity. The advantage is the sub-framelock can be used with materials that normally will not perform as well as with a standard framelock, such as copper and also aluminum.
A firm press of the flipper tab deploys the blade. An oversized "hubcap"-style pivot screw adds even more flair. The Natrix Copper has it all: style, function, and a noteworthy handle substance paired with a blade steel upgrade.
Buck Knives Alumni
The Buck Knives Alumni is the smallest, most compact, lightest (.75 ounce) and thinnest of the test gent's knives. It is designed to drop into a pocket without creating bulk or drag.
The folder's build is very simple yet executed exceptionally well. The handle is anodized aluminum and comes in black, blue, yellow and gray. The 1.8-inch blade is 420HC stainless, the standard steel Buck uses across its product line.
It takes an edge quite well, an edge that is easy to maintain, too. The blade opens via a nail nick.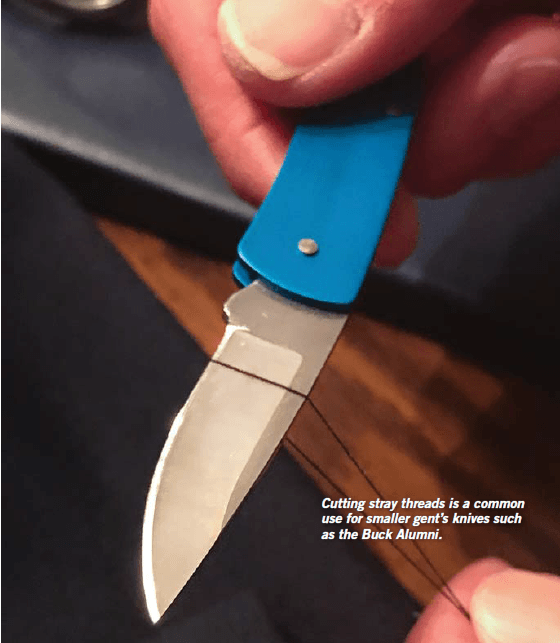 The Alumni tackles everyday cutting chores with aplomb. The small blade gets in and out of precise cutting tasks for which a larger blade might be cumbersome. It is an excellent alternative to multi-blades that may be too bulky or heavy. It is even more low profile than Swiss Army knives in the same class.
Made in the USA, the Alumni is well put together with nice, even fit and finish. Sporting symmetrical grinds, the blade was very sharp out of the box. The action is perfect and very smooth! Even for as simple a pocket folder as the Alumni is, Buck went the extra distance to ensure that the blade tang—more specifically where the lockbar makes constant contact—is mirror polished for absolutely no drag. This makes the opening and closing action glassy smooth—very well done! There are few knives in this price class ($30 MSRP) that come even close to operating this smooth.
The sample Buck sent for this article has what I call an aquamarine color of handle. It is attractive with the Buck logo applied in a nice light orange for a notable color contrast. As lightweight and thin as the knife is, it is a great candidate for a key-ring-carry knife, but, unfortunately, the handle lacks a lanyard hole. Why, I do not know, though cost control may be one reason.
The Alumni's low MSRP not only makes it very practical but also a good candidate for a gift.
CRKT Pilar
Designed by Danish knifemaker Jesper Voxnaes of Vox Knives, the size and blade shape of the CRKT Pilar are well matched for heavy cutting jobs. The handle is very comfortable and secure in the hand.
How could CRKT and Voxnaes make the knife even better? The answer is to offer a new larger version for 2019. The Pilar II offers the same performance and ergonomic advantages as the original, including robust framelock construction with an all-steel handle. The 2.6-inch blade is 8Cr13MoV stainless steel and offers a great balance of edge holding and maintenance ease. It is the Chinese equivalent of the Japanese-made AUS- 8. Due to the increase in size and blade mass, the Pilar II features a flipper, something the Pilar lacks.
Voxnaes is known internationally for his straightforward designs with a nod to utility and outdoor applications. Originally he made prototypes of the Pilar in two versions: one with a flipper tab and one without. "With lots of people asking for a flipper version, it was an easy fix," Jesper notes. The blade rides on Teflon washers and flips open nicely without the use of pivot bearings. It also sports an oblong hole for ambidextrous opening.
The stainless steel handle supplies heft and a solid backbone. The grip's edges are chamfered, offering comfort and eliminating hot spots or general discomfort. A solid steel spacer adds handle strength. A steel pocket clip carries the knife tip up or down for right-hand carry only. If you prefer half-and-half-type handle construction with your framelock folder—that is, each handle side comes in a different material, in this case stainless steel and lightweight G-10—the Pilar II is so equipped. The G-10 offers a bit more weight savings plus a nice grippy texture. The all-steel-handle version has weight-saving pocket reliefs milled into the inside of the scale.
"At first it may seem we simply upscaled the original Pilar design, but the knife was actually redesigned from scratch to make the ergonomics feel perfect," Jesper concludes.
Don't let the gent's knife label for the large Pilar fool you. It's a knife that isn't afraid to get down and dirty with its rugged build and utility-friendly blade shape. Like its little brother, the large Pilar is easy to carry and rides securely in a pocket. The choil indexes your grip and the rest of your fingers fall naturally around the handle. Due to the handle shape and size, those with larger hands may find the knife too small.
However, for those whose hands are filled nicely by the grip, the large Pilar is very comfortable to hold.
Fallkniven FH9MOP
The Fallkniven FH9MOP is dressed to the nines with a mother-of-pearl handle accented by abalone and a mirror-polished blade. This is the knife you want to carry to dressy social functions, as the handle treatment sets the tone for an upscale outing or maybe even church on Sundays. According to Peter Hjortberger, Fallkniven president, the design is based on a folding hunter and a traditional lockback system.
Employing Fallkniven's best blade material, a laminated 3G powder steel with a Super Gold steel core with a Rockwell hardness of 62 HRC, the FH9MOP is built for use. The 2.5-inch drop-point blade is neither too small nor too large. The knife is by far the best looking of the test bunch. The pearl handle and abalone accents create a stunning visual effect.
Structurally, the FH9MOP is built quite solid with dual stainless steel liners, steel bolsters and a steel handle spacer. Inlaid Fallkniven logo shields in the handle cap things off, and the blade sports a nail nick on each side for easy ambidextrous opening. A nice suede slip sheath protects the knife from rubbing up against keys, coins, etc., in your pocket.
The blade came out of the box razor sharp. I had no problem using it to open mail, cut stray threads, or any other similar gent's knife duty. It is too beautiful a knife for the same jobs as a tactical folder, so use would be limited.
It sure is an eye-catcher, though. For a model more suited for general utility needs, step down to the standard FH9, which gives you the same blade steel but with the more work-friendly Micarta® handle material. Either way, the knives are sharpened pocket jewelry at its best.
See More Knives In The World's Greatest Knife Book
---
NEXT STEP: Download Your Free KNIFE GUIDE Issue of BLADE Magazine
BLADE's annual
Knife Guide Issue
features the newest knives and sharpeners, plus knife and axe reviews, knife sheaths, kit knives and a Knife Industry Directory.
Get your FREE digital PDF instant download of the annual Knife Guide. No, really!
We will email it to you right now when you subscribe to the BLADE email newsletter.