A December 2014 feature article by staff writer Phil Perry online and in the Lincoln Times-News of Lincolnton, N.C., mentions BLADE® Magazine and KNIVES 2015. A knifemaking feature on ABS journeyman smith and commercial pilot Steve Randall, it starts:
Often, when a craftsman pursues the road to independence through a business venture, they are inspired by a lifetime of collecting or being exposed directly to the craft. That wasn't necessarily the case for Lincoln County's Steve Randall, who has made an international name for himself crafting custom hand-forged knives from his workshop on the eastern end of the county.
"As an avid survivalist, I have used knives all my life," he said. "I never collected them or thought a whole lot about it. Once I was bitten with the bug I have been obsessed with it ever since."
Things changed in 2009 when Randall started "KSR Blades" and built an extension onto his garage to house the vast amount of forging equipment needed to facilitate his burning passion to produce high-quality hand-forged knives.
"I made my first sale on eBay and I was pretty excited," Randall said. The ABS journeyman smith doesn't sell his product on auction sites these days. Having been featured in national magazines like "Knives Illustrated," "BLADE® Magazine" and four of his creations featured in "KNIVES 2015," Randall has a one-year backlog on special orders and also ships to Germany, Sweden, Australia and Canada.
Click here to read the rest of the article.
---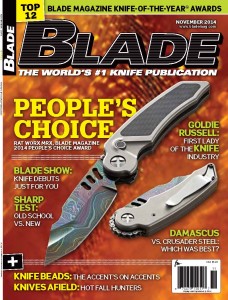 Recommended:
Stay abreast of the latest developments on this and many more knife rights issues with a subscription to BLADE.
---
NEXT STEP: Download Your Free KNIFE GUIDE Issue of BLADE Magazine
BLADE's annual
Knife Guide Issue
features the newest knives and sharpeners, plus knife and axe reviews, knife sheaths, kit knives and a Knife Industry Directory.
Get your FREE digital PDF instant download of the annual Knife Guide. No, really!
We will email it to you right now when you subscribe to the BLADE email newsletter.