A claim by one of the Baltimore police officers who arrested Freddie Gray that Gray was arrested because he was carrying an illegal knife appears to be baseless, according to interpretations of Maryland and Baltimore knife laws provided by Knife Rights.
Gray died while in police custody and his death prompted the recent Baltimore riots. The six arresting officers are on trial for his death on an array of charges, including that they unlawfully arrested Gray. However, one of the officers, Edward Nero, said the arrest was lawful because Gray was carrying an illegal knife.
Court documents state the knife was a "spring-assisted, one-hand-operated knife," otherwise known as an assisted opener. In an assisted opener, the blade must be opened part way manually before the spring assist engages and opens the blade the rest of the way.
Marc Zayon, Nero's attorney, argued in a motion filed Monday that Gray's knife is illegal under state law. He said Maryland law defines a knife as unlawful if it opens automatically by pushing a button, spring or other device in the handle—in other words, an automatic, aka a switchblade. However, according to Knife Rights, while Maryland law prohibits concealed carry of switchblades, open carry and possession are not illegal. Court documents indicate the knife was visibly clipped to Gray's pocket, so the knife was not concealed. Nonetheless, even if the knife was concealed, it is an assisted opener, not a switchblade.
According to Knife Rights, Baltimore's city code bans the sale, carry or possession of "any knife with an automatic spring or other device for opening and/or closing the blade, commonly known as a switch-blade knife." To include an assisted opener under this part of the city's code would "conflict with virtually all other switchblade definitions throughout the country," Knife Rights noted.
---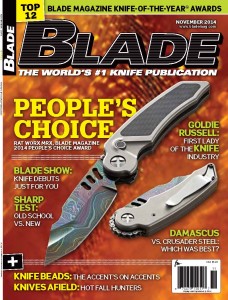 Recommended:
Stay abreast of the latest developments on this and many more knife rights issues with a subscription to BLADE.
---
NEXT STEP: Download Your Free KNIFE GUIDE Issue of BLADE Magazine
BLADE's annual
Knife Guide Issue
features the newest knives and sharpeners, plus knife and axe reviews, knife sheaths, kit knives and a Knife Industry Directory.
Get your FREE digital PDF instant download of the annual Knife Guide. No, really!
We will email it to you right now when you subscribe to the BLADE email newsletter.