Five top lady bladesmiths and their International Ladysmith Collaboration Knife, the "Mount Rushmore of Knifemakers," rock-solid integral knives and much more highlight the new BLADE®, debuting on many newsstands TODAY!
A quintet of the world's top lady smiths—Dellana, Haley DesRosiers, Audra Draper, Grace Horne and Julie Warenski-Erickson—collaborated on this issue's cover knife. Forged by Draper, the 7.25-inch blade is a damascus ground, heat treated and etched by DesRosiers, who also did the final assembly. Dellana embellished the handle with five gold dots—one for each "blade sister"—and a bezel-set ruby, and Warenski-Erickson engraved the bolster in gold. Horne built the display box lined with red glove leather and used black glove suede for the cushion. Find out how the knife came about and what the "Sisters of the Blade" have planned for it in our special cover story feature.
In "The Mount Rushmore of Knifemakers," some of the custom knife industry's leading professionals weigh in on the four makers they consider the greatest in the history of modern custom knifemaking. We would tell you who the four are, but then that would spoil the surprise. You'll just have to buy the new issue and find out for yourself.
Popularized by the late, great knifemaker, Ted Dowell, integral knives are one solid piece of steel—including both the handle and blade—that are reduced via grinding to an equally solid one-piece knife. Pat Covert visits with two talented practitioners of integral knifemaking, Edmund Davidson and Marcus Lin, for their take on how they make knives made in a style that arguably is the world's strongest.
There's much more—including part one of RJ Martin's story on how he makes his award-winning precision flipper folders, some of today's hottest factory tactical fixed blades, the conclusion of Jim Hammond's story on the past, present and future of ivory's use on knives, two tests of top factory folders, the mystery of the ancient Viking Ulfberht sword, custom knives in "crossover" styles and other of today's sharpest knives and knife news—all in the latest issue of BLADE.
---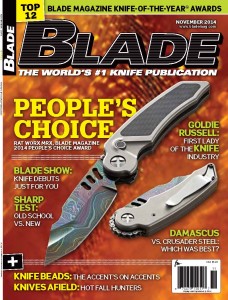 Recommended:
Stay abreast of the latest developments on this and many more knife rights issues with a subscription to BLADE.
---
NEXT STEP: Download Your Free KNIFE GUIDE Issue of BLADE Magazine
BLADE's annual
Knife Guide Issue
features the newest knives and sharpeners, plus knife and axe reviews, knife sheaths, kit knives and a Knife Industry Directory.
Get your FREE digital PDF instant download of the annual Knife Guide. No, really!
We will email it to you right now when you subscribe to the BLADE email newsletter.