Knife and ivory legislation that affects your right to own, carry and sell knives at both the federal and state levels has been heating up lately, including a victory for proponents of the sale of legal elephant and mammoth ivory in the state of Washington.
Washington's proposed bans were overcome by a combined effort that included Knife Rights, the NRA and the Legal Ivory Rights Coalition, Mike Vellekamp of Fox Knives USA and Tim Wegner of Blade-Tech.
According to Knife Rights' Doug Ritter, the proposed bans would not have saved a single living elephant while "taking hundreds of millions of dollars from millions of honest, law-abiding Americans. It makes no sense to unfairly penalize Americans for the illegal and immoral activities that continue to threaten elephants, and which these proposed ivory bans do nothing to ameliorate."
Meanwhile, among the new or pending measures at the state and federal level are:
•Knife law preemption bills in Indiana, Kentucky, Mississippi, Nevada, Oklahoma, South Carolina, Texas and Vermont, measures that ensure consistent enforcement of state laws everywhere in each applicable state, and a special federal knife preemption law that would protect transporting knives from state to state in certain instances;
•Laws affecting switchblades and other specific knife styles/patterns in Illinois, Maine, Nevada, New York and Oklahoma;
•New ivory bans in Florida, Illinois, Vermont, New York and Hawaii, with ivory bans pending in Connecticut, Maryland, Iowa, Oklahoma and California, and the African Elephant Conservation and Legal Ivory Possession Act on the federal level, and;
•In one of the world's leading anti-knife nut capitals, New York Sen. Tony Avella of Queens proposed a ludicrous ban on machetes after several recent local attacks involving the utilitarian tools.
U.S. Senators Mike Enzi (R-WY) and Ron Wyden (D-OR) introduced the federal Knife Owners' Protection Act (KOPA) this past Wednesday. KOPA would allow legal interstate travel of those transporting knives, provided the knives are transported to and from states where the law allows possession of said knives, and the knives are transported in closed containers. For more information, visit AKTI.org.
Oklahoma bills for knife preemption and to repeal the switchblade ban cleared major hurdles recently when both were passed by the Oklahoma House Public Safety Committee. Both measures head to the state House before going to the Senate. For more information on them and other state knife laws—including the ridiculous anti-machete bill in New York—visit kniferights.org.
At least two of the new state ivory laws—in Florida and Illinois—ban not only the sale of ivory but also the sale of mammoth ivory and/or make no exemptions for the sale of mammoth ivory. Meanwhile, the new punitive measure in New York would increase the criminal and civil penalties in its already existing laws banning the sale of ivory from living animals and mammoth ivory. On the up side, Hawaii has tabled its proposed ivory bans, though that scheduling "could change at any time." For more information, visit elephantprotection.org.
For more information on how to protect your right to own and sale knives and or ivory/mammoth ivory knives, visit AKTI.org, Kniferights.org and elephantprotection.org.
---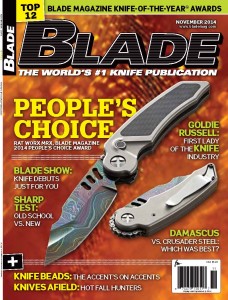 Recommended:
Stay abreast of the latest developments on this and many more knife rights issues with a subscription to BLADE.
---
NEXT STEP: Download Your Free KNIFE GUIDE Issue of BLADE Magazine
BLADE's annual
Knife Guide Issue
features the newest knives and sharpeners, plus knife and axe reviews, knife sheaths, kit knives and a Knife Industry Directory.
Get your FREE digital PDF instant download of the annual Knife Guide. No, really!
We will email it to you right now when you subscribe to the BLADE email newsletter.