Classic and competent, no wonder why the clip-point knife remains among the most popular designs.
Clip-point blades are one of the most common profiles you will see throughout custom and production knives. You likely know the style, the familiar drop-off of the blade spine to a curved or linear transition that terminates at the blade tip.
The earliest noted clip-point blade style dates back to the Macedonian era. Flint-knapped stone blades in a clip-point shape were discovered from this time period. Today, clip points are found across a lot of knife genres from tactical to EDC to pocket knives to fixed blades.
Pros Of Clip Points
Due to its highly streamlined and optimized blade tip, the clip point has excellent puncturing capabilities. There is more of a true point that helps to penetrate thicker materials with ease. It is more aerodynamic than a drop point and even a spear point. Think of an arrowhead and how it penetrates, and you will get the idea. Clip points are also favored among the tactical crowd because of this characteristic.
The defined point also makes great scoring cuts because placing pressure on the blade tip results in the tip cutting through aggressively on the first cut. So, this blade shape is also one that is favored among those who use their knives for the trades, where having a good knife is imperative to the work at hand.
Cons Of The Clip Point
Conversely, the blade tip being tapered also results in a blade design that has a weaker tip. You cannot have everything, I guess! With a smaller clip-point blade like those found on pocket knives, refrain from any sort of prying with the tip because it will bend or break off entirely.
Clip-Point Styles
It's interesting to note that there are different variants of the clip point blade. Two of the most recognizable are the California clip point and Turkish clip point.
California: Exhibits a long taper, which originates almost to the blade tang and gradually and progressively tapers down to the blade tip.
Turkish: It has a long taper as well (but not as dramatic as the California style) but also incorporates a little bit of a blade belly as well. The Turkish clip looks very stylish and eye-catching when done right.
You'll see other variants like a saber ground clip point with a pronounced swedge, and even some fixed fighters with sharpened clip sections for added bite and powerful penetration.
Jack-Of-All-Trades
For general-purpose use, nothing beats a clip point for its versatility. You cannot go wrong by selecting a knife with this blade shape. Chances are high that if you are reading this, you already own a few knives that have a clip-point shape. If you don't have any yet, here's a rundown of 10 clip point blades knives that you should be on the lookout for and add one (or more) to your collection.
Among The Best Clip-Point Fixed Blade Knives Available Now
Kabar USMC Fighting Knife
This iconic fixed blade has seen action on battlefields the world over. This knife first saw action during WWII and it still is going to this day.
The 7-inch long blade is made from 1095 carbon steel, making it easy to maintain in the field. It's fuller adds style and strength to the blade. The iconic stacked leather washer handle is both handsome as well as very practical with its deep grooves that enhance grip and the flat metal pommel which is useful for light hammering and crushing tasks. The double guard prevents your hand from sliding up on the blade. As a bonus, each USMC Fighting Knife comes with a leather sheath.
MSRP: $135 Origin: USA
CRKT Minimalist Bowie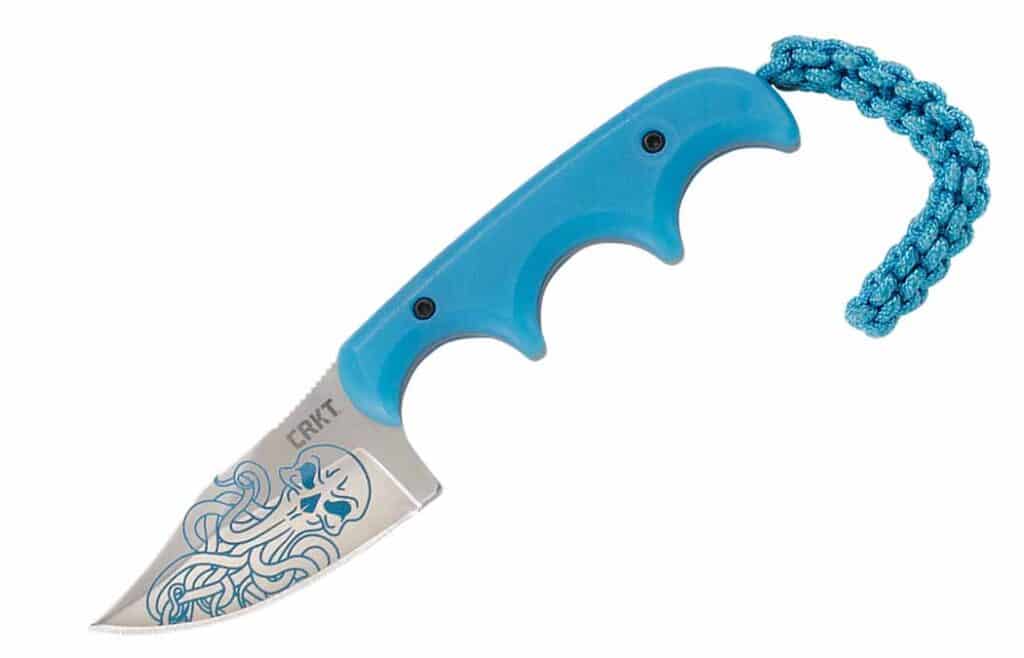 Designed by custom knifemaker Alan Folts, the Minimalist Bowie is one of Folts' best-selling custom knives. It is available to the masses in the form of the CRKT version which sports a 2.1-inch long Bowie-style clip-point blade, made from 5Cr15MoV stainless steel.
Its prominent swedge adds style with function, permitting the blade easily penetrate most materials. The deep finger grooved handle has resin-infused fiber scales for light weight and strength. The entire knife is super comfortable to hold and it feels like the knife melts in your hand and remains very secure.
It's a small fixed blade without the bulk.
MSRP: $45 Origin: China
Schrade Uncle Henry Golden Spike
This one is an older design still manufactured today.
Its 5-inch 7Cr17MoV stainless steel clip point blade is a good example of what we call a California clip point, with its long taper to the blade tip. The handle is faux stag in Delrin, with finger grooves for security and control.
It is capped off at both ends with a brass guard and pommel to offset the overall appearance. This knife will fit the fill of an outdoor knife perfectly and not blow the budget. Each Golden Spike comes shipped with a leather sheath for easy portability.
MSRP: $46 Origin: China.
Cold Steel Trailmaster Bowie
This knife commands attention with its sheer size and heavy-duty build.
The Trailmaster Bowie is one of Cold Steel's most recognizable fixed blades. The impressive 9 ½ inch long clip point blade is made of CPM 3V tool steel for toughness and edge holding. The unsharpened swedge gives the knife its attitude, and a full flat grind allows the Trailmaster to be an effective slicer and chopper as well.
The textured Kray-Ex rubber handle helps the Trailmaster remain in your grip and a double guard up front keeps your hand in place during use. The Trailmaster is adept at chopping and other hard-use outdoor tasks for the campsite.
It is the knife to have with you and instills user confidence when tackling tough cutting and chopping chores.
MSRP: $540 Origin: Taiwan
Condor Tool & Knife Little Bowie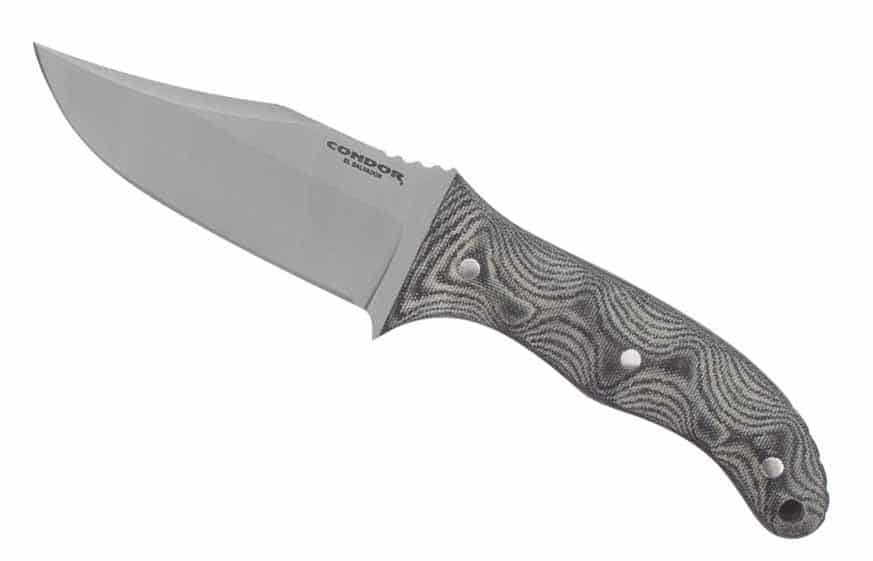 Little knife…big attitude! That's exactly what you get with the Condor Tool & Knife Little Bowie.
The 4.6-inch long blade makes it compact enough to carry comfortably on the belt. Overall length is just over 9.5 inches, making this knife about as long as some of the higher-end tactical folders when open. 1075 carbon steel was selected for the blade, making this knife both tough and easy to maintain. The bead-blasted finish adds a subdued finish for low reflectivity.
The ergonomic-shaped handle has black Micarta scales for a comfortable, all-weather grip. If you like Bowie fixed blades but don't want to carry a full-size Bowie on the belt, the Condor Little Bowie fits the bill nicely. Each knife is shipped with a sewn leather belt sheath to keep the knife close at hand.
MSRP: $123 Origin: El Salvador.
Among The Best Clip-Point Folders Available Now
Benchmade Crooked River
The flagship of their outdoor folding knife line, the Benchmade Crooked River is built tough for the outdoors, with a 4-inch clip point S30V stainless steel blade, anodized aluminum bolsters, and Dymondwood handle scales. The handle has a slight contour to it, making it lay in your grip that much easier.
The knife also features Benchmade's own Axis Lock crossbar lock system for a safe and secure lockup. The Axis Lock is a Benchmade innovation that allows the blade to rotate smoothly and locks up tight, with very little blade play.
At over 9 inches overall, the Crooked River is a formidable folder that is ready to help tackle your field dressing or camp utility tasks. A steel pocket clip allows for easy carry. A Mini Crooked River is also available, scaling down the Crooked River model to a 3.4-inch blade length, and making it more EDC-friendly.
MSRP: $380 Origin: USA
SOG SEAL XR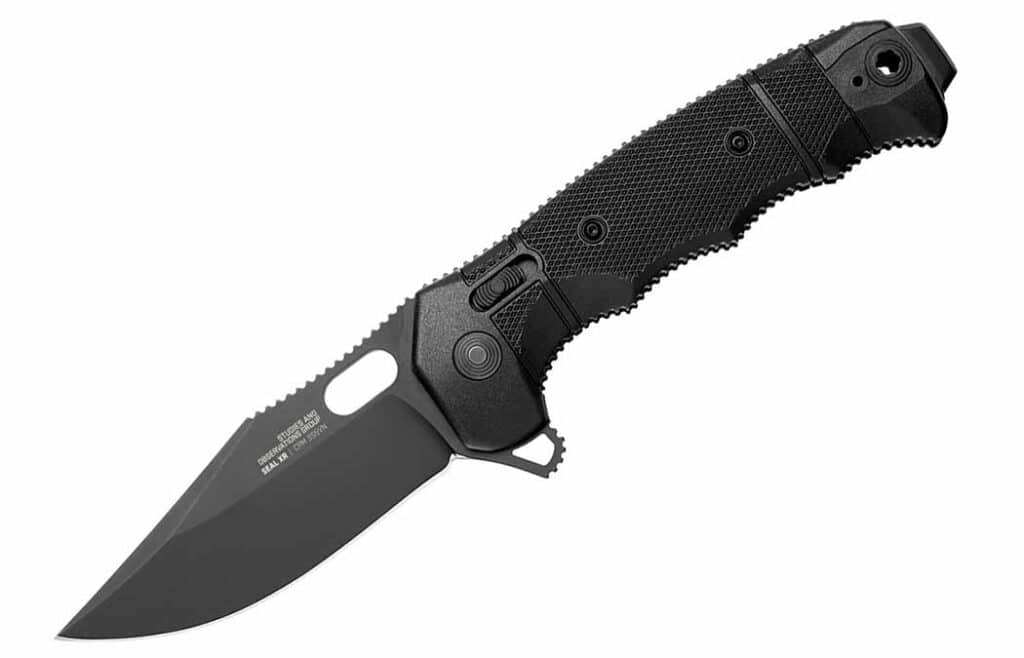 You want big and brawny? You got it with the SOG SEAL XR! Its 3.9-inch long Bowie style clip point blade is flat ground from premium CPM S45VN high-performance stainless steel. A blade hole and a flipper tab are present to offer two distinct methods of one-handed opening. The handle design is very similar to that of the SOG SEAL fixed blade. The build of the handle is definitely robust and heavy-duty, there's weight to this knife that you notice when you pick it up.
Weighing in at a healthy 8.2 ounces, the handle has two steel liners, a steel handle spacer with an integrated extension that can be used as a blunt strike tool, and grooved, textured, and traction notches all around. The handle design is made to keep your hand in place. There is an integrated lower hand guard that prevents your hand from sliding forward. The blade lock is SOG's own XR crossbar lock that offers true ambidextrous operation.
A beefy, wide steel pocket clip rounds out the SOG SEAL XR package. The clip won't be sprung for sure, even with rough carry. This is by far an EDC folder due to the size and weight but if you need a knife for rough use and outdoor use, the SOG SEAL XR is it.
MSRP: $224.95 Origin: USA
Case Large Stockman 10375
Clip points are found on many different patterns of multi-blade slipjoint knives, such as this Case Large Stockman pattern, model 10375. The main blade is a 3.3-inch long clip point, and two smaller blades – a 2.3-inch long sheepsfoot blade as well as a 2.2-inch spey blade. The blades are ground from Case's proprietary Tru-Sharp surgical steel, and the handles are of black and green canvas micarta phenolic synthetic for long-lasting durability.
The beauty of knives like these is they are handy to have with you at all times as they sit in the pocket perfectly and they are low profile enough that using them in public won't raise any eyebrows. These knives are used by everyone from farmers, ranchers, plumbers, electricians, carpenters, warehouse workers, and countless individuals who just want a good solid pocketknife. The main blade does well with opening packages, mail, cutting tape, stripping wire, cutting up cardboard, and any sort of utility or mundane cutting task that tend to pop up in daily life.
The clip point blade is ground fairly thin so it has really good performance characteristics and easily cuts whatever you need to. The Tru Sharp stainless sharpens up quickly and holds an edge fairly well. The stockman pattern is very handy due to the three distinct blade shapes, it's the perfect pattern to have if you use a pocketknife frequently.
MSRP: $96 (Micarta Handle) Origin: USA
Buck 110 Folding Hunter
This knife perhaps is the signature clip-point bladed folder. Its design was innovative back in 1963 when it was released, and its quality and build have withstood the test of time.
Even today, the 110 Folding Hunter is still made and enjoyed by many. The 3.75-inch long blade is of a Bowie shape and is hollow ground from 420HC stainless steel. The handle is of a robust build, with double brass bolsters and a Crelicam ebony, stabilized hardwood handle. The handle definitely has weight to it, and it's this exact heavy-duty build that has allowed the 110 Folding Hunter to withstand hard use over time, and still hold up beautifully. The lockback design secures the blade in the open position with a satisfying audible click.
The clip-point blade is ideal for field dressing as well as general cutting tasks. The 110 Folding Hunter originally was designed for hunters as an alternative to a fixed-blade hunting knife. But the knife also found favor with those who are in agriculture, the military, law enforcement, and countless knife enthusiasts as well. For all intents and purposes, it was the predecessor to what we know now as the modern tactical folder.
Still produced to this day in the Buck Knives product line, the 110 Folding Hunter has a few variants including a lightweight budget version, a pro-grade modern version with high-end blade steel and handle material, an automatic opening version, as well as countless collector variants available through the years from Buck as well as select Buck Knives retailers as exclusives.
MSRP: $88 (original 110) Origin: USA
Spyderco C81GP2 Paramilitary 2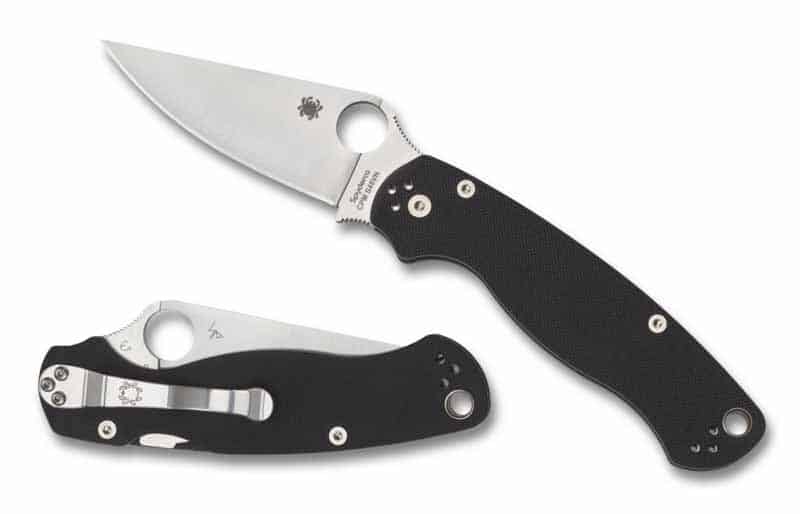 Spyderco's Paramilitary 2 folder – better known simply as the Para2 – is a downsized version of the company's popular C36 Military folder.
The Para2 offers the same cutting prowess of the full-size Military model with its full flat grind clip-point blade but in a more compact, pocket-friendlier form factor. The Para2's blade measures 3.4 inches long and is ground out of premium CPM S45VN blade steel that is known for its enhanced edge-holding capabilities. The handle is textured black G-10 and mimics the ergonomics found on the C36 folder that make this one of the most comfortable and handy midsize folding knives on the market.
With an overall length of 8.2 inches, the Para2 is still large enough to tackle sizable cutting tasks. The blade is secured open by Spyderco's own Compression Lock system, which permits easy one-hand opening and closing. It also allows the blade to have such smooth, silky-like action. The Para2 is a slender knife and carries well in the pocket.
The large blade hole allows for easy one-hand opening with either hand, even while wearing work gloves.
Performance-wise, this is one of the best in high-end folders as the flat grind clip-point blade sails through thick and tough materials easily. Spyderco engineers its blades to be some of the most efficient cutting tools on that market by paying attention to blade shape and blade grinds and optimizing both to create a cutting tool that is unmatched in both performance and value.
MSRP: $265 Orgin: USA.
Check Out More Buyer's Guides: